News
Exclusive: Win Some of Jude Law's Gold from the Set of Black Sea!
Find out how to win one of two gold bars from the set of Black Sea, autographed by both Jude Law and director Kevin Macdonald!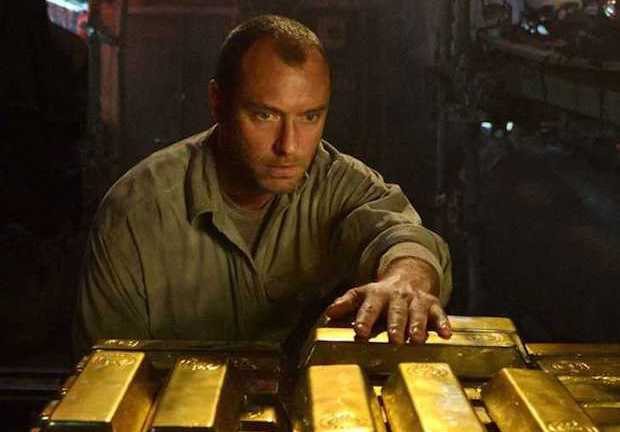 It's not often we get the chance to offer a piece of gold from a film star's reserve, but that's just what is happening now for the film Black Sea!
In honor of the new Kevin Macdonald film about a group of men who go hunting for sunken Nazi gold in a submarine, and end up diving down to the mad depths of The Treasure of Sierra Madre, we are giving away two actual gold bars used on the film—technically speaking, they are not made of actual gold, but the sure feel real enough! And they also have the added allure of being signed by both Black Sea star Jude Law and Kevin Macdonald. Plus, how you'll get your hands on one of these coveted, autographed pieces of booty is a heck of a lot easier than scrambling around a submerged submarine while surrounded by green-eyed monsters!
To enter our contest, all you need to do is retweet our initial announcement of the contest, which you can find by clicking here, and making sure that you follow us on Twitter. As simple as a few clicks, you'll ensure that you're a follower of @DenofGeekUS and you'll be entered to win one of the two bars. This contest will be open until Thursday at 9pm EST. Two winners will then be selected at random to divvy up the precious gold on Friday after we have contacted them via Twitter.
Sounds simple enough? Well let the gold rush begin. And just in case you're waffling, below are pictures of your potential prize, as well as the trailer for Black Sea, which is in theaters right now!