News
Win Awesome, Exclusive Batman Swag With This Giveaway!
We've teamed up with CultureFly to bring you a collector's box full of exclusive Batman goodies, including a 1/12th scale vinyl collectible!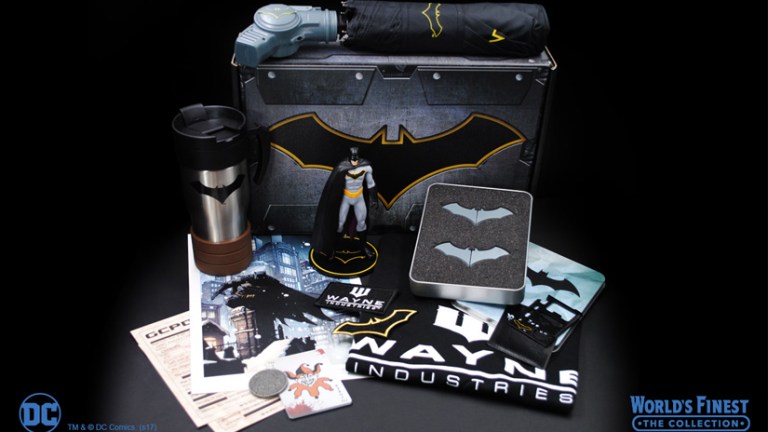 Our friends at CultureFly are crazy about pop-culture. They've taken monthly loot boxes to a whole new level with goodies for die-hard enthusiasts (filthy casuals need not apply). They've recently launched a line called World's Finest: The Collection, featuring some of the coolest merch from the DC Comics universe.
The bad news is that our staff can't keep the loot for ourselves. The good news is that you get a chance to win it! Issue #1 of World's Finest: The Collection brings your favorite caped crusader directly to you. The Batman box comes packed full with apparel, accessories and an exclusive 1/12th scale vinyl collectible of the Dark Knight. Everything in this box is available only via the World's Finest: The Collection subscription, so you won't want to miss this chance to win.
One lucky winner will be chosen at random to receive this prize box.
Entry is simple, and you get three chances!
– Sign up for the Den of Geek Newsletter below
– Like us on Facebook and share this giveaway and tag our page in a post, OR follow us on Twitter and share this giveaway and mention us in your tweet
– Follow CultureFly on Facebook OR Instagram, and sharing this giveaway in addition to tagging Den of Geek (@DenOfGeekUS on Facebook, and simply @denofgeek on Instagram)
Final entries will be accepted Monday, August 21st! A winner will be drawn at random and contacted by either email or social media. For shipping purposes, the winner must be from the United States.
Don't want to wait on the prize drawing? Check out the links below!