News
Why Does WWE Think People Care About Show Loyalty?
It's Survivor Series, so that means it's time for Raw vs. SmackDown ... but why? ...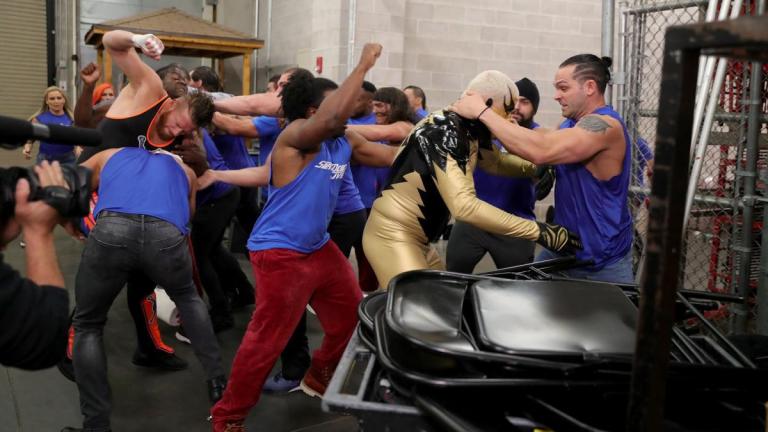 Well, here we go again. It's Survivor Series time, so you know what that means, it's time for Raw vs. SmackDown because … well, there's really no reason why.
Last night's Monday Night Raw began with Raw GM Kurt Angle, back in his GM suit, telling the crowd that it was the "only time each year" Raw and SmackDown go head-to-head.
Really? It's the only time Raw goes head-to-head with SmackDown? Really? The night after AJ Styles wrestled Finn Balor, and just a few minutes before AJ would again appear on this very same show?
I'll admit, the SmackDown roster invading through the crowd was a cool visual. But like last year when they played up this silly brand loyalty, part of the reality element gets ruined when Shane McMahon's music hits prior to his entrance.
Shane said that Raw was "under siege," and then told his roster to invade the Raw backstage and "go get them!"
I remember asking this last year around this time, and I'll ask it again … why?
Why does the "blue team," as Shane called them, care about fighting against the "red team." Heels and babyfaces on the same side in the name of their television show is stupid. It's not realistic. It's nothing that anyone watching the show really cares about.
Does WWE believe there are Raw fans and SmackDown fans? And, on top of that, the Raw fans hate SmackDown and the SmackDown fans hate Raw? This is their pathetic attempt to play up a WWE vs. WCW style invasion, but the problem is, it's just in-fighting. The fans don't have brand loyalty to one show, so why do the wrestlers? Why play this up on television if it doesn't actually exist?
Now, the production of the backstage brawl was well done. It was actually kind of violent, which we don't normally see from WWE. But again, I'd question why heels and babyfaces find common ground in defending their silly "brand." I can't believe WWE actually thinks that this is what their audience cares about.
After beating up everyone backstage, Kurt Angle was dragged to the ring by the SmackDown roster to meet Shane McMahon. Corey Graves was a man caught in the middle. Shane McMahon told Kurt Angle to bring his gold medal and what's left of his Raw roster to Survivor Series and SmackDown would finish what it started.
Again … why?
Why does Shane McMahon, who two weeks ago was willing to jump off a cage to defend his father's honor, suddenly have some sort of major beef with Kurt Angle and the Raw roster?
It's silly. It's stupid.
AJ Styles & The Shield beat Miz, Sheamus & Cesaro
AJ Styles started the show beating up members of the Raw roster, and here he is teaming with members of the Raw roster. Go ahead and try to figure that one out.
After the match, Kane went to the ring and Team Miz got back in the ring. Kane delivered a bunch of chokeslams.
Brock Lesnar accepted Jinder Mahal's challenge
This is hilarious. Jinder Mahal vs. Brock Lesnar.
I honestly cannot believe that's the match they're going to go with. Lesnar should destroy Mahal. They'll keep it 50-50, I fear, in an effort to build up the WWE Title and Mahal as a character.
Asuka beat Emma via submission
Emma again looked to be Asuka's equal, and in no way, shape or form should Emma be viewed as Asuka's equal. It doesn't serve any purpose other than to define Asuka down to Emma's level, no offense to Emma.
WWE hasn't treated Emma as a star. She's really good, and woefully underutilized, so maybe in 6 months they could get Emma to the point of looking 50-50 with Asuka. But right now, given their current booked positions, Asuka should be defeating Emma in minutes, not selling for long stretches with Emma "looking stunned," as Michael Cole said, that she wasn't getting the win.
Asuka got the win, but it felt like a fluke. Emma controlled the offense and Asuka was able to snatch on a submission in the last second.
Alicia Fox beat Sasha Banks and Bayley
Speaking of folks not booked to look like a star, Alicia Fox looked really good here despite her positioning lately.
I don't really like the psycology of the match, with these three fighting to see who will be the team captain. What does it matter? Why do they want to be the team captain so badly? That's where WWE falls short in its storytelling. They're fighting for this role, but no one explains why the role is important. It's WWE logic of, "it's the captain, so of course it's important." What differentiates the captain of a Survivor Series team from just any other member of the team?
Kane beat Finn Balor
I feel like I'm asking "why?" a lot reviewing this show … but why have Finn Balor go over clean on AJ Styles Sunday night at TLC, only to have him lose clean to Kane 24 hours later on Raw?
They undid everything they accomplished at TLC, and while it elevates Kane, he's reportedly not even going to be around for much longer — only a few weeks — so why do this?
Drew Gulak spoke for Enzo Amore
This was genius. Enzo Amore is a heel, and his biggest attribute is his talking. That's what is the most entertaining thing about him. So what should a heel Enzo do? Not give the crowd the promo. He shouldn't give the crowd the catchphrases. This was really well done and Gulak's delivery was on point.
Mickie James attacked Alexa Bliss
Alexa Bliss is a really good heel. She points out factual things about the fans — their chants for The Shield — and asked why she wasn't getting the cheers herself? It's really simple but really well done, and so much better than cheap heat by just making fun of the local sports team, or something.
That always amused me. On TV, why make fun of the local team? Sure it gets heat in the crowd, but last night, I don't care that Drew Gulak was running down the Green Bay Packers.
On a side note, James' delivering a tornado DDT in stiletto heels was impressive.