News
What is Kurt Angle's Big Secret?
After almost two months of mystery, Raw GM Kurt Angle will reveal something next week ...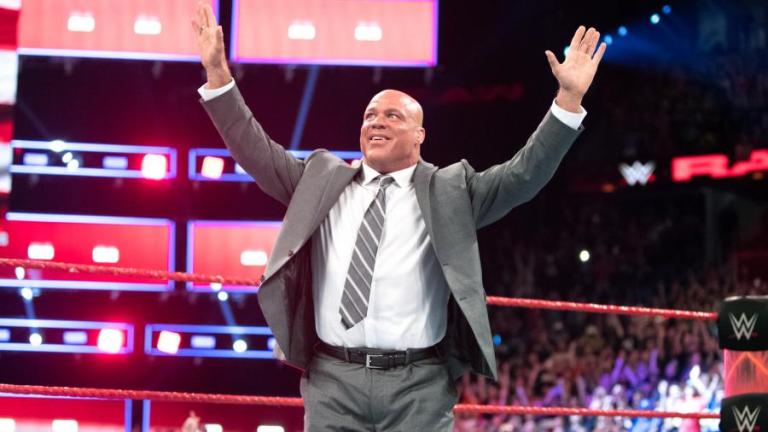 Kurt Angle has to tell us something.
As we saw at the close of Monday's Raw, there's something that could cost Angle his family and his career, and he's going to let the cat out of the bag next week on Raw. The question is, what?
Let's explore this angle from the very beginning.
On May 29, Corey Graves left the announce table and showed Angle a text message he received. Angle said that it could ruin him "if it was true." That last line is an important piece to the puzzle. There was some social media speculation that the reveal could be Dixie Carter, or even a supposed affair with Stephanie McMahon, but either of those likely wouldn't bring about an "if this was true" reaction from Angle.
It continued on June 5 when Angle and Graves were again sharing some thoughts off camera.
On June 19, Graves approached Angle backstage and told Angle it was, "too bad he didn't have a good Father's Day," noting that he received the same text as Angle. Before they could go much further, Enzo and Cass came into the room.
Then last night, Graves and Angle both got text messages. Angle said he couldn't let it get out, but then said he had to go public.
Angle said that he would lose his family over this, and he hoped they would support him. As the show closed, Angle was on the phone with a mystery person. He was telling that person to come to Raw next week and they would reveal it together. He said he was proud of the person on the phone, and he hoped the person was also proud of him. He then said, "I love you," before hanging up.
So what's up?
The rumor swirling that makes the most sense is that Angle recently found out he fathered someone on the roster. There seems to be plenty of evidence to support that. But, WWE could also be doing that to put people off their track.
The only issue with this is age. There's no one on the WWE roster that's overtly young. So this means that Angle's "child" likely was born before he even won a gold medal at the Olympics in 1996. It's a little strange.
But, this could be something completely different.
Finn Balor beat Elias Samson
They positioned Balor on screen with Matt and Jeff Hardy after the match, which I don't think was done by accident. It could be that Balor forms an alliance with the Hardy Boyz, or it could simply be to make him look a little more like a bigger star. Regardless, it's a nice move. Balor has been squandered a bit since his return, and needs to be featured in more high-profile angles and matches for him to retain the good stock he had last summer after his debut.
Gallows & Anderson beat The Hardy Boyz
Not a long match – it lasted about seven minutes, and the Club looked good going over. The Hardys are protected enough after losing a 30-minute match on Sunday night, and they looked beat up on Raw.
Seth Rollins Saved Dean Ambrose
Ambrose came out and attacked Miz at the end of his "Mizzy Awards" and Rollins was out to make the save after Bo Dallas and Curtis Axel attacked Rollins and a beatdown was happening in the ring.
This is a nice way of booking, with a babyface out to help another babyface. It also erased some of the stink on Rollins after he lost clean on Sunday, although he doesn't need to be protected as much now as he had two a few years ago when he was first debuting.
There has been some rumors of a Shield reunion, at least a mini one, and Ambrose being more serious rather than over-the-top campy is a positive move in the right direction.
Bayley & Sasha Banks beat Nia JAx & Alexa Bliss
Bayley rolled up Bliss after a distraction. A rather ho-hum match that felt like it was there to fill time more than advance anything from a storyline perspective.
Goldust beat R-Truth
It's amazing that these guys are a combined 93 years old. Goldust is 48, although his age is usually hidden with the face paint. Truth is 45. I was entertained by the promos leading to this match after their break up. It's not going to be anything more than a mid-card feud and neither of these guys will be elevated above mid-card status, but this was a nice match with some good story behind it. It's far better than just any throwaway time-filler that would have otherwise occupied this spot on the card.
Angle Sets Up Reigns-Joe
Terrific promo by Samoa Joe. Everyone was good in this promo segment with the exception of Reigns. He came off as an alpha, looking for what he proclaimed was going to be his (a title shot), but we're supposed to forget that Reigns lost on Sunday at Great Balls of Fire? Are we supposed to forget that Reigns lost to Samoa Joe just a few weeks ago on Raw?
Reigns doesn't really have any legitimate claim at the Universal Title. Paul Heyman tried to make it seem like he did, bringing up his win over Undertaker at WrestleMania, but despite what Vince McMahon thinks, wins and losses do matter.
Ultimately, Reigns felt like an anchor that was trying to drag down this segment, but Joe, Heyman and Lesnar were all too good.
Cedric Alexander & Akira Tozawa beat Noam Dar & Neville
Another match that just felt like it was there. Funny moment when Alicia Fox told Alexander, "you have a booger in your nose" when he was outside the ring. But aside from that moment of ha-ha, this feels very played out and I'm not sure enough people are watching 205 Live to really care about what's going on here.
Bray Wyatt beat Seth Rollins
Another good match on top of their good match at GBOF on Sunday. Rollins takes the loss again – his second in as many nights – which could signify a change in direction for him.
After the match, The Miztourage and Miz ran back down to attack Rollins and Ambrose made the save.