News
What Happens When You Call The Disaster Artist Billboard?
The Disaster Artist has set up a perfect replica of the infamous The Room billboard!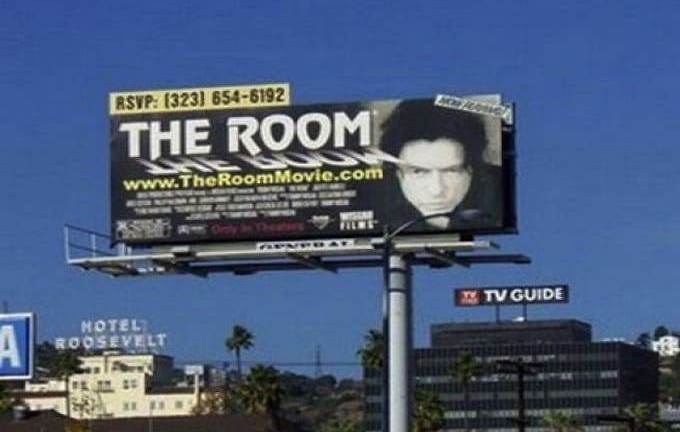 Oh hai, Den of Geek readers!
Tommy Wiseau, the oddball director, producer, screenwriter, and star of The Room—often credited as the worst movie of all time—erected a bizarrely ambiguous billboard on Highland Avenue in Hollywood way back in 2003 to promote his movie. It featured a number you could call to RSVP, probably for the premiere/screening, and a close-up picture of his face he dubbed "Evil Man" which has led many susceptible passersby to believe that The Roomwas a horror film (in a way, it was).
What cemented the billboard in the narrative of the whole The Roomdebacle, though, was Wiseau's insane but unsurprisingly in character choice to keep it up for five years following, allegedly at $5000 per month.
Now almost a decade after the billboard got taken down, the marketing team behind The Disaster Artist, James Franco and Seth Rogen's movie about the making of The Room, has set up a perfect replica of the infamous billboard at the original's exact same spot. Good thinking!
Take a look:
So what happens when you call that number? You get this special message from Wiseau himself awaiting you at the other end of the line:
"You've reached voicemail of Tommy Wiseau. I'm very busy guy. Maybe on another call, or maybe I just don't want to talk to you. I'm joking, my friend. Leave me a message. Ha ha ha."
Ha ha ha. What a story, Tommy!
Unfortunately, at the time of our call, his voicemail inbox was full. 
The Disaster Artistis coming to theaters nationwide on December 1, 2017!
Read the full Den of Geek NYCC Special Edition Magazine right here!