News
Veteran Stage and Screen Actor John Mahoney Dies at 77
Best known as Martin Crane on Frasier, John Mahoney was part of the Steppenwolf theatre troupe for 39 years.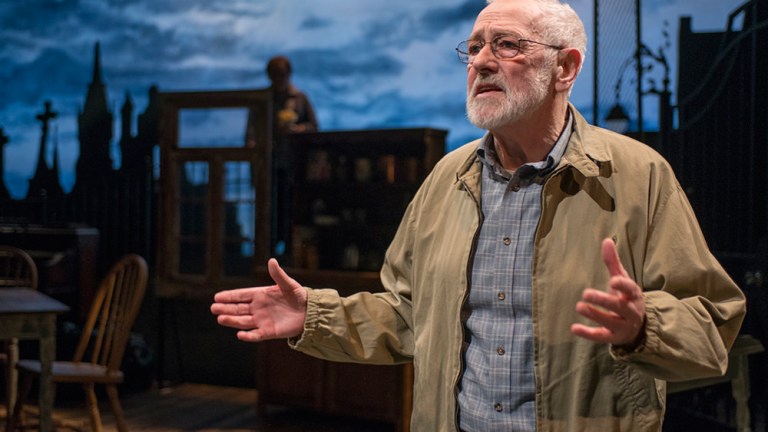 Veteran actor John Mahoney, who played Martin Crane on Frasier for 11 seasons and was a member of the Steppenwolf Theatre ensemble for 39 years, died Sunday, February 6, at age 77, it was reported by Variety.
"It is with our deepest sorrow that we share the news that ensemble member of 39 years John Mahoney passed away due to complications from cancer while in hospice care on Sunday," Chicago's Steppenwolf Theatre announced via Twitter.  
Steppenwolf cancelled its opening night Monday for the play You Got Older to honor Mahoney, who most recently starred in their production of The Rembrandt. The theater invited ticketholders to gather at the theater for a moment of silence.
Mahoney was born in Manchester, England, in 1940. He was a World War II evacuee to Blackpool, where he also attended St. Joseph's College. He moved to the United States at 19, becoming a U.S. citizen in 1959 and settled in Illinois under his sister's sponsorship.
For 11 years, from 1993 to 2004, Mahoney played the blue-collar, retired-cop foil to Kelsey Grammer and David Hyde Pierce, his dandy and effete sons on the NBC hit show.
Mahoney became a professional actor in his late 30s, after a career editing a medical magazine. He was invited to join Steppenwolf Theatre by founding members John Malkovich and Gary Sinise because the troupe needed an actor to play older roles. Mahoney starred in the Broadway revival of the play Prelude to a Kiss, as well as the plays Better Late and The Outgoing Tide at the Northlight Theatre in Illinois. He won a Tony Award for best featured actor in for his performance in a revival of John Guare's The House of Blue Leaves in 1986.
Mahoney made his film debut in Barry Levinson's 1987 film Tin Men and was featured as the White Sox manager in Eight Men Out. He also played in Moonstruck, Say Anything and Barton Fink. As a voice actor, Mahoney had roles in Antz, Atlantis: The Lost Empire and The Iron Giant.
Mahoney took the role of Martin Crane, the ex-cop father to Kelsey Grammer and David Hyde Pierce's characters in NBC's sitcom Frasier in 1993. He was nominated for two Emmy Awards and two Golden Globes for the role. He was a regular on the show until it ended in 2004. Mahoney played a priest in Becker, which starred Ted Danson. Mahoney's most recent TV appearance was as Betty White's love interest on Hot In Cleveland.
Mahoney was never married. He did not have any children.