News
Ursula K. Le Guin 1929 – 2018
The influential imaginative novelist and poet Ursula K. Le Guin has passed away at the age of 88…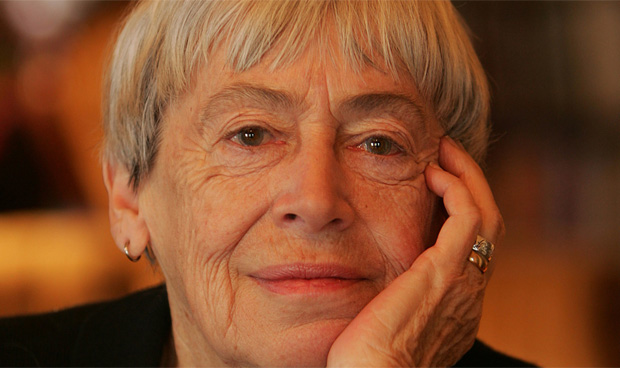 Ursula K. Le Guin was not only an author beloved by sci-fi and fantasy readers, but also one of our heroes. In the pages of her books and the lines of her poetry, she wrote wild ideas with fine precision, and in her public life, defended sci-fi and fantasy literature from snobbery with a warrior's instinct.
In fiction, letters and speeches, Le Guin used her sharp mind and words to set people straight on all manner of ignorance and dogmatism. She wrote about gender and race with an anthropologist's eye, challenging preconceptions about both. She wrote non-white heroes in her novels, and was frustrated by whitewashing artwork and screen adaptations that betrayed her intentions. In 1987 she wrote this letter refusing to provide the introduction to an all-male sci-fi anthology.
Le Guin didn't only defend literature of the imagination, but literature full stop. In 2014, she was awarded a medal by the National Book Foundation, and gave an acceptance speech that was reported in her local Portland magazine with the headline: "Ursula K. Le Guin Burns Down the National Book Awards."
I interviewed her for this site the year after she gave that speech, and she told me she was surprised by its reception. "I really didn't think anybody outside that room of 700 people would pay any attention," she said. "But everybody in that room was a publisher or a bookseller or an editor or an author and I could talk to the people who do this stuff. I thought, well, I'm 85 years old and I might as well say what I think."
She said what she thought (from around 6:00 in this video). And here it is:
I think hard times are coming when we will be wanting the voices of writers who can see alternatives to how we live now and can see through our fear-stricken society and its obsessive technologies to other ways of being and even imagine some real grounds for hope. We will need writers who can remember freedom. Poets, visionaries, the realists of a larger reality.

Right now, I think we need writers who know the difference between production of a market commodity and the practice of an art. Developing written material to suit sales strategies in order to maximise corporate profits and advertising revenue is not quite the same thing as responsible book publishing or authorship.

Yet I see sales departments given control over editorial. I see my own publishers in a silly panic of ignorance and greed charging public libraries for an e-book six or seven times more than they charge customers. We just saw a profiteer try to punish a publisher for disobedience and writers threatened by corporate fatwah. And I see a lot of us, the producers, who write the books and make the books, accepting this, letting commodity profiteers sell us like deodorant and tell us what to publish and what to write.

Well, books are not just commodities. The profit motive is often in conflict with the aims of art. We live in Capitalism, its power seems inescapable. So did the Divine Right of Kings. Any human power can be resisted and changed by human beings. Resistance and change often begin in art and very often in our art, the art of words.

I have had a long career and a good one. In good company. Now, here at the end of it I really don't want to watch American literature get sold down the river. We who live by writing and publishing want and should demand our fair share of the proceeds. But the name of our beautiful reward is not profit, its name is freedom. Thank you.
The punchline, Le Guin told me, was that the next table to hers at the ceremony "entirely consisted of Amazon people! I didn't mention the company by name, but it was fairly clear who I was most of all talking about."
The speech was hardly Le Guin's first controversy, though rebellion wasn't a goal in her work. "I was a good girl," she said of her early days in writing. "My books have been banned simply because they are imaginative. The imagination is considered dangerous and of course, it is. The imagination is truly the enemy of bigotry and dogma." She didn't set out to be a troublemaker, she told me, "But when things are kind of awful, you have to talk about it."
Something she often talked about was the narrow-minded dismissal of sci-fi and fantasy by the literary establishment. So much so that, she said in 2015, that she thought she might be repeating herself unnecessarily. "When I find myself back in the old position of fighting against the snobs and defending imaginative literature I think, oh, I should stop doing that, really. I think the battle's won. Or to use another metaphor, that we've changed the scenery."
Le Guin once said that at vulnerable moments, the thought of dying intruded along with the question "who is going to keep me alive?" She was talking specifically about what happens to women writers. "They get disappeared very quickly, so often and so unjustly," she explained. Fellow writer Grace Paley ("one of the best writers we had going"), Le Guin worried, was dropping out of canon. "It's awful to think that you might just get sort of swept off the map simply because you were a woman writer instead of a man writer. You know, what the hell?"
She was terrific to interview, cogent and funny, thoughtful, fierce and kind. At one point in our conversation, I walked myself down a twisting path with a lengthy, confused question about a piece of hers published in Playboy Magazine in the sixties with the by-line "The stories of UK Le Guin are not written by UK Le Guin but by another person of the same name." (The 'Ursula' is missing because Playboy thought its male readers wouldn't cope with a woman writer.) I was, badly, trying to say something about personas and fame, and the naming magic on which Le Guin drew in her Earthsea novels. Figuratively—we were speaking on the phone five thousand miles apart—she took me by the hand, said she knew exactly what I was saying and gave a much clearer-headed and more insightful answer than the question deserved. Much later in a follow-up email, I saw that she'd signed off as "Ursula (or another person of the same name)."
Ursula K. Le Guin. When things were kind of awful, she talked about it. She burned things down. She built them from the ground up and conjured them from air. She changed the scenery.