News
Ultimate Giveaway For The Total Tech Lover
One lucky geek will win over $1,000 worth of gadgets and tech prizes!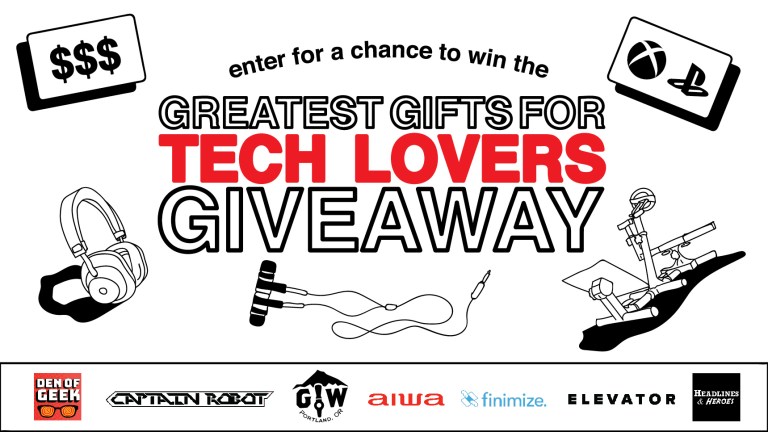 Cliché or not, it's pretty safe to say that geeks love gadgets. With the holiday season coming up, it's the perfect time to double down on your love for tech, especially with our new giveaway! We've partnered up with too many nerdy folks to count so that we could offer this enormous giveaway for one very lucky tech geek. The lucky winner will win a prize pack worth over $1,000!
The ultimate prize pack includes:
1. One (1) pair of Aiwa Arc-1 Headphones ($200 value)
2. A $100 Xbox of Playstation store credit from Finimize 
3. One (1) 64 ounce Black Chrome uKeg from GrowlerWerks ($185 value)
4. One Arozzi Velocità Racing Game Simulator Stand ($200), One Tesoro Tuned-In Pro In-Ear Headphones ($35) for a total prize value of $235 from Den of Geek (that's us!)
5. A $150 Amazon gift card from Headlines and Heroes 6. A $150 VISA gift card from ELEVATOR
Two of the prizes that are we're particularly excited about are the uKeg 64 Black Chrome from GrowlerWerks and the Arozzi Velocità Gaming Racing Simulator Stand. The uKeg 64 Black Chrome keeps draft beer fresh and carbonated for two weeks, and keeps your brews cold with double wall vaccuum insulated stainless steel. It's the perfect home addition for a Netflix binge party or to accompany your play through of the new Red Dead Redemption 2. The Arozzi Velocità Gaming Racing Simulator Stand is easily the most compact racing simulator stand on the market. The stand is compatible with almost any gaming or office chair with a 5-star base. Attach it to your favorite chair along with a steering wheel, pedals and gear shift — and you're off to the races!
Entries will be accepted until November 29th. One (1) winner will be drawn randomly and notified by email. Good luck!