News
Ultima Lucha Dos: A Primer for the Lucha Underground Season 2 Finale
From July 6 to July 20, the Lucha Underground season 2 finale event will be taking over. We got the rundown to get you caught up.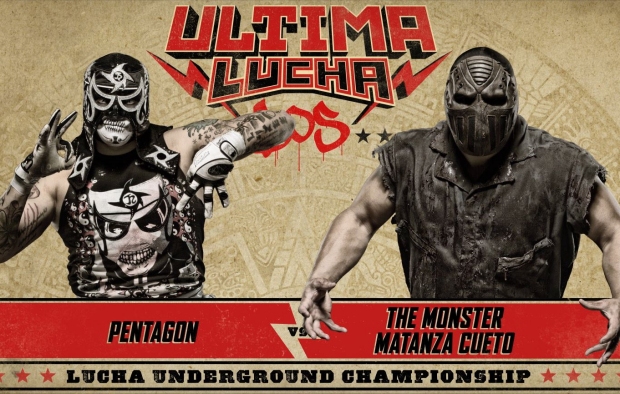 El Rey's Lucha Underground Season 2 is winding down. After several months of great wrestling, great athletics, and wacky storytelling involving murder, gods, and time travel, we're heading into Ultima Lucha Dos, the grand finale. Rather than build to a big PPV like other wrestling companies, Lucha Underground instead caps off their seasons with the big event on TV. Last year, it was three hours of television broadcast over two weeks.
This time it's four hours stretched over three weeks, starting on July 6 and ending on July 20. We'll be getting 10 big matches and a bunch of crazy backstage segments that may or may not feature Renegade's Lorenzo Lamas. That's not a joke. Lorenzo Lamas actually plays a character on the show.
If you don't get El Rey, the show is also available on iTunes. While you can get the entire season in one batch (SD or HD), you can also just get the episodes individually.
So just what is Lucha Underground all about? Lucha Underground is an underground fight club of sorts run by the charismatic millionaire Dario Cueto. At best, Dario is a personable sociopath. At worst, he's some kind of legitimate antichrist. In his Boyle Heights headquarters, the Temple, he promotes a wrestling show built on the traditions of the ancient Aztec tribes. Whether he's doing it for his own enjoyment or for something far more nefarious is up in the air right now, but he has an absolute zest for bloodshed and conflict.
Here are our matches for Ultima Lucha Dos.
PART 1: JULY 6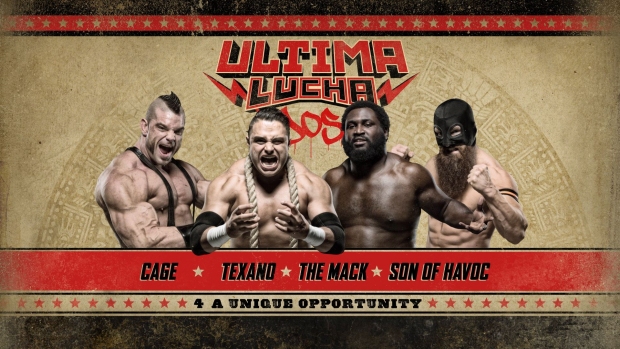 4 A UNIQUE OPPORTUNITY
The Man They Call Cage is one of the most powerful men in Lucha Underground, but don't let his size fool you. The guy is still acrobatic as hell for someone so massive. The wrestler who came closest to beating the undefeated champion Matanza, it takes a lot to keep Cage down…like a cinderblock to the skull. Otherwise, even shattering glass over his head does zero damage. Cage constantly declares himself to be "a machine" and due to the nature of the show, it's uncertain whether or not he's being literal. Regardless, the fans love to clap the Terminator theme song as Cage dominates his enemies.
Former AAA Heavyweight Champion Texano showed up at the Temple to hunt down his AAA rival Alberto El Patron (Del Rio) back in season one, but stuck around when Alberto did not. A loudmouth brawler armed with a bigass rope, Texano has been a bit of an afterthought throughout the second season, outside of taking down Chavo Guerrero.
The Mack arrived on the scene as the cousin of the late Big Ryck in season one (Ryck has since been murdered by Mil Muertes in a comic tie-in). Mack doesn't have a bodybuilder physique, but he's still a tough customer who can pull off some crazy stunts. He's one of the more genuinely good souls in the Temple as he spent much of season 2 showing support for Sexy Star both in the ring and as a needed friend. Now that that storyline has ended, Mack has been rather aimless.
The masked biker Son of Havoc went from being a bigoted loser to one of the most popular names in the first season in a storyline where he and his enemies Ivelisse (ex-girlfriend) and Angelico (BMX creeper) ended up banding together to win the Trios Championship. After some highs and lows with his dysfunctional partners, their run as a trio came to a temporary end due to Angelico suffering an injury. While Ivelisse is doing her own thing, Son of Havoc currently isn't as relevant.
Three of the matches of Ultima Lucha Dos will come from these wrestlers via a four-man tournament. With nothing else to do, these four will compete to win…well, we don't know yet. Dario Cueto has promised "a unique opportunity" and that's a loaded phrase. It tends to mean high rewards at the risk of a high cost for failure. Previous instances have included a singles match prior to the 20-man Aztec Warfare match where the winner would gain the #20 spot while the loser would get #1. Also, Drago once won the unique opportunity to get a title match, but would be fired if he lost.
Note that this mini-tournament takes up the entire first hour even if it feels like a throwaway concept.
STILL TO COME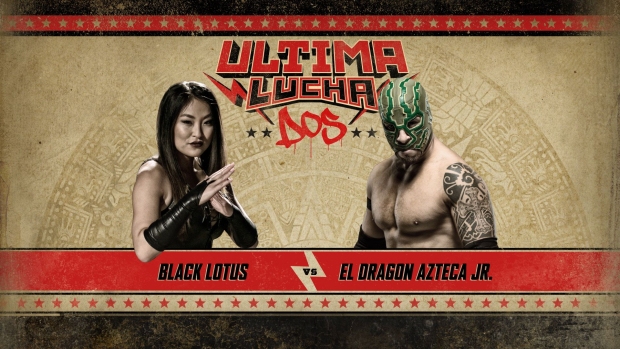 BATTLE OF THE STUDENTS
The assassin known as Black Lotus first appeared early on in the first season, constantly showing up in the background. She snuck around the Temple for the sake of tracking down Matanza Cueto and killing him for murdering her parents. To prevent her from making a fatal mistake, the wise, old luchador El Dragon Azteca kidnapped her and offered to train her until she was ready to exact revenge. Black Lotus escaped before her training was complete, feeling it was time. Dario had her captured, but then led Black Lotus to believe that Dragon Azteca was the one behind her parents' death. She believed Dario, for whatever reason, and when Dragon Azteca came to rescue her, she turned on her mentor and killed him.
Since then, Black Lotus has been Dario's personal bodyguard.
El Dragon Azteca Jr. is the very first character to appear on the first episode, even if he didn't actually debut until the middle of the second season. A child of the streets, he was guided into a better direction by Dragon Azteca, who took him under his wing and made him his eyes and ears inside the Temple. When Dragon Azteca died, his student donned the mask. El Dragon Azteca Jr. then trained under Rey Mysterio Jr. until he was proven ready to enter the Temple. While a rookie who barely appeared in the first season, Azteca Jr. is arguably the main hero of the series.
Although El Dragon Azteca Jr. has been doing well for himself as an in-ring competitor, his intent is to get revenge on Matanza, figuring that the monster is responsible for the death of the original Dragon Azteca. Black Lotus has gone to bat, telling him that Matanza had nothing to do with it. Secretly, Dario's informed Azteca Jr. that Black Lotus is responsible and offered him a match against her as a show of good faith.
Despite being around for practically the whole series, this will be Black Lotus' first televised match.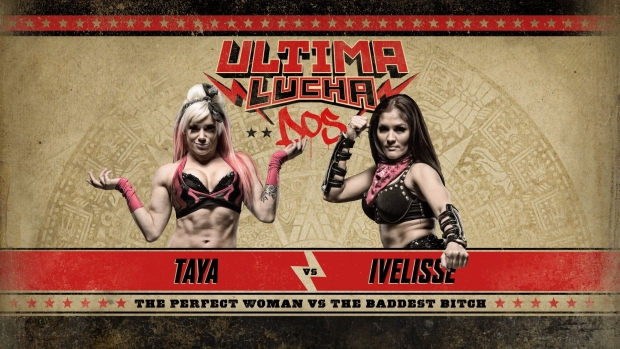 THE PERFECT WOMAN VS. THE BADDEST BITCH
Taya was introduced in season two as the partner/valet/decoy for Johnny Mundo. Even though she often endures beatings meant for Johnny and Johnny does little to dissuade them, the two make a perfect pair due to their similar egos and comparable abs. Taya is anything but cowardly and frail, showing that even against someone like Cage, she's capable of taking some of the harshest punishment without backing down.
Ivelisse was part of the unlikely champion trio with her on-again/off-again boyfriend Son of Havoc and Angelico, but lost the titles at the end of season one due to her ankle injury. Fully healed, she not only led them into regaining the titles in season two, but she also challenged for the Lucha Underground Championship and had a good showing against then-champion Mil Muertes. Angelico's sudden (and off-camera) injury caused them to lose the titles once again. She and Son of Havoc tried to make due in their promised rematch.
Their replacement partner was Johnny Mundo with Taya accompanying him. The makeshift team of Ivelisse/Son of Havoc/Johnny Mundo failed against Prince Puma/Rey Mysterio Jr./El Dragon Azteca Jr. and Taya lashed out by attacking Ivelisse. The two have clashed since then in the Six to Survive elimination match for the #1 contendership. In it, Taya cleanly defeated Ivelisse. Then in a Gift of the Gods qualification match, the two were forced to be a tag team and couldn't work out their differences enough to advance.
Dario has been chomping at the bit to see these two finally unleash their hatred on each other.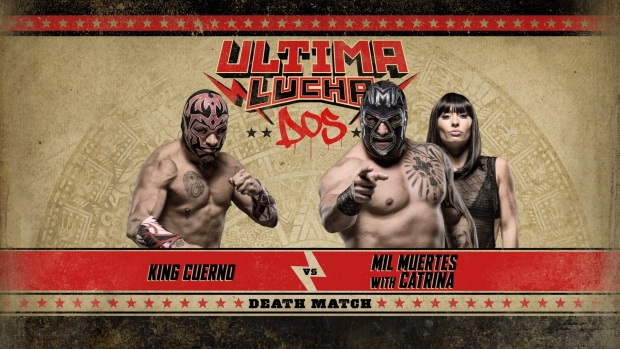 DEATH MATCH
King Cuerno is a hunter whose game is other wrestlers. He takes interest in different opponents, stalks them, scouts them, and then takes them apart at his leisure. Although he's yet to truly find any major success in the Temple, he's seen as one of the bigger and darker threats in the locker room. He's cold and calculating, usually appearing to be one step ahead of his opponents.
Accompanied by the mysterious Catrina, Mil Muertes is a man who became obsessed with death after surviving a horrible earthquake that claimed his family during his childhood. Mil's dominance and tendency to resurrect from death itself more powerful than before has allowed him to claim the Lucha Underground Championship at the end of the first season. Few have been able to stand up to him.
With Dario Cueto going into hiding, Catrina (who is a ghost, by the way) took over the Temple as the new proprietor. She had Mil Muertes as the champion with her Disciples of Death as the Trios Champions. The one problem was Fenix – Mil Muertes' blood rival and the only one to have success against him – winning the Gift of the Gods Championship, which allowed him the option of being #1 contender. Catrina gained the services of King Cuerno, who defeated Fenix and took the title away from him. If anyone wanted a shot against Mil Muertes, they needed to get through Cuerno first.
Due to stress coming from both sides, Cuerno and Catrina's working relationship became volatile and Fenix was able to implode Catrina's house of cards. Cuerno then hung back and decided to focus his revenge on Mil Muertes. When Mil Muertes fell to Matanza in the Graver Consequences casket match, Cuerno snuck off with the corpse and had Mil Muertes stuffed and displayed under glass in his den.
Catrina resurrected Mil Muertes yet again and the red-eyed luchador has decided to bring death to the hunter. The two had a match and due to Mil Muertes' unchecked rage and Cuerno's brains, Cuerno got a quick win with a heavy dose of cheating. Catrina demanded a Death Match (where everything goes and one man won't be walking away) and Dario has been all too happy to accept her terms.
THE PRINCE VS. EL REY
In the first season of the show, Prince Puma was the protagonist. Silent and with little character of his own, Puma acted as a puppet to his mentor and mouthpiece Konnan…up until Konnan's death at the end of the season. Since then, Puma's started to gain his own personality and has started speaking for himself. Then again, certain frustrations have awakened something a bit more aggressive in his heart.
Rey Mysterio Jr. doesn't really need an introduction, so I'll cut straight to the story. The legendary luchador came to the Temple after being summoned in the aftermath of El Dragon Azteca's murder. He took El Dragon Azteca Jr. as a protégé and spent months training him until they made their debuts at Aztec Warfare II. Afterwards, the two were entered in a trios tournament.
Their partner was none other than Prince Puma. They ended up winning and came out as the new Trios Champions.
Although they came off as a dream team, there was still friction. Puma wasn't involved with the Mysterio/Azteca subplot and was told to butt out when they discussed Matanza and the death of the original Dragon Azteca. They lost the titles to the team of Johnny Mundo, PJ Black, and Jack Evans due to excessive cheating behind the ref's back. When they had their rematch, it got to be too much and Puma flagrantly gave the heels a taste of their own medicine. Unfortunately, it was right in front of the ref, causing a DQ.
Puma decided that if he's going to ascend any higher, he pretty much has to take down the legend himself. Puma called out Mysterio and asked for a match. Mysterio respectfully agreed, but there's some underlying tension between the two. It became a bit more heated when Puma defeated Azteca Jr. and told Mysterio that he was next.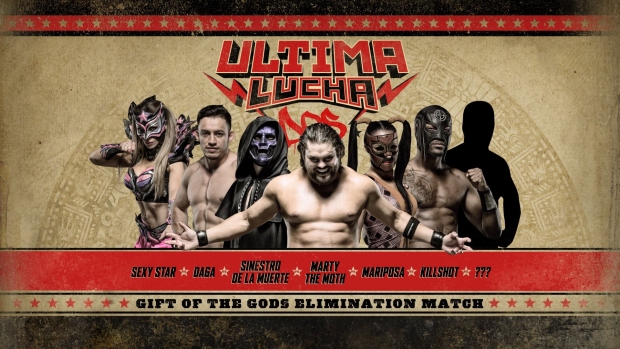 GIFT OF THE GODS ELIMINATION MATCH
Before she wore the mask, Sexy Star survived an abusive and traumatic relationship. She's since built herself up as an entity who will fight back against any oppressor with intent to become a role model that every woman can look up to. She wants to make a statement by succeeding in a dangerous atmosphere where being a woman is looked down upon.
Daga is a newcomer to the Temple. Cocky and sadistic, Daga has caught the attentions of fellow newcomer Kobra Moon. Kobra Moon has been trying to seduce Daga in various ways, from cheering him on to helping him win matches to aggressively coming onto him mid-match. Daga's been mostly repelled, but she's been growing on him. Any relationship with her probably won't end well. She is a snake, after all.
Siniestro de la Muerte was part of the Disciples of Death along with Barrio Negro and Trece. What they were was never fully explained, though they were otherworldly and had electric powers. Catrina helped them win the Trios Championship at the end of the first season, but then they lost the belts back to the Havoc/Ivelisse/Angelico team and continued to be shut down. Catrina was incensed and threatened to kill her soldiers unless they gave her a reason not to. Out of survival instinct, Siniestro slaughtered his brothers by tearing out their hearts and absorbing their energies. Since then, he's been more powerful than ever.
Marty "The Moth" Martinez appeared innocent and harmless enough in the beginning, seeming like some enthuastic wrestling fan who insisted he had Aztec blood and wanted in on the action. When he found himself part of the roster, he gradually came off as creepier and more unsavory until outright kidnapping Sexy Star at the end of the first season. Now it's clear that he's criminally insane. Marty has been revealed as a rich kid with no sense of empathy. He takes what he wants and doesn't care about the consequences.
Mariposa is Marty's sister, hinted at at the end of the first season and finally debuting early in the second. While just as sadistic as her brother, Mariposa lets him do all the talking while she is more engulfed in celebrating their Moth Tribe bloodline. In-between seasons, Mariposa tortured Sexy Star – both physically and psychologically – only to let her go so she could follow her to the Temple and bully her on a grander scale. Although suffering from PTSD, Sexy Star was able to finally regain her life and confidence by taking down the moth siblings with a little help from the Mack and even Dario Cueto.
Speaking of the Mack's friends, Killshot showed up in Lucha Underground alongside him back in the first season, but has since gone on to be his own man. The masked marksman is a former anti-terrorist soldier with plenty of kills under his belt. He's since quit the military and has gone into wrestling to help him forget about his missing comrades. Currently, he's in a feud with Marty the Moth, who has stolen Killshot's dog tags for his own amusement.
Lastly, there's Nightclaw. Little is known about the seventh entrant other than that he descends from the Panther Tribe. Dario Cueto is intrigued enough by his presence in the Temple that he's offered him a spot in the Gift of the Gods title match along with some advice not to let his pride get the best of him.
The Gift of the Gods Championship is like a cross between Money in the Bank and TNA's X-Division title. Many wrestlers compete for one of seven Aztec medallions (except for those like Nightclaw, who are simply handed them). Once all seven are given out, those competitors fight for the right to hold the championship. When you have it, you can choose to cash it in for a title shot against the Lucha Underground Champion, as long as you announce it a week in advance. Hold onto it long enough and you have to defend it like any other wrestling title.
Once it's cashed in for a title shot, the Aztec medallions are scattered and the whole process begins again. Previous cash-ins have come from Fenix (success) and Cage (failure). Unlike previous Gift of the Gods finals, this seven-way match will be elimination rather than first to a pinfall winning.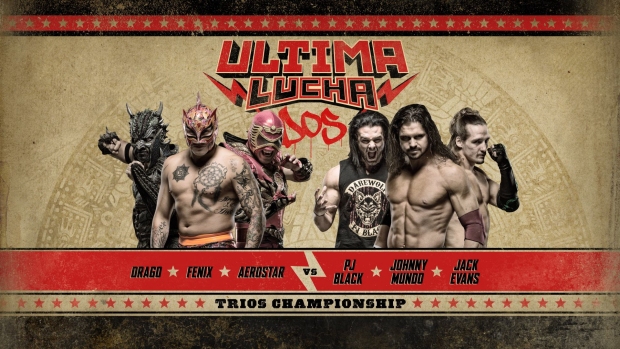 TRIOS CHAMPIONSHIP
Starting with the challengers, we have Drago, a nunchuck-wielding dragon reborn as a man. He can also morph into an actual dragon and fly away, which he tends to do when leaving the Temple. Drago and Aerostar started out as friendly opponents who over time became bitter rivals and later cooled off into the closest of allies.
Fenix is to life what Mil Muertes is to death. The luchador could have easily fallen through the cracks of the show, but his own in-ring abilities and resurrection powers have won him several championship reigns in the show's two-season run. He not only held the Gift of the Gods Championship twice, but he's cashed it in and pinned Mil Muertes to become Lucha Underground Champion. If he wins this trios match, he'll be the first to have held every title in the promotion.
Aerostar is a bit hard to explain. He's some kind of space man who either has rocket boots or is a literal space ship. He's either an immortal from the distant past or he's a time traveler. All we really know is that he's aware of the worldwide terrors tied into Lucha Underground and has to help unite all the tribes to stop some coming threat. While that's being set up, Aerostar spends his time as Drago's loyal friend, always having his back.
These three teamed up in season one during the Trios Championship tournament. Due to Drago and Aerostar being enemies at the time, they didn't get past the first round. Months later, not only did they get on the same page as friends, but the three of them won CHIKARA Pro Wrestling's annual King of Trios tournament after defeating the team of AJ Styles and the Young Bucks in the finals. It rocked so hard.
On the other team, we begin with PJ Black. Calling himself "The Darewolf" for some reason, Black appeared in Lucha Underground as a bit of a blank slate. Despite coming off a WWE run as Justin Gabriel, Black tripped out the gate by losing his initial matches. He eventually became Jack Evans' best buddy and gradually followed on his behavior.
Johnny Mundo, known in WWE as John Morrison, came to the Temple in the show's very first episode to prove himself as the best. Over time, his ego took over, especially when he didn't get his way. He never could get his hands on the Lucha Underground Championship, but he's still been seen as one of the show's top talents. He backed off on the singles title hunt for much of season two, focusing on a feud with Cage and eventually joining forces with Black and Evans.
Jack Evans is the epitome of "guy who needs to get punched in the face." While incredibly talented, Evans oversells his accomplishments, such as claiming he invented modern lucha libre or calling himself "The Dragon Slayer" after getting a single win over Drago. Evans and Black have become two of a kind in the last few months, constantly playing air guitar so well that actual electric guitar sounds will play over it. Think of him as a cross between Bill S. Preston and Luther from The Warriors.
This match has been building for the entire season. It started off in a three-way feud between Drago, Evans, and Black. Evans and Black started to team up and worked over Drago with nunchucks in a bathroom until Aerostar made the save with his own futuristic, neon, glowing nunchucks. The two sides fought it out for several months, culminating in Drago and Aerostar winning a Nunchucks Match.
Meanwhile, a new trios tournament was held and Dario decided not to go with the Drago/Aerostar/Fenix team again. Instead, he put Fenix with Evans and Black. They worked out pretty well, all things considered. Black seemed relatively okay with Fenix while Evans straight-up hated him and constantly tried to steal his thunder. They didn't win the tournament, but they were granted a title shot against the Trios Champions.
Before the match, Evans and Black discovered Fenix beaten down backstage with Johnny and Taya standing over him. Johnny offered to take Fenix's spot on the team and he was welcomed in with open arms. Through a handful of unseen kicks to the groin, the Worldwide Underground proceeded to win the belts.
Now Drago, Aerostar, and Fenix band together one more time to get several layers of revenge.
LUCHA UNDERGROUND CHAMPIONSHIP
Pentagon Jr. is no hero, but his brutal charisma and declaration of, "CERO MIEDO!" has made him the breakout star of Lucha Underground. He spent much of the first season breaking the arms of his enemies to appease some dark lord that was helping him achieve greatness. After defeating and breaking the arm of Vampiro, Pentagon discovered that Vampiro was his evil master all along. Now deemed ready, Pentagon's spent season two trying to get his hands on the championship.
"The Monster" Matanza Cueto is the younger brother of Dario. Never fully shown in the first season, Matanza was alluded to many times as some kind of unstoppable beast and even killed Crew member Bael by eating his face. He spends his time seething in a cage beneath the Temple, loyally awaiting for Dario. When Dario needed to lay low for a bit, he took Matanza with him and started a second "Temple" where he would lure tourists into a building, lock the door, and have Matanza tear them apart as a form of training to get him into ring shape.
When deemed ready, Matanza appeared at Aztec Warfare II and proceeded to dominate through over half a dozen opponents with relative ease, including Texano, Prince Puma, and Mysterio. Crowned the new Lucha Underground Champion, Matanza powered through all challengers, which included Fenix, Mil Muertes, and Cage.
Pentagon Jr. wasn't allowed in Aztec Warfare II and threatened Dario to get a title shot the week after. Dario agreed under duress and had Matanza absolutely destroy Pentagon. It was a completely one-sided battle where Matanza not only defeated Pentagon, but he broke his back. The episode ended with a worried Vampiro taking Pentagon into an ambulance.
In the aftermath, Vampiro spent months torturing and beating the weakness out of Pentagon until he could become whole again. In a twelve-man tag match where the winning team would compete for an Ultima Lucha Dos title shot, Pentagon appeared in a wheelchair to offer support to Chavo Guerrero, the only other competitor to ever show him any kindness (little as it was). Then Pentagon stood up, attacked Chavo, broke his arm, and took his spot in the match.
Not only did Pentagon Jr.'s team win, but in the week that followed, he defeated King Cuerno, Ivelisse, Taya, Johnny Mundo, and Fenix. Now he's ready for round two against the champion possessed by a god.
AND THE REST
Yeah, there's a bunch of awesome matches to look forward to, but Lucha Underground also gives us these cinematic backstage storylines and Ultima Lucha Dos is where everything comes to a head. Fittingly, of the few Lucha Underground wrestlers who don't have matches on the show, the trio of Cortez Castro, Mr. Cisco, and Joey Ryan have been pretty important to the background plot.
Castro spent the entirety of the first season as a member of the Crew with Cisco and Bael, but early in season two we discovered that he's an undercover cop, trying to get information on Dario Cueto. Joey Ryan is another cop sent to assist him, wrestling as a sleazy glory hound. When Mr. Cisco became aware that something was up with them, he was promptly arrested and offered a chance for freedom if he wears a wire.
The police captain behind the investigation feels that Dario Cueto might bring upon the apocalypse. She seems to be onto something as a councilman, as played by Lorenzo Lamas, wants her to put an end to the investigation. Lamas' character answers to someone higher and it isn't a government employee. Someone we've only seen smoking a cigar in the back of a limo while wearing black gloves. Someone said to be even stronger than Matanza. Someone that makes even Dario recoil in fear.
I guess we'll find out soon enough.
Ultima Lucha Dos will air on El Rey on July 6, 13, and 20 at 8pm ET.
Gavin Jasper is hoping Famous B has something to do during all of this. Follow Gavin on Twitter!