News
Two Chuck Berry Films in the Works
Chuck Berry documentary begins principle photography, dramatized biopic rights nabbed by Cardinal Releasing.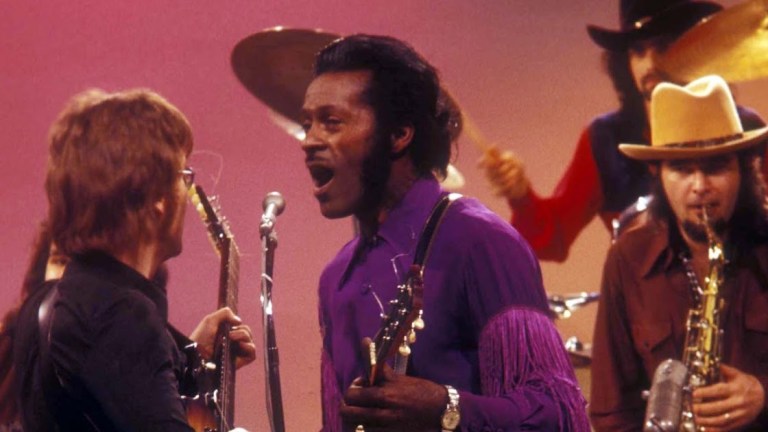 "If you tried to give rock and roll another name, you might call it Chuck Berry," John Lennon said before ripping into duet version of "Memphis" with the duck-walking guitar icon.
The late architect of the merge of upbeat blues and country rhythms was honored at the 2018 Grammy Awards on Sunday, January 28, and on the 29th UK Cardinal Releasing announced they started principal photography on an all-access documentary with the working title Chuck. The company also secured the rights with the Estate of Chuck Berry, and widow Thelmetta Berry to produce a dramatized feature biopic.  Pre-production starts this summer.
The full-access feature-length documentary on the rock and roll legend will be directed by Jon Brewer, who helmed the documentaries B.B. King: The Life of Riley, Nat King Cole: Afraid of the Dark, Jimi Hendrix: The Guitar Hero and the recently released Beside Bowie: The Mick Ronson Story.
"I am very privileged to be able to produce and direct this fully authorized and official story of the legendary Chuck Berry," Jon Brewer said in a statement.
Brewer will be granted all-access to those "in the know and now willing to share the surprising truth about the life and loves, highs and lows of the Granddaddy of Rock and Roll, Chuck Berry."
Berry died on March 18, 2017,. He was survived by his wife, Thelmetta Berry, and children Ingrid, Charles Junior, Aloha and Melodie. His last album, Chuck, released that year, was his first studio album in 38 years. Three generations of the Berry family were involved in the sessions.