News
Toronto Crowd Not Giving WWE its Ideal Reactions
The live crowd for Raw on Monday kept WWE on the edge of its seat, with many reactions playing the opposite way ...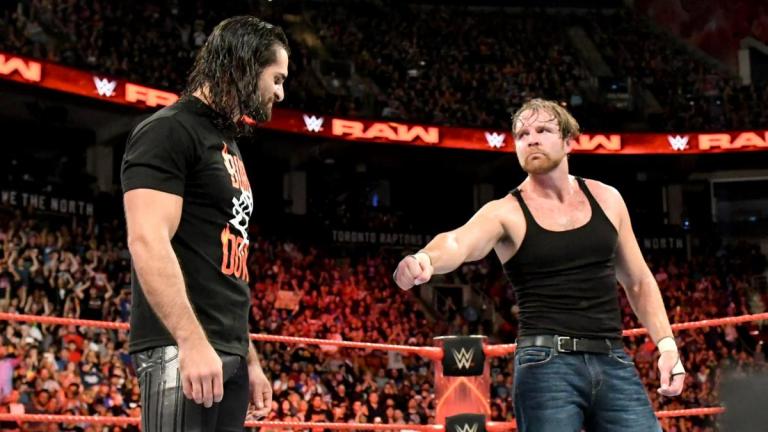 The live crowd for Monday's WWE Raw in Toronto just wasn't cooperating. The crowd booed Roman Reigns — then again, who doesn't? — and the crowd booed Bayley. The crowd cheered Braun Strowman and Samoa Joe, but then again, they were both beating up Roman Reigns.
That live crowd interaction gives the show just a little more juice. I think if you asked Vince McMahon, he would probably prefer a crowd that went along with the show a little bit more, but there's no debating these hot crowds in certain markets can make or break a show. Boston, New York, Toronto, Montreal, Chicago and Philadelphia are sure bets for electric, on-fire crowds.
WWE is set up for a few of these shows in a row.
Next week, Raw will take place in Boston and it's the go-home show for SummerSlam next Sunday. Tuesday's SmackDown Live next week is in Providence, which is between the Boston and New York markets, and then of course SummerSlam and the ensuing Raw will take place in Brooklyn.
Coming into these few weeks, there are a few things WWE should expect. Roman Reigns and Randy Orton will almost surely be rejected and booed. Braun Strowman these crowds view as a star, and he'll be cheered. The same goes for Samoa Joe.
These next few weeks will be an interesting dynamic. It will be intriguing to see if WWE changes its booking based on the live crowds, especially after such a hot crowd on Monday.
Sheamus beat Seth Rollins
Dean Ambrose not coming out to help was interesting, and it ultimately set up something we saw later in the show (we'll get to that in a minute). It seems like only a matter of time before Ambrose and Rollins team up and have a Shield reunion, but there are some hurdles taht they still have to cross.
Jason Jordan beat Jean Pierre Goulet
Not a single person in the live crowd cared about Jason Jordan, and I'm not really sure that's overreacting. If the intent is to ultimately turn Jordan heel, then I get his presentation. But if they want to keep Jordan a babyface — and I think they should for a while before turning him — then there are some serious adjustments that need to be made.
Sasha Banks beat Emma and Alicia Fox in a triple threat match
The win moves Sasha Banks into a No. 1 contender match next week on Raw. The live crowd was really behind Emma, of all people, in this match. This was a Canadian (Toronto) crowd, and Emma was trained by Canada's own Lance Storm.
Luke Gallows & Karl Anderson beat Big Show & Enzo Amore
It's good to see the Club get a win on television, but there's a problem here … they're not on the upcoming SummerSlam pay-per-view, and the guys they beat are on the pay-per-view. This seemed to be a theme for the week.
Dean Ambrose beat Cesaro
After Ambrose's win, Rollins was in the ring and they teased another Shield reunion. That tease was, by far, the loudest reaction of the night from the live crowd. The interesting part here is that Ambrose put the fist in the middle, and Rollins walked out before reuniting.
That's interesting, because in recent weeks, Rollins has been sure he wanted to team up with Ambrose and Ambrose was the skeptic. Those roles switched here. If Rollins isn't turning heel, this feels like a really weird decision. Rollins finally got what he wanted, and instead of taking it, he turned away.
Akira Tozawa baet Ariya Daivari
This was a decent match, but like with most of the 205 Live matches on Raw, they seem so inconsequential. I feel like a lot of these matches are there to fill time, and while they do promote the 205 Live show on the WWE Network, I'm not sure how many eyeballs actually get turned to the show.
Nia Jax beat Mickie James and Dana Brooke to earn a No. 1 contender match next week
This was an expected result. The bigger story in this division on Monday was the booing of Bayley. That's why these triple threat matches were set up to begin with. Bayley was hurt and she was pouring her heart out in a promo and the Toronto fans booed her, and booed her heavily. Why? Well it's because of how her character has been portrayed since joining the main roster. I think it's fair to say that the Bayley NXT story can only be told once.
Braun Strowman beat Roman Reigns in a Last Man Standing match
The finish to this match came when Samoa Joe ran down from the backstage area and choked out Reigns, allowing Strowman to pick himself up to beat the 10 count and get the win. It's not a clean win for Strowman, but the Strowman win and the interference from Samoa Joe made both of them look strong. They're both supposed to come across as heels, but that's not happening (especially not with this Toronto crowd). It should be noted, Raw is in Monday next week and those two guys will be insanely over next week as well.