News
Tom Waits New Song with Mark Ribot Fights Fascists
Tom Waits breaks two-year silence for Marc Ribot's cover of the Italian anti-fascist song "Bella Ciao (Goodbye Beautiful)."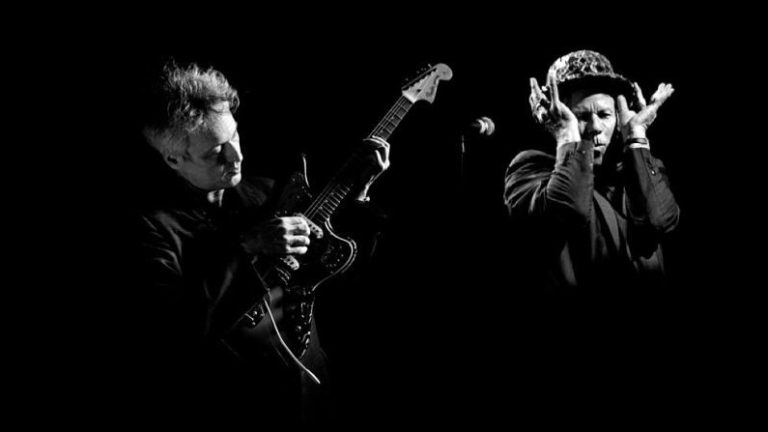 "One fine morning I woke up early to find the fascists at my door," Tom Waits sings plaintively on the first song he's been featured on in two years. The veteran songwriter, multi-instrumentalist and actor awoke from his slumber to show solidarity for his long-time guitarist Marc Ribot's new solo album Songs of Resistance 1948 – 2018. Waits takes the lead vocal on a version of "Bella Ciao (Goodbye Beautiful), according to Open Culture.
"There's a lot of contradiction in doing any kind of political music, how to act against something without becoming it, without resembling what you detest," Ribot said in a statement. "Sometimes it is hard to figure out what to do, and I imagine we'll make mistakes, and hopefully, learn from them. But I knew this from the moment Donald Trump was elected: I'm not going to play downtown scene Furtwangler to any orange-comb-over dictator wannabe. No way."
Further reading: Plant, Page, and Jones May Reunite for Led Zeppelin 50th
Originally entitled "La Complaine du Partisan," with lyrics by Emmanuel d'Astier de la Vigerie and music by Anna Marly, the song was updated from an older folk song during World War II. It was written about the French Resistance and the Italian anti-fascist resistance fighters in 1943. The song was adapted into English as "The Partisan" by Hy Zaret, who wrote the song "Unchained Melody," which provided hits for Righteous Brothers, Perry Como, Harry Belafonte and Vito & the Salutations. "The Partisan" was covered by Joan Baez and Leonard Cohen.
"I played Tom a bunch of the tunes and he immediately bonded with that one," Ribot said in a statement. "Of course, he brings a certain gravitas to everything he does—my Italian friends say he sounds exactly like an old 'partigiano' (resistance fighter)!"
Ribot calls Songs of Resistance 1948 – 2018 a protest record. "Every movement which has ever won anything has had songs," Ribot said in a press statement. Songs of Resistance also features Steve Earle, Justin Vivian Bond, Meshell Ndegeocello, Fay Victor, and Sam Amidon. "The eleven songs on the record include a few original compositions as well as traditional songs that are drawn from World War II anti-Fascist Italian partisans, the U.S. civil rights movement and Mexican protest ballads," according to the official website.
Further reading: Jimi Hendrix Experience Electric Ladyland Box Set Coming for 50th Anniversary
This isn't Waits first foray into political waters. The album Real Gone, which Waits released in 2004, was his reaction to George W. Bush and the Iraq War. Waits' 2009 album Bad As Me features the anti war song song "Hell Broke Luce."
Waits' last official release was his cover versions of "The Soul of a Man" and "John the Revelator" for the Blind Willie Johnson tribute album God Don't Never Change: The Songs of Blind Willie Johnson.
The video, directed by Jem Cohen, puts the old music to new images from anti-Trump demonstrations in Washington D.C. You can hear the song and watch the video here:
Mark Ribot's Songs of Resistance 1948-2018 was released on Sept. 14 on the ANTI- record label.
Culture Editor Tony Sokol cut his teeth on the wire services and also wrote and produced New York City's Vampyr Theatre and the rock opera AssassiNation: We Killed JFK. Read more of his work here or find him on Twitter @tsokol.