News
TNA Impact Wrestling Taking On an MMA Feel
The TNA World Title Series has been booked a lot like mixed-martial arts, and that has been a welcome change for the audience ...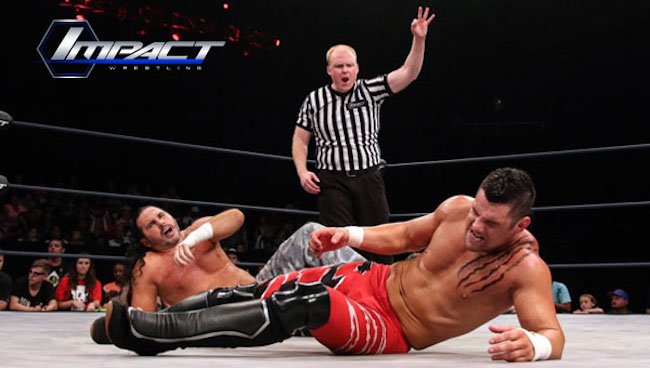 Before watching Impact Wrestlingon Wednesday night via DVR, I was watching UFC's The Ultimate Fighteron Fox Sports 1. Going from one product to the other made one thing really clear: TNA is promoting its show a lot like MMA, and that's probably a good thing.
TNA is pushing its product more similarly to mixed martial arts than any pro wrestling product ever has on a major cable network ever has. It's a complete reversal from the often cartoonish and gimmicky storylines that have plagued the show for the last several years. As much as TNA has been mismanaged from the top, bad storytelling and poor booking have also been ball and chain that the talent has been forced to drag around.
There's no telling where TNA goes after the World Title Series ends, but sticking to a similar format, where the stories are told in the ring and through interviews, where the focus of the interviews are the matches, should be a winning formula for TNA. If nothing else, it differentiates its product from WWE instead of trying to become nothing more than a WWE-lite version of pro wrestling.
Right now, with the World Title Series, TNA has found a nice sweet spot between the soap opera of WWE and the pure sport of Ring of Honor. In stumbling upon this format almost by accident it seems like, it could be a formula that moving forward helps establish the show long term on whichever network TNA lands on after this Destination America run is over.
TNA's production values are lightyears ahead of ROH. However, so is their budget. ROH has a more talented and deeper roster, but TNA can make its roster work. TNA also has more star power.
Bellator and TNA, ironically because Spike TV owns Bellator, are very similar at this point.
Bellator has taken its MMA promoting to a more pro wrestling feel, including theatrics with its ring introductions and the fighters cutting more wrestling-style promos. TNA, meanwhile, has taken a step towards MMA promoting, relying less on storyline and more on the stories being told in the ring. It's been really refreshing for the TNA product. They have a match, the wrestlers cut interviews talking about that match, why they'll win and why the match is important, and then the match happens and the audience gets to see the result.
It's a nice formula. It's a simple formula. It's a formula that, in the long run, should make for a more interesting show that also should help boost viewership. Now, it's just a matter of if that viewership is on Destination America or another network.
Earlier this week, it was reported by several wrestling news sites that TNA is negotiating with two networks. Who they are and where TNA will end up next year, we'll have to wait to find out. But hopefully they bring this product to that network.
Match Results
All matches are round-robin matches in the TNA World Title Series
1. Gail Kim beat Madison Rayne
2. Eli Drake beat Jessie Godderz
3. Matt Hardy beat Eddie Edwards
4. D.J. Zema beat Mandrews
5. Micah beat Crimson
6. Ethan Carter III beat Mr. Anderson
Quick Strikes
1. So, huh? Seriously, what was that Madison Rayne promo before her match with Gail Kim? TNA reverted to some of its old ridiculousness with that backstage clip, but at least it was 30 seconds before a match and not a 15-minute promo or a central theme to the program. It didn't add anything to the match, though. It actually made Madison Rayne look a lot less serious as a challenger for Gail.
2. For as green as Drake and Godderz appear at times, this was a very good match. You can tell that TNA's agents are getting through to the younger talent in particular. They effectively pulled off the heel vs. heel match, and kept the audience engaged with the Godderz injury angle. Giving the audience a reason to care when it's two heels can always be challenging, but they did a nice job.
There was nothing to reinforce Godderz as a heel after the match, though. Drake tortured his injured knee and then won with his feet on the ropes. Godderz came off as the babyface, which is fine if they're going to go in that direction. But something as simple as Godderz attacking the referee could have reinforced that he's also a heel.
3. Funny Pope mentioned James Storm as the "biggest disappointment" of the World Title Series thus far during a mid-series awards segment. I wonder if Storm signing with WWE/NXT had anything to do with TNA making him the "biggest disappointment" of the World Title Series. Seems petty if so, but it's also not something WCW or WWE wouldn't have done in the mid-'90s.
4. A really good match between Edwards and Hardy. TNA seems intent on keeping Hardy strong having him go undefeated in the round-robin round. They could go for a surprise, but it would be shocking if Hardy didn't make it to the World Title Series final.
5. D.J. looked really good in his match with Mandrews, but it's time to drop the D.J. gimmick now that he's no longer with Robbie E. and Jessie. He's better going back to the very entertaining Xema Ion character.
6. Dixie Carter announced that the semifinals of the World Title Series will take place in India when TNA tapes there next month.
The Finish
Another good World Title Series episode, despite some ill-advised backstage segments that fell more flat than anything. The Madison Rayne ninja video and ECIII going to Nashville to pay his fine didn't really add anything to the show. The ECIII in Nashville video wasn't terrible, but was just filler.