News
TNA Impact Wrestling: Final Show on Spike TV
TNA wrapped up its first-run programming with Spike TV on Wednesday night, without a mention of its pending network moves …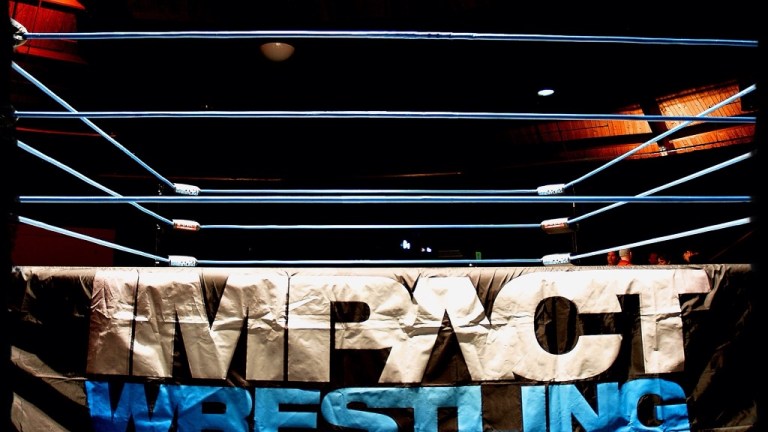 TNA finished up its first-run programming slate with Spike TV on Wednesday, and despite news earlier in the day that the company had reached an agreement with Destination America, not a single mention of the pending move was made during the Impact broadcast. If Spike TV was willing to allow it – which is why I'm guessing it didn't happen – TNA could have made it happen. They learned of the Destination America deal before yesterday, and could have easily produced a 10 or 15 second bumper graphic and a quick voice over. It could have been done.
My guess is that Spike TV wouldn't grant them the opportunity, which is understandable. TNA is still under contract with Spike until the end of next month, and Spike still has more "best of" episodes yet to air. Given how amicably this situation has played out in the public eye, it wouldn't shock me to see Spike TV allow TNA to publicize the move on television later next month, but how many people will be watching those best of shows? Not many. Not as many as watched last night, that's for sure. It's still surprising, at the very least, that TNA didn't direct fans to its website for breaking news, or some clever way or wording it in order to direct fans to the website.
Is Rockstar Spud the best babyface in wrestling?
Crowd reaction side, Rockstar Spud might be the best babyface in all of pro wrestling right now. His attire leaves something to be desired, but most people can follow his story and sympathize. He's small, and he's the chosen victim of EC3, a big, hulking bully. EC3 is the captain of the football team, taking his frustrations out on the freshman in the chess club. Everyone wants to see that little guy finally rise up and give the bully what's coming to him. Spud will get his day, too. And I think the people will react to it.
Spud takes such a tremendous beating, that it's impossible not to sympathize with him. He evokes an emotion. EC3 has also been great as a heel, throwing Spud around like a rag doll and holding him to the mat by his face, asserting his strength and dominance. The entire feud is extremely believable, and in many ways, that's due to Spud's babyface performance.
Quick Strikes
1) Mike Tenay announced during the show that after a week off next week, Impact will return to Spike TV on Dec. 3, as they begin a special look at the top moments of 2014. Expect more like this through Dec. 24, when Spike's agreement with TNA officially runs out. I wouldn't be surprised to see TNA go back into the library and perhaps run a "top moments on Spike" type special.
2) I'm not a fan of TNA taking the title off Havok so quickly. She's a new star, someone that clearly has some momentum in an otherwise stale division, and to take the title away so soon after her win seems counterproductive. At least she didn't lose the match, and it will set up a new feud for Havok, but the heel chasing the title isn't generally something that people flock to see. If the plans weren't to keep the title on Havok for an extended period, they shouldn't have put the title on her to begin with. That should be a general rule with most young talent. Don't rush them to the top unless you intend to keep them there.
3) There was really good heat for MVP when he ran out and attacked Chris Melendez in his match against Kenny King. Melendez is a great story, but he's also inexperienced, and booking him opposite someone like MVP is going to help his cause both now, and in the long term.
4) Bram defeated Tommy Dreamer and is the new king of hardcore? In 2014? Didn't hardcore die a decade ago?
Match Results
1) Taryn Terrell def. Gail Kim, Havok to win the Knockouts Title
2) Chris Melendez def. Kenny King via disqualification
3) Bram def. Tommy Dreamer in a hardcore match
4) Low Ki def. DJ Z, Tigre Uno and Manik to win the X-Division Title
The Finish
Overall, a good show. The Knockouts Title change didn't make much sense, and the Low Ki title change was rather predictable, but the storyline progression for Roode-Lashley, MVP-Angle-Melendez-King-Anderson was all well done, especially the brawl the closed the show.