News
The Ryan Lambie column: how Gordon Ramsay is helping kill videogames
Hell's Kitchen is being made into a computer game. And people will buy it, because of its name. Welcome back to the age-old problem...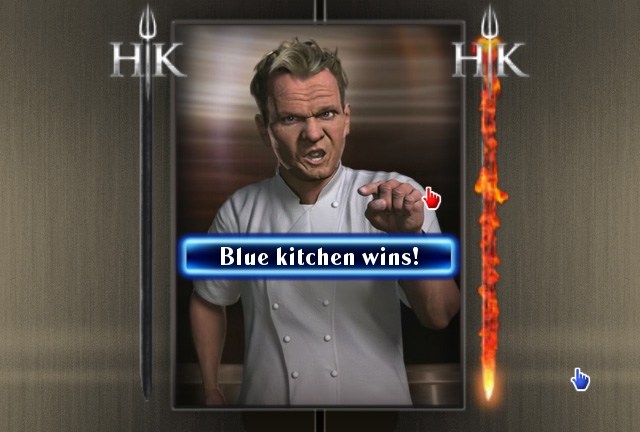 Disturbing news. I've just discovered that Gordon Ramsay's crumpled, belligerent visage is being digitised and blasted into a console near you courtesy of those lovely marketing people at Ubisoft. That's right, Hell's Kitchen is being made into a video game. How it will actually function is still a mystery; presumably, you'll guide Gordon around his kitchen with the analogue stick and use the fire buttons to unleash a foul salvo of verbal abuse ('I said asparagus you BASTARD!!'). Maybe there'll be a bonus round where you get someone else to catch fish, and then pretend you've caught them yourself.
I'm joking, of course. A Ubisoft press release describes Hell's Kitchen like this:
'The game will allow players to experience the show's high-pressure kitchen and dining room challenges as a faithfully rendered 3D Gordon Ramsay watches their every move. After executing the three phases of an order – preparation, cooking and service – Gordon Ramsay will score each meal. As they progress through the game, players will be rewarded with access to recipes from Ramsay's own repertoire.'
It's the game designers I feel sorry for. Imagine having to create a 3D model of Gordon Ramsey – there must be a million polygons in that craggy brow of his alone. Initial screenshots reveal some mixed results; from what I've seen so far, Gordon vaguely resembles a cross between Golem, a Mekon and a boiled ham. I can only assume Mr. Ramsey hasn't actually seen the finished product – Ubisoft have quoted him as saying: "Being in a video game is a new experience for me and I'm very pleased with the results."
How the game ultimately turns out is of little importance, of course. It's just a quick cash-in on a currently successful show that will make some easy money before disappearing without a trace. Besides, Ubisoft could be on to a winner – after all, there are millions of television shows that are equally undeserving of a video game tie-in. The Antiques Roadshow, for example. I'm sure there are dozens of people who would love to sit in front of their PS3 guessing the current market value of Fabergé eggs.
Last of the Summer Wine must surely have some video game mileage, too – who wouldn't enjoy guiding a pensioner on roller skates down a steep hill in Yorkshire? And personally, I think it's high time Oprah Winfrey appeared on the Wii; the console's just waiting for an interactive talk show.
As you've probably guessed by now, I'm not too thrilled at the prospect of a Hell's Kitchen video game. Apart from the depressing thought of Gordon Ramsey's face glowering at me from the shelves of my local game shop as well as in the supermarket (and in magazines, on the television – and even on bottles of gin), it's the same problem I have with tie-ins in general; famous names are used to sell – at best – mediocre products that would never shift otherwise. Why waste all that money and energy on coming up with new concepts when you can just repackage old ones, slap a celebrity's name on the cover and market it as the next big thing.
Or maybe I'm just being cynical. Maybe Hell's Kitchen: The Video Game isn't a shameless piece of marketing at all – it could actually prove to be a genuinely memorable, playable game. Ubisoft's vice president of world marketing obviously believes in his product:
'Hell's Kitchen has everything a great video game needs: pressure, excitement and intense competition.'
He hasn't convinced me, but if you're interested in playing what looks like Cookin' Mama with a severe case of tourette's, Hell's Kitchen will be available in the autumn for PC, Mac, Wii and DS.
Rant over.
Ryan Lambie writes his gaming column every week at Den Of Geek. Last week's can be found here…