News
The Right Stuff TV Series in Development
National Geographic is bringing The Right Stuff to TV as a scripted drama.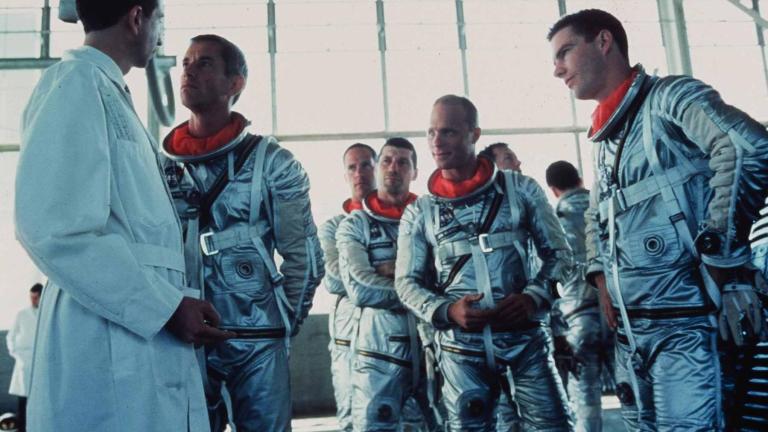 Philip Kaufman's 1983 adaptation of The Right Stuff is an absolute masterpiece, with an all star cast and what might just be Bill Conti's best score (sorry, Rocky). It's based on an equally masterful book by Tom Wolfe about the rise of the space program and the mindset of test pilots who risked their lives to be among the first in space. Both the book and the film get the highest possible recommendation around here.
As rousing as the movie is, though, it departed from the source material (and history) in some significant ways. And, of course, it's difficult to condense the events of over a decade into a two hour plus running time. So the news that National Geographic is developing The Right Stuff as a scripted TV series, with Leonardo DiCaprio and Jennifer Davisson as executive producers, is exciting. There are definitely a few seasons of TV in this story, 
"Having already had a rich relationship with Leonardo, Jennifer and their production company Appian Way on Before the Flood, I'm excited to work with them in a scripted capacity," said Courteney Monroe, CEO, National Geographic Global Networks in a statement (via Variety). "With The Right Stuff, we're looking at moment in time where the everyday life, the trials and tribulations, of these men was scrutinized in the public. The story gives a peek into the minds and goals of these astronauts seeking exploration and adventure during the space race of the '50s, making it the perfect story for National Geographic to tell."
If they get this right, with the attention to period detail fans of Mad Men came to know and love, for example, this could be something special. Of course, the really hard part is going to be getting a cast that can live up to the original, which included names like Scott Glenn, Ed Harris, Dennis Quaid, Sam Shepard, Barbara Hershey, and more. 
In the meantime, if you haven't seen the movie or better yet, read the book, please do so.
Read and download the full Den of Geek SDCC Special Edition magazine here!