News
'The Queen of Soul' Aretha Franklin Dies at Age 76
Aretha Franklin made us all feel natural because the Queen of Soul was a force of nature with a voice to respect.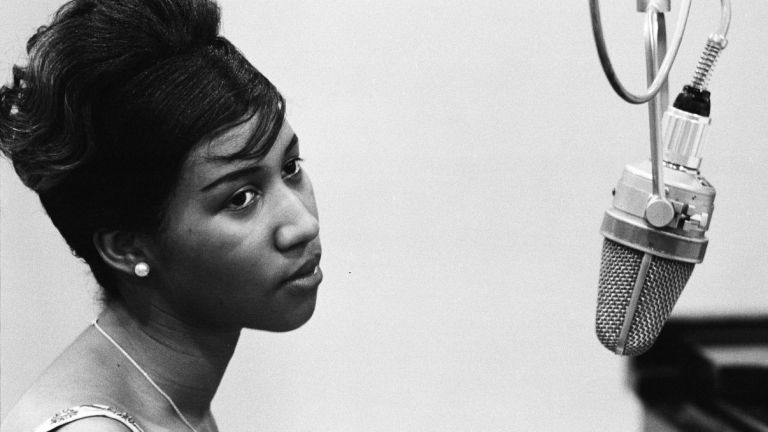 "The Queen of Soul" Aretha Franklin died at the age of 76. Her condition had been reported as grave, and she had been receiving friends like Stevie Wonder and The Rev. Jesse Jackson while in hospice care. The iconic singer of "Respect," "(You Make Me Feel Like) A Natural Woman," "Spanish Harlem," and "Think" underwent surgery for pancreatic cancer in December 2010, but she continued touring regularly in the years since.
Aretha Franklin was born in Memphis on March 25, 1942, and began singing gospel at New Bethel Baptist Church in Detroit where her father, pastor and civil rights activist C. L. Franklin, was minister. She began singing secular music when she was 18. Saying she had the greatest voice since Billie Holiday, legendary talent scout and record producer John Hammond signed Franklin to her first recording contract with Columbia Records in 1960. Straddled between pop and R&B, her tracks didn't chart.
Franklin signed to Atlantic Records in 1967 and recorded her breakthrough hit "I Never Loved a Man." The daughter of a civil rights leader brought the message loud and clear by putting a personal stamp and a rousing melody to it. Her interpretation of Otis Redding's "Respect," complete with the "sock it to me" backings, became the definitive version and Redding himself could not have been happier. Aretha's version became an anthem demanding respect for black women, who were often sidelined by both the Civil Rights Movement and the Women's Rights Movement. Aretha was not one to sit on the side. The pastor's daughter sang "God Bless America" at the inauguration of Barack Obama on January 20, 2009.
Franklin ruled pop charts in the sixties with hits like "I Say A Little Prayer," and "Ain't No Way," but dug deep into her gospel roots in the 1970s with songs like "Don't Play That Song," "Rocksteady, and the best selling gospel album of all time, Amazing Grace, which came out in 1972. She also recorded the albums I Never Loved a Man the Way I Love You, Lady Soul, and Young, Gifted and Black for the label.
Aretha's father Franklin was shot by a mugger in 1979, and left in a coma for five years. Clarence Franklin died on July 27, 1984. After her father was shot, Franklin left Atlantic and signed with Arista Records where she recorded for twenty-three years from 1980 to 2003, recording the albums Jump to It and Who's Zoomin' Who?.  
In 2003, she opened her own label called, Aretha. Her first album on the label, A Woman Falling Out Of Love, which came out in 2011, marked Aretha's fifty years in show business.
Her 2014 album Aretha Franklin Sings The Great Diva Classics saw Aretha put stamp on ten songs previously recorded by other female artists such as "I Will Survive," and "I'm Every Woman," Adele's "Rolling In The Deep," and remake of her anthem, "Respect." The album was produced by Clive Davis, Kenny "Babyface" Edmonds, André "3000" Benjamin, Eric Kupper, Harvey Mason Jr. and Chicago DJ/producer Terry Hunter, who also scored the vocal arrangements for the project. Cissy Houston recorded background vocals along with Aretha's live accompanists Fonzi Thornton, Tawatha Agee, Vaneese Thomas and Brenda White-King.
Aretha was also full of surprises. She showed her sense of humor in the film The Blues Brothers and displayed her brilliant operatic voice when she performed the aria "Nessun dorma" at the Grammys in 1998, replacing Luciano Pavarotti at the last minute. Also that year, she scored her final Top 40 recording with "A Rose Is Still a Rose."
Franklin's fingers were just as important as her vocal cords to her music. For most of the latter part of her career she stood and swayed in front of a mic stand, but when she sat at the piano a special magic happened. She enrolled at Jullliard later in life to study classical piano, because she never stopped searching for musical growth.  
Franklin was the most charted female artist in Billboard's history with 112 charted singles on, including 77 Hot 100 entries, 17 top ten pop singles, 100 R&B entries and twenty number-one R&B singles. Her other hits include "Think," "Call Me" "I Say A Little Prayer," "Freeway Of Love," "Jump To It," "I Knew You Were Waiting (For Me),"Rock Steady", "Jump to It", "Freeway of Love", "Who's Zoomin' Who", "Chain Of Fools", "Something He Can Feel,"a remake of The Rolling Stones song "Jumpin' Jack  Flash" and "I Knew You Were Waiting (For Me)" her duet with George Michael.
Franklin won 18 Grammy Awards, and a Recording Academy Lifetime Achievement honoree in 1994, Her most recent Grammy award for was for Best Gospel Performance for the song "Never Gonna Break My Faith" which she recorded with Mary J. Blige in 2008. She became the first woman inducted into the Rock and Roll Hall of Fame in 1987. She was the recipient of the Presidential Medal of Freedom, the National Medal of Arts and the Kennedy Center Honors.
Franklin last performed at the Elton John AIDS Foundation Gala in New York in November.
Culture Editor Tony Sokol cut his teeth on the wire services and also wrote and produced New York City's Vampyr Theatre and the rock opera AssassiNation: We Killed JFK. Read more of his work here or find him on Twitter @tsokol.