News
The Public Image Is Rotten Clip Explores Influential Album
Moby, Flea and Thurston Moore open a Metal Box in this exclusive Clip from The Public Image Is Rotten.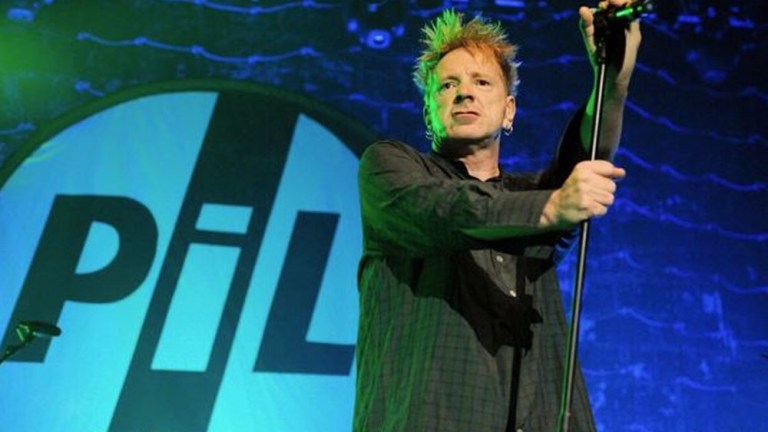 Johnny Rotten may have snarled his way into punk history as the lead singer of the Sex Pistols, but Johnny Lydon fronted the band that made "the White Album of the Underground," according to the Thurston Moore in this clip for The Public Image Is Rotten. The 103-minute documentary explores Lydon's post punk work as frontman of Public Image Ltd.
Lydon sang for Public Image Ltd a lot longer than he sang with the Sex Pistols. The band changed players over its forty years as the former punk integrated new styles.
Never Mind The Bullocks Here's the Sex Pistols launched punk rock in England where it seemed god needed saving from the Queen. But the Public Image Ltd album, either Metal Box or Second Edition depending on where you bought it, was equally earthshattering, we hear from Flea, Moby and Thurston Moore in the trailer.
"That sound, that style of play, changed everything for me," says Flea, while Moby admits taking a little while to fall in love with the record.
PiL's Metal Box was released by Virgin Records in November 1979. Lydon was backed by Keith Levene, who played guitars, synthesizers, and bass guitar; with Jah Wobble on bass guitar but also doing drums along with several un-credited drummers.
You can watch this exclusive clip here:
"After the breakup of the Sex Pistols, John Lydon/John Rotten, formed Public Image Ltd (PiL)– his groundbreaking band which has lived on nearly 15 times as long as his first one," reads the official synopsis. "He kept the band alive ever since, through personnel and stylistic changes, fighting to constantly reinvent new ways of approaching music, while adhering to radical ideals of artistic integrity. John Lydon has not only redefined music, but also the true meaning of originality."
The documentary follows where Julian Temple's documentary The Filth and the Fury leaves off. The Public Image Is Rotten is anchored by an extensive interview with John Lydon. "With his trademark acerbic wit and unpredictable candor," Lydon discusses the Sex Pistols, the death of Sid Vicious, and not being allowed to use the name Johnny Rotten. The documentary also talks with Ad-Rock and includes footage of PiL's no-show show at New York City's Ritz, where the band played behind a movie screen.
The Public Image Is Rotten made its North American theatrical premiere of at the New York, Metrograph on Thursday, September 13th.
Culture Editor Tony Sokol cut his teeth on the wire services and also wrote and produced New York City's Vampyr Theatre and the rock opera AssassiNation: We Killed JFK. Read more of his work here or find him on Twitter @tsokol.