News
The Opposition Cancelled as Jordan Klepper Gets New Comedy Central Series
In a TV news landscape impossible to know whom to trust, Jordan Klepper loses to The Opposition.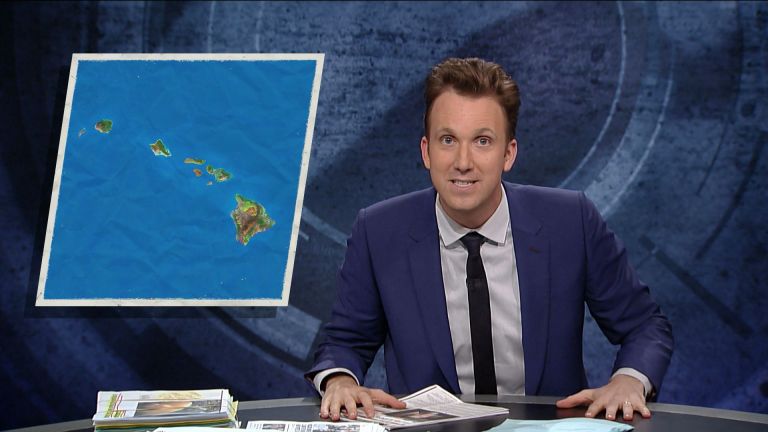 Jordan Klepper's The Opposition had only one Golden Rule: May you only hear from others what you've already been telling yourself. Well Comedy Central will be shutting the daily late-night fringe voice as the show will end its run after one season, according to Variety.
Klepper's Daily Show spinoff was a parody of online conspiracy theorists like Alex Jones and assorted alt-right news sources. "I figured maybe, right now, the world could use one less asshole," Klepper told Variety. "He feels that everybody is out there to get him, so if anything ends, it's definitely the globalists, the corporatists, the big wigs at Viacom, the mainstream media, the elitists, the liberals. So he is not going to go out without a fight."
Klepper is staying on at the network with a new weekly series tentatively titled Klepper.  The hour-long series will air weekly and feature Klepper's travels across the country to chat with "real" people. No day of the week has been announced, but the network is reportedly looking at the 10 p.m. time slot.
Klepper began his career as a member of The Second City and Upright Citizens Brigade. Jon Stewart hired Klepper for The Daily Show in 2014. He became senior correspondent under Trevor Noah. Klepper remained in the show with Trevor Noah until 2017. Klepper. The Daily Show produced the spinoffs series The Colbert Report and The Nightly News with Larry Wilmore, which were executive produced by Stewart.
The Opposition's executive producers Stuart Miller and Kim Gamble will be moving to the new series and other staffers "will likely move to the new series, [although] those decisions are currently being made." Klepper will also be joined by on-air correspondents.
Klepper and his writers are currently planning the last two weeks of The Opposition.
Culture Editor Tony Sokol cut his teeth on the wire services and also wrote and produced New York City's Vampyr Theatre and the rock opera AssassiNation: We Killed JFK. Read more of his work here or find him on Twitter @tsokol.