News
The Man Who Killed Don Quixote New Trailer Drops
The new full-length trailer for Terry Gilliam's personal windmill The Man Who Killed Don Quixote fills in a twisted plot.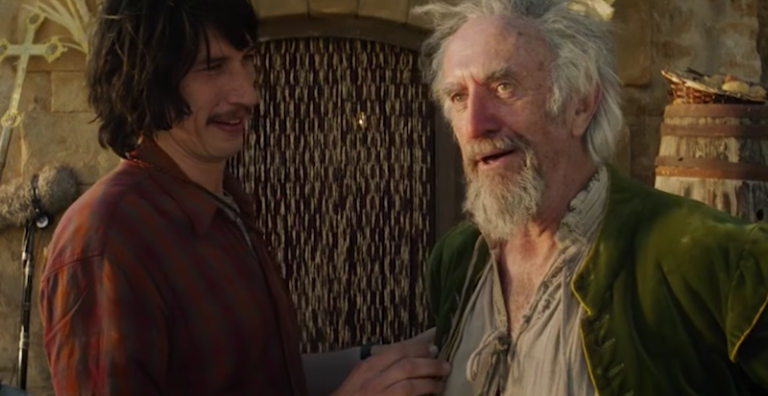 "This is going to be fun," we are assured in the new, full-length The Man Who Killed Don Quixote trailer. Filling in the storyline, we get a glimpse into the ever-delusional mind of one of the great romantic heroes in literature, Don Quixote de La Mancha, played by a hysterically unhinged Jonathon Pryce.
Terry Gilliam is here to restore the age of chivalry. The former Monty Python cartoonist and master filmmaker suffered long for his latest film, The Man Who Killed Don Quixote which will debut at the Cannes Film Festival on May 19, 2018, proving the long-gestating film was no pipe dream.
"We shall have such great adventures together," Pryce's knight-in-tarnished armor tells Adam Driver, who plays Toby, an ad exec Quixote thinks is his sidekick Sancho. The great romantic makes a lot of assumptions, most of them wrong, we hope, except that he is a man "for whom all dangers are expressly absolved." 
The screenplay for The Man Who Killed Don Quixote was written by Gilliam and Tony Grisoni, who also co-wrote Fear and Loathing in Las Vegas, Tideland and The Brothers Grimm.
Terry Gilliam wasn't just dueling with windmills for the project. The Man Who Killed Don Quixote has been in production for decades. At one point, it was supposed to star Johnny Depp and Jean Rochefort. The project was so muddled and muddied, it warranted its own documentary film, Lost In La Mancha. Made in 2003, the documentary will be celebrating its fifteen year anniversary this year, about a film that was already long overdue.
The Man Who Killed Don Quixote stars Jonathan Pryce (Pirates of the Caribbean, Game of Thrones, Brazil) as Don Quixote, and Adam Driver (Star Wars: The Last Jedi) in the role of Toby Grisoni, a 21st-century advertising executive who is whisked back in time and lands in the middle of Miguel de Cervantes' book. Quixote assumes Grisoni is Sancho Panza. After losing his bearing, Toby finds himself as Don Quixote de la Mancha.
The film also stars Stellan Skarsgård (Avengers: Age of Ultron, Good Will Hunting), Olga Kurylenko (Quantum of Solace, Oblivion), Joana Ribeiro (Portugal Não Está à Venda, A Uma Hora Incerta), Óscar Jaenada (Pirates of the Caribbean: On Stranger Tides), Jordi Mollà (Criminal, In the Heart of the Sea), Sergi Lopez (Pan's Labyrinth) and Rossy de Palma (Julieta, The Flower of my Secret).
You can watch the trailer here:
And you can watch the first teaser trailer here:
The Man Who Killed Don Quixote is produced by Gerardo Herrero, Mariela Besuievsky, Amy Gilliam, Tornasol Films, Kinology, Recorded Picture Company, Entre Chien et Loup and Ukbar Filmes in association with Alacran Pictures, with the participation of TVE, Movistar +, Eurimages and Wallimage.
The Man Who Killed Don Quixote will play the Cannes Film Festival on May 19, 2018.