News
The Impact Wrestling Title Picture: What's Going On?
With ECIII as No. 1 contender, where is Impact going ahead of Slammiversary? ...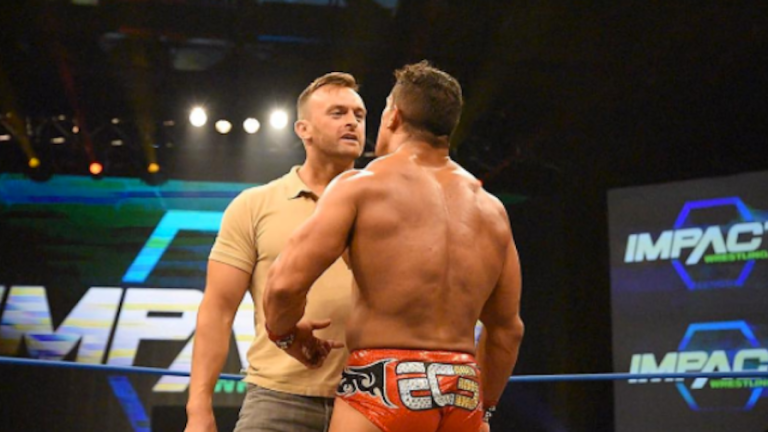 It's difficult to tell where Impact Wrestling is going with its World Title picture ahead of the Slammiversarypay-per-view on July 2. But, we're starting to get a clearer picture despite a very top-heavy scene at the top of the card.
A few weeks ago, Alberto El Patron won the GFW World Title over Magnus. At the time, the announcers were playing the GFW Title up to be a "golden ticket" to the title match against Lashley at Slammiversary, and that does make some sense. In the "real world," the GFW Title is essentially meaningless. It's a World Title for a company that was barely a company, running a couple of spot shows a few years ago, but it was never on any sort of mainstream television, at least in the United States.
But within the "Impact Universe," they're building up the GFW Title to have some meaning. That's fine. It's their story to tell, and with wrestling you have to suspend some disbelief. I get it.
Last night, ECIII won a triple threat match over Magnus and Alberto El Patron to become the No. 1 contender for the Impact World Title.
What? 
Yeah, so they built up the GFW Champion as having, pretty much, a guaranteed title shot. And now they run a No. 1 contender match. It's a little confusing on the surface, but not in the way they pulled it off.
About a month ago, ECIII cost James Storm the Impact World Title, smashing a beer bottle over his head when he was about to beat Lashley for the championship. Then a few weeks later, ECIII mocked Storm in a promo, and proceeded to whip him with his belt after he handcuffed Storm to the rope. Last week, ECIII and Storm finally had a 1-on-1 match, but it was interrupted by Magnus, and there was no finish.
Last night, in the triple threat match, Storm hit Magnus with a Last Call kick and was, again, about to become No. 1 contender for the Impact Title. But, before he could go for the pin, ECIII hit a knee to Storm's back, forcing him through the ropes, and ECIII stole the pin to win the match.
However, last week, ECIII also beat up authority figure Bruce Prichard. To open last night's show, Prichard, with Tyrus as protection, said that ECIII's actions would be reviewed.
That gets us back to who is challenging Lashley at Slammiversary?
There's no way they keep with a straight-up ECIII vs. Lashley match for the World Title. Not with El Patron still in the mix. They need to get a babyface involved here at some point, and I'm leaning more towards them going with ECIII-Storm in a match, while either booking El Patron vs. Lashley in a unification bout, or they could find a way to add Magnus thre as well.
ECIII vs. Lashley is heel vs. heel. That's not a good money-making main event.
El Patron also has a case to face Lashley, beating him earlier this year before the decision was reversed.
ECIII and Storm I could see being in a strap match, especially after the whipping. They never had their 1-on-1 after that angle, and they're continuing to have ECIII get one up on Storm. They need to fight at some point. Using the ECIII beating of Prichard as an out, that's how I see this playing out on television.
So, let's go for it. A little more than a month away, here is how I see the Slammiversary card:
Lashley (c) vs. Alberto El Patron (c) in a World Title unification match
ECIII vs. James Storm in a strap match
LAX vs. VOW in a Tag Title unification match (assumes VOW wins GFW Tag Titles)
Cody Rhodes vs. Moose in a Grand Championship-Nex-Gen Championship unification
Low Ki vs. Matt Sydall for the X Division Title
Davey Richards vs. Eddie Edwards in a gimmick match (cage? No DQ?)
Rosemary vs. Sienna for in a Women's Title unification
Joseph Park & Jeremy Borash vs. Josh Mathews & Scott Steiner
You'll notice that leaves Magnus off the card. I think that could be part of a future storyline coming out of Slammiversary. Magnus has been blaming Bruce Prichard for costing him the GFW Title, and he has been all over the "Prichard regime," even going back as far as blaming him for things that happened when he was in charge in 2011 or 2012. I could see a Slammiversary snub being something they use to further Magnus coming out of the show, maybe even having him interfere in the main event.
KM & Kongo Kong beat Braxton Sutter & Mahabali Shera
The match playing out the way it did made sense. Impact has invested some TV time in Sutter, Kong and KM, and Shera hasn't been on TV much at all, so him taking most of the heat and then taking the pin is the way it should have worked out.
Turning Rosemary makes some sense, too. She came in after the match to save Allie from Laurel Van Ness and Sienna. If Decay is gone, it makes sense to totally revamp her character. However, the character being what it is, you can't just all of a sudden have her come out dressed in pink ring gear and acting normal. For the most part, she's still the same character she was in Decay – for now – and I'm looking forward to see if they explain why she helped Allie in future episodes, as they should.
Veterans of War beat Fallah Bahh & Mario Bokara in a GFW Tag Title Tournament match
Good showcase win for the VOW, but they did give some shine to Fallah Bahh as well. Bokara took the big beating in the match. VOW moves on to face LAX next week in the match they've been building to for a few weeks. Like with Kong, they also gave some shine to Bahh and he wasn't hurt by the loss. Bokara was the one taking the beating, and the loss, while the announcers raved about Bahh's ability as a big man.
Josh Mathews introduced Scott Steiner as his partner for Slammiversary
Holla, if you hear me! Well, that got interesting. Steiner is 54 years old, but he looked good. With his shades on, the thing on his head and the beard, he looked a lot like the Scott Steiner you would remember for 15 years ago. The big leather jacket helps with that, too. Impact really tried hard to get Steiner off as a huge, scary threat. They're playing up his past with Joseph Park and Jeremy Borash running around the arena, terrified. I thought it was almost a little too over the top. I'd get Borash running off and being terrified, but Park, who wanted the match, shouldn't have been made to look like such a wimp here, even though it fits with his character.
Aside from that, I'm still ready for this painstaking storyline to come to an end.
Eddie Edwards & Alisha Edwards beat Davey Richards & Angelina Love
Impact should keep this feud going to Slammiversary, setting up some sort of gimmick match. They've been in the ring with each other so many times already, another mixed tag-team match doesn't feel right for this feud, especially considering the personal aspect of it. Also, this is another instance where Impact has gone heavy with the heat on the heel Richards within this feud. Even after Edwards and Alisha had a win to celebrate, they weren't allowed to do it with the post-match beatdown. Richards handcuffed Edwards to the rope and he was forced to watch his wife get powerbombed through a table. The slow burn is working with this storyline. I also thought it was very aggressive to have Richards choking Edwards with his bare hands, yelling, "Why won't you die?!" … It was intense. Most of this storyline has been.
ECIII beat Magnus and James Storm in a Triple Threat match to become No. 1 contender for the Impact World Title
Long (20 minutes) match, but it had good action and the final few minutes were especially exciting. The thing I liked most about this match is that you weren't sure who was going to win, so the near falls all played really well with the live crowd and the television viewer. You could have believed all three guys winning. It was a good combination.