News
The Ian Gibson Column: mobile phones and Dan Dare
Introducing another brand new weekly column. And this time, it's the British comic legend Ian Gibson (Dredd, Robohunter, Halo Jones) behind it...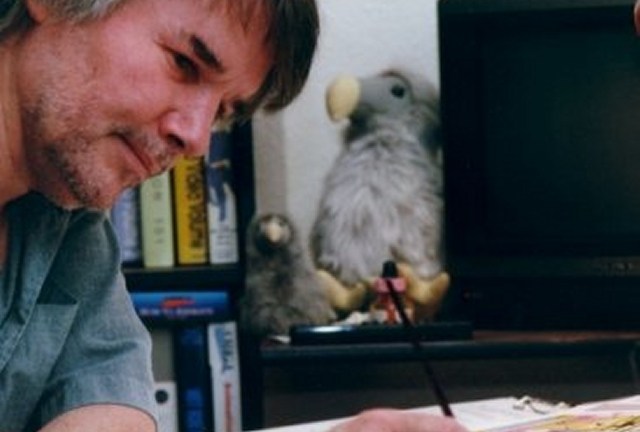 Comics may not be as dead as I was beginning to think.
I know Rebellion, bless 'em, have been trying to kill off the titles they have in their own obscure manner. The sad part about it is that I don't think they realise they're doing it?
But beyond that there is still some light shining. I think it's a faint glow from that thing in your pocket. You know. The one that used to play the William Tell overture very tinnily to the annoyance of all in earshot.
But things have come a long way since then.
Believe it or not, the humble mobile phone may be coming to the rescue for my old medium. Comics are now being made available to view as downloads to your multifunction pocket wonder. So it's no longer just for texting and taking weird pics of your buddy in compromising situations or your pet being ultra cute. Now you can catch up with vintage comics strips and some new freebies done by aspiring ams.
On top of that, our beloved balloonist Sir Richard Branson has a new imprint called – who would have guessed? – Virgin Comics. And they're revamping Britain's finest in the shape of Dan Dare, penned by the acclaimed Gath Ennis. So there's something to look out for. If not just for the nostalgia accorded to anything from our finest hour: The Eagle.
You could accuse me of some bias in these matters, as I've been asked to do a cover for the Dan Dare series. And Rok Comics, run by John Freeman, are scheduling a run of my Annie Droid strip from The Times for your mobile phone. Especially for anyone who slept through the Millennium and the hiatus created by the Macroshaft Bug! 😉
No! I will refrain from any adverse comments about Windoze. I have tried Vista and lived to tell the tale. But I am looking lustfully at the Linux penguin, I must admit! But enough of my computer adventures. I was being lyrically waxy about comics.
Thus, if your pocket starts to throb, glow, play a cutesy jingle or even the soundtrack from Psycho… I may be there – in the shape of some of my creations. So, maybe I'll do some drawing today.  Tomorrow it may be on your mobile phone. There is no escape…
Ian Gibson has his own website which you can find here. And you can check back for another column every Monday.
Ian's also written some other pieces for Den of Geek:
Letter from an Anarchist can be found here.Manga, Anime & Miyazaki is right here.Thank you for the comics is here.The economics of comics can be found here.And advice & observations is here.