News
The Hoax of Bath Abbey Demon Coins Began 40 Years Ago
The 1973 Satanic scare of Anholt reaches a church of England.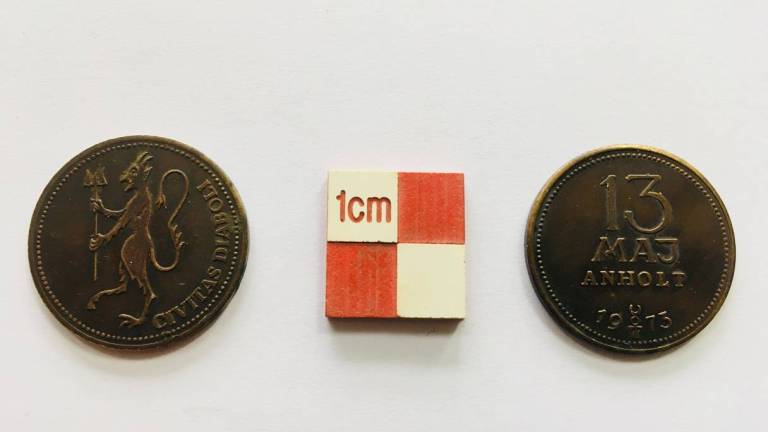 It sounds like page 12 of a Dan Brown novel, a group of workmen restoring an old church find a cache of coins with apparent Satanic symbols on them. The discovery of the coins leads to an age old conspiracy, but in the end, like the Priory of Sion, it is a hoax. During a 20 million pound restoration project called the Footprint Project by England's Heritage Lottery, workers removed 9th-century corporation stalls inside Bath Abbey to fix a collapsing floor, according to Wessex Archaeology. Two coins were found under the platform which housed the stalls. The coins feature a depiction of a horned, cloven-hoofed devil carrying a trident over the legend CIVITAS DIABOLI on one side and, with 13 MAJ ANHOLT 1973 on the flip. The coins are part of an elaborate 40-year long hoax.
Other small denomination coins were found during the renovation as well a bill for service dated May 15, 1902. The Anholt coins are currently being conserved by Wessex Archaeology. "To discover finds that are a fabrication, designed to mislead, is both fascinating and a timely reminder that we should always view any discovery with a critical eye," Bruce Eaton, Wessex Archaeology's project manager at Bath Abbey told The Independent.
Similar coins have come out of hiding in churches and museums across Denmark. Some were found alongside with letters claiming to be from a satanic high priestess named Alice Mandragora, as well as stories about her and a mysterious "Anholt cult." Some were found hidden in Køge city museum.  and even behind paintings at the police headquarters in Copenhagen. So far, 370 coins have been found, they all reference the date May 13, 1973 and Anholt.
Civitas Diaboli means the city of devils. 13 Maj Anholt 1973 means May 13, 1973, Anholt. In May 1973, 13 ritual sites were found in an isolated area called "the desert" on the island of Anholt, between Denmark and Sweden. In a paper entitled "Operation Mindfuck" by Norwegian academic Jesper Aagaard Petersen, Polynesian-looking masks, weird stone formations, bones wrapped in string, black candles and a fake shrunken head on a stake that was planted in the sand through a child's sandal strap were found on the sites. One story in a Danish newspaper claimed human sacrifice was performed until the alleged victim called the cops to say she was still alive.
Danish police from the mainland catalogued and photographed the artifacts, and conducted interviews with the islanders, some of whom were scared. "You can never know if the devils want to see blood," one resident told the police. Another said he would have a loaded gun ready on the next full moon. Most of the islanders, according to ethnographer Bente Alver, weren't concerned with the Satanists as long as they cleaned up the sites when they were done with their deviltry.
The director of Rosenborg Castle, where the Danish crown jewels are kept, was mailed an outsize human tooth in the mail and a letter instructing him to "find a place for the Divine Tooth in the display with the crown jewels. …. Actually, it should be entirely on its own on a tray of pure gold."
Keld Grinder-Hansen, who wrote scholarly articles about the coins his brother found while inspecting a statue in 1981, received a letter warning devil worshippers would come to drink "blood soup" with him. "I was a young and sensitive guy," said in the 2013 expose in the Danish broadsheet newspaper, "And I have to admit I was scared."
Politiken ran a six-part series into the coin appearances in 2013. The Danish newspaper's investigative journalists concluded the Anholt mystery was a hoax perpetrated by an art gallery clerk at the Køge Museum at the National Gallery of Denmark. Knud Langkow died in 2004 aged 73. His niece, Lene Langkow Saaek, said the hoax had nothing to do with Satanism. He just had a dark sense of humor.
"I think normality annoyed him," Lene Langkow Saaek told the newspaper. "He did not like ordinary. … He did it to make fun of the bourgeoisie and to get people out of their chairs and to wonder."
The prankster apparently didn't act along. He was joined by Danish coin expert Jørgen Sømod, who along with original coin engraver Bent Jensen, are alleged to have designed, minted and hidden hundreds of their own Anholt Coins in tourist hot spots in the area. Satanic High Priestess Alice Mandragora turned out to be Langkow. Other letters came from a Karl Klunck or Dunk Wokgnal, which was Knud Langkow's name written backwards.
This wasn't Langkow's only hoax.  A letter dated 1918 and old photograph was found behind a radiator by the priest's daughter in Vordingborg Church in 2001, according to a 2016 broadcast from the Danish television station TV East. The letter was a woman's message to her future children. Lene Langkow Saaek told Politiken she had "no doubt that it was one of my uncle's fabrications when I saw the letter. My uncle's writing is very recognizable and he had made many similar things for his Satan cult in the 1970s." She said her uncle probably found the photograph at a flea market.
Scandinavians call it "the prank of the century." The Anholt Coins found in Bath Abbey are the first known to reach the U.K. There have been churches on the site of the abbey since 757. Langkow retired from Køge Museum in 1991.  His niece, a 66-year-old teacher, told Politiken her uncle was intelligent but he had to quit school at a young age to find work to help his family make ends meet. Some Danish museum curators refer to Langkow's collected creations as a Gesamtkunstwerk, or a universal work of art. Fourteen years after his death and 45 years after starting his prank, individual devil coins can fetch more than 100 pounds at auction.
Culture Editor Tony Sokol cut his teeth on the wire services and also wrote and produced New York City's Vampyr Theatre and the rock opera AssassiNation: We Killed JFK. Read more of his work here or find him on Twitter @tsokol.