News
The Hardy Boyz Return At WrestleMania 33
Matt and Jeff Hardy returned to the WWE while the Undertaker takes one last ride ...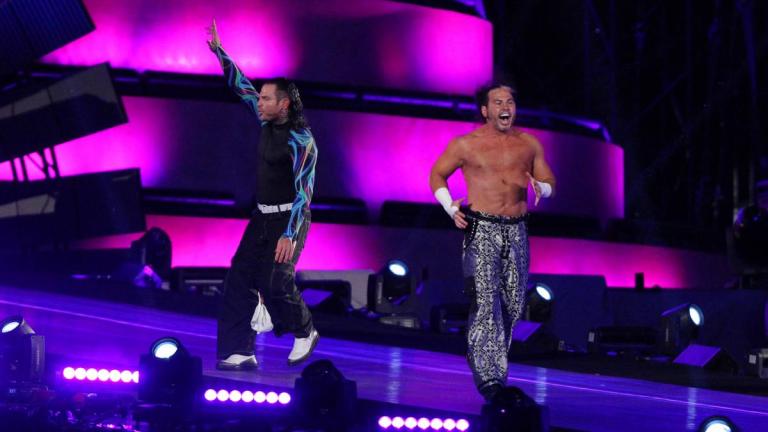 Matt and Jeff Hardy really are the greatest tag team champions in all of space and time!
The Hardy Boyz returned to WWE on Sunday night at WrestleMania 33, winning a four-way ladder match to capture the Raw Tag Team Titles from Gallows and Anderson.
The Hardys made their return after all three other teams were introduced. The New Day then emerged and said that they had one more team to add to the match. Dressed in their gear, they teased adding themselves before they introduced the Hardys, and the roof blew off Camping World Stadium. Well, there's no roof on the stadium, but you get my drift.
We'll see where the Hardys go from here. Obviously, it would appear that they are destined for the Raw brand. It also appears that they have deals locked in that will keep them involved for at least a good portion of time.
Matt didn't use much of his Broken character from TNA. The utilized their old Hardy music from WWE. Jeff and Matt were referenced as Jeff and Matt, not "Broken Matt" and "Brother Nero."
After the match, in an interview with WWE.com, the Hardys both spoke normally. Matt did drop some of his "broken" phrases, but for the most part he kept the accent out of it.
That could be because Impact has a legitimate legal claim against the use of the characters. Or, it could simple mean that Vince McMahon didn't think enough people would know what the Broken character was, and they didn't want to go too far in that direction.
That's probably the right move. The WWE audience knows the WWE Hardys, and that's what they gave them tonight.
Hopefully this run isn't wasted. You can argue WWE dropped the ball with the Dudley Boyz return a few years ago, and never utilized to their fullest potential. The biggest fear for the Hardys is that they get lost in the shuffle.
But all of that is in the future. For tonight, the Hardys are back. They procured tag team gold and it was delightful! Ahh, yes!
1. AJ Styles beat Shane McMahon
I'm sorry, but the fact that Shane was made to look as Styles' equal is revolting. Shane kicked out of a Styles Clash, and although he missed most of his big spots, he still hung with a former WWE Champion, who the company is probably going to be building around as they head into the summer month son SmackDown. This is inexcusable. Shane McMahon is a 48-year-old non-wrestler. It's nepotism at its absolute finest.
What did Styles do to get saddled with carrying Shane for 15 minutes on the biggest stage of the year? It's a big match, but this is also going to be a four-hour show and no one is going to remember it by the time the night's over. This did nothing for AJ Styles. Nothing.
The match itself was OK. The booking is inexcusable. Bottom line.
2. Kevin Owens beat Chris Jericho to win the U.S. Title
It's expected that Jericho is taking a break from WWE after tonight, or at least in the very near future, so it's not a huge surprise to see Owens go over here on a big stage.
Jericho did a lot here to make Owens look really strong. Owens looked more dominant in this match than I expected him to.
Bayley beat Charlotte, Sasha Banks and Nia Jax in an elimination match to retain the Raw Women's Title
Definiteley did not see this finish coming. I figured we would see Sasha win the title and turn heel in the process.
But, this was a nice moment for Bayley, who certainly deserves it.
The Hardy Boyz beat Enzo & Cass, Cesaro & Sheamus and Gallows & Anderson to win the Raw Tag Team Titles
The greatest tag team champions in all of space and time? You bet!
What a weird scene it was to watch 70,000 people chant "Brother Nero!" Did all of those people watch Impact? Nope. But they all watched the Hardys, whether it was on Youtube or elsewhere.
One year ago, they weren't even into the Broken Universe yet. May 17 is when Matt revealed himself. Now, 11 months later, here we are. Incredible.
John Cena & Nikki Bella beat Miz & Maryese
The match happened. That's about all you need to know. The news item here came after the match, when John Cena proposed to Nikki with a huge diamond ring.
The proposal was a cool moment, and I was a little surprised the crowd didn't boo it. I guess people figured this was real life, and they played nice for a few minutes. Nikki's mother and Cena's mother were both at ringside.
Seth Rollins beat Triple H
This match might not be remembered like it should, because there was good slow storytelling in this match. They told the right story, with Rollins constantly selling his knee throughout the match, including after hitting the final pedigree on Triple H.
Stephanie went through a table after Triple H bumped her, following Rollins landing a superkick. It could be interesting to see where this leads. If Triple H is going to remain the face of NXT, he needs to be a babyface. This could be WWE's chance to move him in that direction, if Stephanie blames him for that spot where she went through the table.
Randy Orton beat Bray Wyatt to win the WWE Title
Something felt a little off about this match. The pace was slow and they kept cutting away to an overhead camera, where there were imagines of worms and cockroaches projected onto the ring. It was a cool effect, but they kept going back to it.
Orton won with an RKO that, quite literally, came out of nowhere. After the match he celebrated for a short few moments and then they cut away to a Tapout commercial. Everything about this match just felt anticlimactic. It's the WWE Championship, and this didn't feel like a big or memorable moment for the title or for Orton. Considering Orton had been kept away from the title for a good amount of time, it should have felt bigger.
Brock Lesnar beat Goldberg to win the Universal Title
Wow! This was a terrific action-packed five minutes.
This match had the potential to be a disaster, but this was everything that it needed to be and more. Lesnar dominated, Goldberg had a brief hope spot when he fought back with a spear and a jackhammer, but Lesnar kicked out and then hit 10 German Suplexes in a row before dropping Goldberg with an F5 to become the new champion.
The post-match celebration also felt a lot bigger than Orton's win. They stuck with Lesnar and it was also interesting to me that Lesnar was celebrating at all. Perhaps this is an indication that they might move Lesnar back to tweener territory, or even go with a full-blown babyface turn. Prior to Goldberg's return in the fall, it felt like WWE was moving in that direction.
Lesnar celebrated on the turnbuckle and even smiled. It was a contrast to his earlier title run, where he basically took the belt and left. Lesnar even high-fived a fan at ringside on his way up the ramp.
Naomi beat Alex Bliss, Mickie James, Carmella, Natalya and Becky Lynch in a six-pack challenge to win the SmackDown Women's Title
The ladies were in the unfortunate spot of following a red-hot Universal Title match, but they did a good job here keeping the crowd invested. It helped a lot that the hometown girl, Naomi, made her return from injury and won the title at WrestleMania.
There wasn't a huge pop for her win, but the crowd seemed genuinely happy to see her go over and win the title.
Roman Reigns defeats The Undertaker
This match was honestly hard to watch. The crowd was tired and worn out, and Undertaker looked to be in extreme physical pain. He had trouble delivering moves, taking moves and just maneuvering around the ring. You could tell his body just wasn't cooperating.
Still, Reigns beat him up. A lot. Every time he tried for a pin, Undertaker would kick out and the story was that Reigns was getting more and more frustrated. At times, you could read his lips, "what's wrong with you?" he'd ask, after Undertaker would kick out of a spear.
But at the end of the match, which saw Reigns pin Undertaker with the last of many spears, it felt like a funeral. Tonight was the inevitable. The Undertaker has wrestled his last match.
After several minutes, Undertaker finally sat up. He took off his gloves, jacket and hat and left them in the ring.
On the way out, he broke character, kissing his wife at ringside before making the slow walk up the ramp.
This felt like it had to be the end for Undertaker. His body isn't going to allow him to do this anymore. Plain and simple. He's a legend and he'll headline the Hall of Fame a year from now, but his days in the ring are over.
And that's how WrestleMania went off the air.