Features
The Den of Geek Podcast: Manifest, Crazy Rich Asians, Support the Girls, and More
For the late August edition of G! News, we cover the latest film, television, and gaming news, plus Andrew Bujalski of Support the Girls.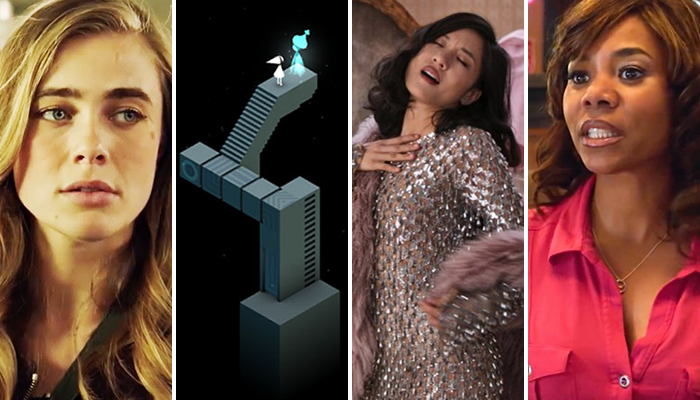 G! News, our Den of Geek podcast, continues with the latter half of August 2018. Twice a month, the hosts pull some of the more discussable topics from the recent goings-on in movies, television, comics, and gaming to add their own commentary while directing listeners to where they can read more about the entertainment news they talk about.
In this edition of the podcast, the hosts tackle whitewashing in Hollywood, the glut of streaming services, and toxic fandom head-on (but in a lighthearted way)! As we applaud the success of Crazy Rich Asians, we raise an eyebrow to the DC Universe "digital longbox" debut and reflect upon the uproar surrounding the Battlestar Galactica reboot and an entitled audience.
Other stories this month include a look at the perhaps too-familiar premise of NBC's Manifest, speculation on what the game-based Monument Valley animated movie in development will look like, and the often-overlooked but visionary work by Alfred Hitchcock, Rope, in which the master maintains an illusion of a single take for the entire film.
Our bonus item is an interview with Andrew Bujalski, screenwriter and director of Support the Girls, the heartwarming comedy starring Regina Hall and Haley Lu Richardson.
The Den of Geek Podcast releases new episodes twice a month to take the latest entertainment news to the next level and to give listeners a different way to find their favorite stories on Den of Geek. Subscribe on Apple Podcasts, Soundcloud, or your app of choice! Or simply listen below!
Michael Ahr is a news writer, TV reviewer, and podcaster here at Den of Geek; you can check out his work here or follow him on Twitter. Dave Vitagliano has been writing and podcasting about science fiction television since 2012. You can read more of his work here.