Features
The Den of Geek Podcast: Halloween, It Follows, and More Spooky Fun
For the October late edition of G! News, we focus on Halloween and horror-related news, plus an interview with author Taran Matharu.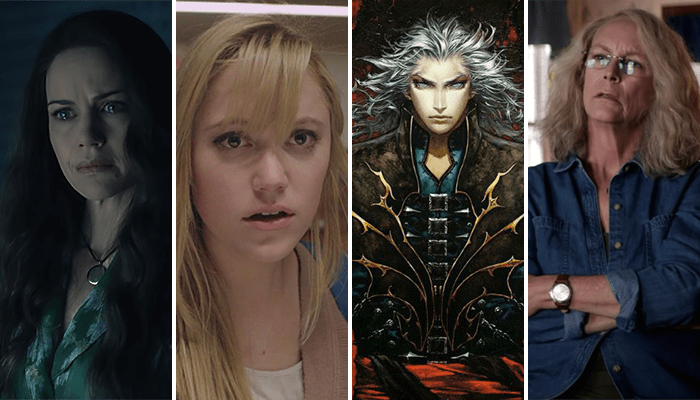 G! News, our Den of Geek podcast, continues with the latter half of October 2018. Twice a month, the hosts pull some of the more discussable topics from the recent goings-on in movies, television, comics, and gaming to add their own commentary while directing listeners to where they can read more about the entertainment news they talk about.
Just in time for Halloween, our hosts share a number of spooky news items. For example, did you know John Proctor's Salem house was on the market? And speaking of houses, the hosts discuss an interview with Mike Flanagan, writer/director of Netflix's The Haunting of Hill House and also tackle another interview with David Gordon Green, director of the Halloween revival movie.
In gaming news, the podcast highlights some of the best entries among the 40 Castlevania titles over the years. The hosts also share their impressions of a spoiler-free review of The Chilling Adventures of Sabrina and look back on another John Carpenter classic, It Follows, to go along with the discussion of Halloween.
Our bonus interview is with Taran Matharu, author of The Summoner's Handbook, the final entry in his acclaimed Summoner series. Matharu also previews his upcoming novel, The Chosen.
The Den of Geek Podcast releases new episodes twice a month to take the latest entertainment news to the next level and to give listeners a different way to find their favorite stories on Den of Geek. Subscribe on Apple Podcasts, Soundcloud, or your app of choice! Or simply listen below!
Michael Ahr and Dave Vitagliano are writers, reviewers, and podcasters here at Den of Geek; you can check out Mike's work here or follow him on Twitter and Dave's work is here.
Read and download the Den of Geek NYCC 2018 Special Edition Magazine right here!