Features
The Den of Geek Podcast: Black Ops 4, Sabrina, Predator, and More
For the early September edition of G! News, we cover the latest film, television, and gaming news, plus Patrick Corcoran of NATO.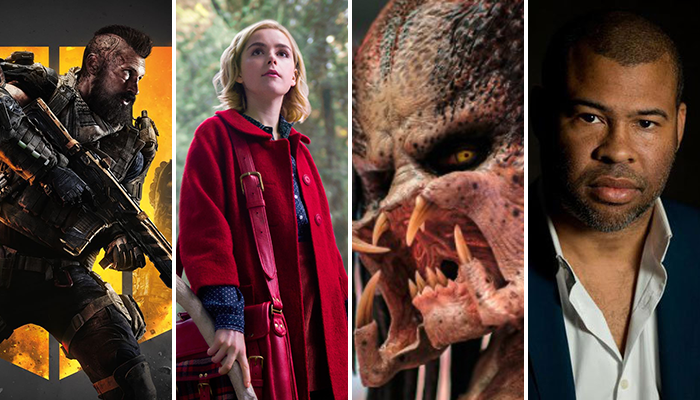 G! News, our Den of Geek podcast, continues with the first half of September 2018. Twice a month, the hosts pull some of the more discussable topics from the recent goings-on in movies, television, comics, and gaming to add their own commentary while directing listeners to where they can read more about the entertainment news they talk about.
In this edition of the podcast, each of our hosts select one story from gaming, television, and movies to discuss. In the world of video games, Call of Duty: Black Ops 4 is looking to stake its claim in the battle royale genre, and its competitor, Fortnite, expands into toy spin-offs. There's a Nerf line-up coming in 2019, and a custom Monopoly experience will be here in October.
In the world of movies, the hosts look back at a couple of franchises in the reboot grist mill. The Predator might need to hang up its hat, but Candyman is looking like it might get a new life courtesy of Oscar winner, Jordan Peele. Television news includes a look back at the "NuWho" Doctor Who evolution before the new season starts, and there's a sneak peek at what spooky stuff Netflix (including The Chilling Adventures of Sabrina) is bringing to New York Comic Con.
The bonus item is a discussion with Patrick Corcoran, VP and Chief Communications Officer of the National Association of Theatre Owners, about how the moviegoing experience is alive and well despite growth in the streaming market.
The Den of Geek Podcast releases new episodes twice a month to take the latest entertainment news to the next level and to give listeners a different way to find their favorite stories on Den of Geek. Subscribe on Apple Podcasts, Soundcloud, or your app of choice! Or simply listen below!
Michael Ahr is a news writer, TV reviewer, and podcaster here at Den of Geek; you can check out his work here or follow him on Twitter. Dave Vitagliano has been writing and podcasting about science fiction television since 2012. You can read more of his work here.