News
The Crawling Ear: Grandma Got Her Daishiki Caught In The Woodchipper
This week, James has been contemplating the music of Christmas. He doesn't seem to enjoy it...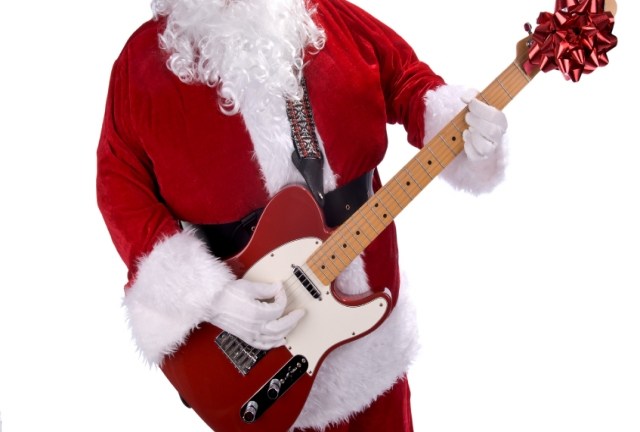 Christmas is bearing down upon us once again, like a blood thirsty shark desperate to tear apart our wallets and patience with its razor sharp Yuletide teeth.  I'm already starting to lose feeling in my bank account.
When it comes to the music of the stressful jingle bell season, it cannot be argued that the geekiest, nerdiest, most cringe-inducing track of all-time is Elmo and Patsy Shropshire's "Grandma Got Run Over By A Reindeer."  For close to thirty years now, the annoyingly chipper Elmo has regaled us every December with the goofy tale of Grandma's accidental demise at the hands (hooves?) of Rudolph.  Actually, it's never clearly stated which of Santa's magical flying stable is responsible for this old woman's gruesome death.  It could have very well been Blitzen.  I think he had a couple of priors in Arkansas.
Unlike that David Bowie/Bing Crosby "Drummer Boy" joint, which everyone generally seems to agree is pretty cool, "Grandma" has been known to pit friends, lovers, and large families against one another.  So earnest and unabashed in its twangy country silliness, so unapologetic for such awful lyrical puns as "incriminating Claus marks," "Grandma" forces you at metaphorical gun point to either love it or hate it.  There is no in between.  It's the anchovy of holiday music.  Completely polarising.  
I realize there may be a handful of you out there whose lives up to this point have been completely void of "Grandma Got Run Over By A Reindeer."  For your benefit, I include this link to the song and its mildly entertaining video.  Note the appearance of "Grandpa," played by Elmo himself.  Tell me that wasn't the obvious inspiration for the scary old guy in John Hughes' 1990 classic Home Alone.
Eight years ago, I had the distinct pleasure of interviewing Dr. Elmo (yes, he's literally a doctor, of veterinary medicine) about his endearing holiday hit for a far less creative and popular website.  Here now, the most interesting snippet from that brief encounter:
G2: Do you get a lot of "Tickle Me Elmo" jokes around this time of year?DE: No, but every time parents tell their children that my name is Elmo they are very disappointed that my hair is not thick and blue.
JG2: Um, Elmo has red hair.
DE: Sorry, I thought I saw an Elmo that was blue.  I guess the hair on the head was red.
G2: Yeah…describe your strangest celebrity encounter.
DE: Liberace came to one of my 3AM shows in Reno when I was first starting out.  After the show he invited me for a drink.  He was very humble, and offstage, a musician's musician. He invited my band and a few others to his house for breakfast.  We all cooked breakfast.  As we left, he shook hands and gave me a hug.  As we pulled together, he suddenly turned and gave me a hard kiss on the lips.  It was my first brush with fame.
JG2: And what a brush it was. Have you ever thought about writing any Kwanzaa-based songs?  Like "Grandma Got Her Daishiki Caught In The Woodchipper?"
DE: Southern inbreed that I am, I could never approach anything that funny.
Oh, Liberace.  Always with the grand gestures.  If you're wondering where Patsy was, she and Elmo divorced in 1985, shortly after "Grandma" took off.  Not sure what she's up to now.  
As for Elmo, he's still out there riding the lasting popularity of his only legitimate hit, playing assorted Christmas concerts every year and recording new holiday-based material.  Check out his website for "Santa's E-mail From Nigeria," "Redneck Dracula," and, of course, the horrifying rap version of "Grandma Got Run Over By A Reindeer."  May God have mercy on his poor, misguided soul.
I hear if you punch Christmas in the snout as hard as you can, it becomes momentarily dazed and you can swim away.  I hope that's true.  If I don't make it, call up Roy Scheider and have him take care of the bastard.  He's the one who took out Halloween last year with a singe rifle blast from the crow's nest of his sinking vessel.  Smile, you son of a witch.  
James writes every week at Den of Geek, only he gets Christmas off. So check out his last column here, and he'll be back in the New Year.