News
The Clash's Joe Strummer Gets First Compilation
Joe Strummer 001 box set puts together all the songs the late guitarist did outside The Clash.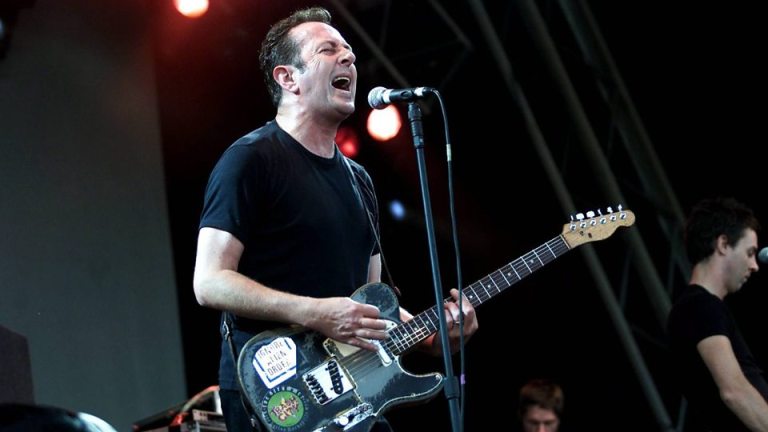 Late guitarist and songwriter Joe Strummer's work outside of the influential punk-ska band The Clash will be collected in a box set compilation for the first time, according to Rock Archive.  Ignition Records will release Joe Strummer 001 on September 28. Besides Strummer's solo albums and soundtrack works, the set will include an entire new album of previously unreleased tracks.
The compilation focuses on the works Strummer did with the backing bands The 101ers and The Mescaleros. It features the first recordings Strummer made post-Clash with former bandmate Mick Jones, as well as collaborations with country legend Johnny Cash and reggae star Jimmy Cliff.
Strummer died in 2002 at age 50, leaving behind a large personal archive of recordings. The compilation was overseen by Strummer's widow Luce Strummer and Robert Gordon McHarg III. Each of the songs on Joe Strummer 001 was remastered by acclaimed engineer Peter J. Moore remastered each of the tracks in the collection at the E. Room in Toronto Canada.
"On going through cassettes and recording tapes it was discovered that Joe was rather frugal and keen on hiding tracks," Moore said in a statement. "On cassettes he would leave 20 minutes between songs. On the 1″ 8 track recordings it was discovered there were hidden tracks superimposed onto each other. For example tracks 1-4 were taken by one song and tracks 5-8 by two other songs which were thought when played back to be caused by tape denigration until the tapes went to Peter J Moore who was able to separate one song from another."
The set comes in a variety of formats, including a deluxe limited edition box set with "quadruple heavyweight vinyl, seven-inch vinyl single, cassette, A4 book, enamel badge, art print, screen print, lyrics and sticker sheet."
Uncovered nuggets include an outtake of "Crying on 23rd," from the Sid & Nancy soundtrack, an unreleased early version of Mescaleros-backed tracks "This Is England" and "London Is Burning," one of the last songs Strummer recorded before his death. The cut was later renamed "Burning Streets" and released in the 2003 posthumous LP Streetcore.
The album also includes an unreleased cassette demo of the "Letsgetabitarockin" which appeared on 101ers' Elgin Avenue Breakdown album, from 1975.
"In September 1975, I finally got Joe to type up his lyrics, along with a rough recording," Strummer's friend and photographer Julian Yewdall explained in a statement. "I then posted these back to myself, and deposited the sealed envelope in my bank's vault, as this was the easiest way I knew of legally protecting his copyright. Over 30 years later and long after I had closed the account, I came across the forgotten bank receipt amongst some old letters, and on returning to the bank, was amazed and delighted when they handed me back the envelope free of charge."
Joe Strummer 001 will be released on September 28.