News
Super Slackers: Exclusive Clip from Simpsons Animator's New Show on 420TV
Cannabis channel 420TV to roll out Super Slackers, an original series from The Simpsons director David Silverman.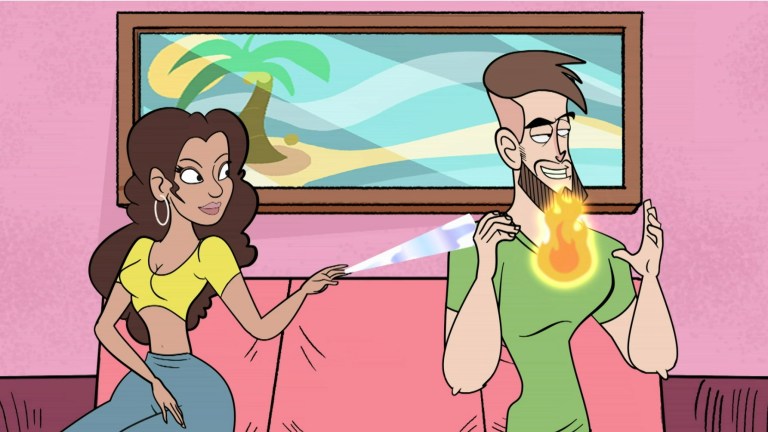 "You can't let a single bad experience scare you away from drugs," Dr. Hubbard advised on The Simpsons, and 420TV is taking that diagnosis seriously funny by offering multiple chances to get experienced. The premium cannabis news, entertainment, and lifestyle OTT channel will flame up their January 2018 launch with Super Slackers, a new, first-run animated series they copped from David Silverman, long-time director and animator of The Simpsons. The channel may be just what the doctor ordered, but he advises caution because objects may appear more edible than they actually are while watching.
"I couldn't imagine a more fitting home for Super Slackers than 420TV, with its appeal to a very open-minded, socially connected audience," Silverman said in a statement.
Super Slackers was created and directed by Silverman, written by Joelle Sellner (Sonic Boom), and animated by Mike Blum (Pipsqueak). Intended for mature audiences, the series is a "ridiculous comedy about a group of lazy friends unwittingly thrust into the life of superheroes," according to the official announcement. And, unofficially, we hear you can get high from the fumes emanating from the writer's room or the art department, one of which we heard smells like Otto the school bus driver's jacket.
"Definitely the writer's room," admitted Ran Chaudhury, Super Slacker's creative producer and one of the writers, who spoke exclusively, and candidly, with Den of Geek about the upcoming series. "Plenty of hot boxing going on in there. Too hard to hot box in the art department because we wouldn't be able to see what we are drawing."
Super Slackers provided Den of Geek with an exclusive clip. You can watch it here:
Besides tracking down the weed delivery guy who stole an arch-villain's stolen weed, Chaudhury detailed the kinds of high jinx the Super Slackers might chase.
"Just the typical everyday usual adventures that a group of friends who have a lot of weed and super powers might find themselves in," he explained.
According to the official synopsis:
"When a Professor Xavier-type shows up to train them, they have no interest in saving the world. They agree to move into a rent-free government compound, but all they want to do is watch TV and play video games. The Professor is convinced he can turn them into the heroes that the world needs — but can he do it before their infectious laziness spreads to the rest of the agents?"
The press release explains the friends "discover they have superpowers after their weed is switched with a new strain being used in a government experiment." Concerned Den of Geek staffers wanted to know if there would be delivery guy they could call.
"New strain?" Chaudhury  asked. "I've been growing and smoking this broccoli for years. I can put you on the wait list if you are interested."
The series makes its own visual statement, setting itself apart from the creator's on-the-job training. The animation characterization creators took their cues from the talent.
"I think the color palette and action sequences have a strong Simpsons influence," Chaudhury said. "Otherwise, the goal here was to make the cast recognizable cartoon versions of themselves."
The six-episode first season will be voiced by a "who's who" cast of "social influencers" like hip-hop artist Jerry Purpdrank; "infamous slap-cammer" Max Jr.; martial artist Dan Nampaikid; professional soccer player-turned-actor, director and content creator, Jon Paul Piques; Smosh YouTube star Olivia Sui; stand-up comedian/writer Arantza Fahnbulleh; and traditional actor Mickey Gooch, recently featured in the hit movie How to Be Single, and the indie comedies Clapper and Deported.
"By choosing a racially diverse cast and throwing them into the culture of cannabis, we hope to give viewers a refreshing change from the vanilla content they normally consume on linear television," executive producer Ash Venkatram said in a statement.
The Simpsons doesn't make many crossover appearances, but we wondered if the stoned superheroes might have occasion to save Springfield or would it be too much trouble figuring out what state it's in.
"I doubt it," Chaudhury said. "Everyone knows Springfield is in Kansas and the Super Slackers live in…wait a second…where do the Super Slackers live?"
The Simpsons is known for its subversive political commentary. Den of Geek asked the writer if the new series would include what Warner Bros. cartoon's Yosemite Sam might call "fightin' words."
"Are you asking me if I think Trump is a dumbass?" Chaudhury asked back.
Super Slackers will anchor programming on 420TV, a premium 4K video-on-demand network devoted to all things cannabis. Den of Geek also caught up with Alex Nahai, a partner with 420TV, for more information on the upstart platform.
"Super Slackers is a perfect complement to our lineup, as we look to create and secure cannabis-friendly content for both the converted and the curious," Nahai said, but we wanted to know if 420TV was a gateway drug to larger market.
"More than being a gateway drug to a larger market, 420TV is a window for people to find out about so many aspects of cannabis culture that haven't really been publicized before," Nahai explained. "Our goal is really a 360-degree approach to the cannabis culture through its news, entertainment, and lifestyle."
Nahai promised Super Slackers is not the only show they'll be feeding their audience's heads.
"We will actually have 10 original series debuting in 420TV's first year," Nahai said. "Medical Marijuana Miracles will be interesting as it will delve into the different ways people are using cannabis to help relieve a wide range of ailments. The results are pretty amazing.
"We have a series called Top Shelf with Dr. Dina, which will allow people to check out some of the most famous dispensaries in the U.S. on a virtual tour led – of course – by one of the industry's foremost cannabis experts.
"We also have a show called Cannabiz, which is particularly important as now, more than ever before, people are starting to look at marijuana as a legal opportunity to make money, and this series will to take viewers through some of the more innovative things happening in the industry."
Super Slackers is expected to make its worldwide debut on 420TV in the first quarter of 2018.