News
Star Trek: Discovery, The Good Place Nab Peabody Nominations
The Peabody Awards has announced a full list of nominees, including Better Call Saul, The Handmaid's Tale, and Legion.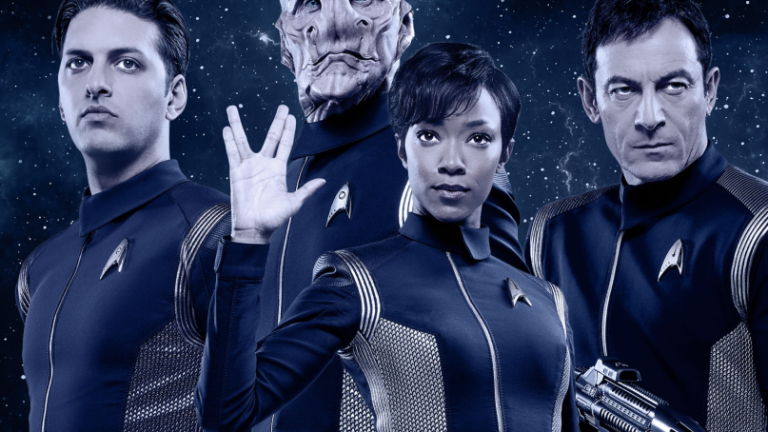 The Peabody Awards are amongst the most prestigious of media awards. Originally established in 1940, the Peabody Awards put a spotlight on media that can "teach, expand our horizons, defend the public interest, or encourage empathy with others." Previous recipients have included Battlestar Galactica, Key and Peele, and even Beyonce's Lemonade. Walter Kronkite once said: "You count your Emmys; you cherish your Peabodys."
The Peabody Awards just announced the nominees for 2017. Whittled down from more than 1,000 entries, the nominations include 60 programs across drama, comedy, children's entertainment, documentary, podcast, and news. The 30 Peabody committees comprised of faculty, staff, and students at the University of Georgia, will choose 30 of the nominees.
Included in the nominations are Star Trek: Discovery, The Good Place, American Vandal, Legion, Insecure, One Day at a Time, The Marvelous Mrs. Maisel, The Handmaid's Tale, Better Call Saul, and Alias Grace.
Awards will be announced on May 19th. Here is the full list of nominees:
Children's and Youth Programming
"Andi Mack" Horizon Productions (Disney Channel)
"A Series of Unfortunate Events" Netflix (Netflix)
Documentary
"Abacus: Small Enough to Jail" A Mitten Media, Motto Pictures, and Kartemquin Films Production for WGBH/FRONTLINE and Independent Television Service (ITVS), with the Center for Asian American Media and in association with Blue Ice (PBS/WGBH)
"America ReFramed: Deej" American Documentary, Inc., WORLD Channel, Rooy Media LLC, ITVS (WORLD Channel)
"Chasing Coral" An Exposure Labs Production (Netflix)
"City of Ghosts" Amazon Studios, A&E IndieFilms, Our Time Projects, in association with Jigsaw Productions (A&E)
"Heroin(e)" A Netflix Original Documentary in association with The Center for Investigative Reporting, A Requisite Media Production (Netflix)
"I Have A Message For You" The New York Times Op-Docs (The New York Times)
"Indivisible" Fuse Media (Fuse/Linear Broadcast)
"Last Men in Aleppo" American Documentary | POV, Larm Film (PBS)
"Maya Angelou: And Still I Rise" The People's Poet Media Group, LLC, Thirteen's American Masters for WNET and ITVS in association with Artemis Rising (PBS/WNET/TV)
"Motherland" CineDiaz Inc., ITVS, American Documentary | POV (PBS)
"Newtown" Mile 22 LLC, ITVS, in association with KA Snyder Productions, Cuomo Cole Productions, Artemis Rising and Transform Films (PBS)
"Planet Earth II" BBC Studios Natural History Unit production, with BBC AMERICA (BBC AMERICA)
"Strong Island" Yanceville Films, LLC and Louverture Films, LLC (Netflix)
"The Bad Kids" Low Key Pictures in association with the Filmmaker Fund (PBS)
"The Defiant Ones" HBO Entertainment and Silverback 5150 Pictures in association with Alcon Television Group (HBO)
"The Islands and the Whales" Intrepid Cinema, Radiator Film (PBS)
"Time: The Kalief Browder Story" Spike TV, The Cinemart, Roc Nation (Spike)
"Tower" Tower Documentary LLC, Go Valley Productions, ITVS, in association with Meredith Vieira Productions and Killer Impact (PBS)
"Oklahoma City" American Experience (PBS/WGBH Education Foundation)
Entertainment
"Alias Grace" A Halfire Entertainment Production in association with CBC for Netflix (Netflix)
"American Vandal" CBS Television Studios for Netflix (Netflix)
"Bala Loca" Chilevision-Turner, Chilean National Television Council, Filmo Estudios (Chilevision-Turner/Netflix)
"Better Call Saul" Sony Pictures Television, Gran Via Productions (AMC)
"Halt and Catch Fire" AMC Studios/Gran Via Productions (AMC)
"Hasan Minhaj: Homecoming King" Netflix, Art & Industry (Netflix)
"Insecure" HBO Entertainment in association with Issa Rae Productions (HBO)
"Jazz Night in America" NPR, WBGO, Jazz at Lincoln Center (NPR)
"Last Week Tonight with John Oliver" HBO Entertainment (HBO)
"Legion" FX Productions, Marvel Television (FX Networks)
"One Day at a Time" Sony Pictures Television for Netflix (Netflix)
"Saturday Night Live: Political Satire 2017" SNL Studios in association with Universal Television and Broadway Video (NBC)
"Star Trek: Discovery" CBS Television Studios (CBS All Access)
"The Good Place" Universal Television, Fremulon, 3 Arts Entertainment (NBC)
"The Handmaid's Tale" Hulu, MGM, White Oak Pictures, The Littlefield Company,
Daniel Wilson Productions (Hulu)
"The Marvelous Mrs. Maisel" Amazon Studios (Amazon)
News
"Big Buses, Bigger Problems: Taxpayers Taken for a Ride" NBC5/KXAS-TV Dallas-Fort Worth (NBC5/KXAS)
"Charlottesville: Race & Terror" VICE Media (HBO)
"Cracking the Code" & WVUE-TV, NOLA.com/The Times-Picayune/Clear Health Costs "Medical Waste" (WVUE-TV)
"Fall of ISIS in Iraq and Syria" CNN (CNN)"Human Toll in Yemen" BBC News (BBC World News/BBC World News America)
"Inside Putin's Russia " PBS NewsHour (PBS, WETA)
"Leyla Santiago's Hurricane Maria Coverage" CNN (CNN)
"My Reality: A Hidden America" ABC News 20/20 (ABC)
"Plight of Rohingya Refugees" BBC News (BBC World News)
"Real Sports with Bryant Gumbel: The Strongman-Ramzan Kadyrov" HBO Sports (HBO)
"The Whistleblower" CBS News 60 Minutes (CBS)
"USA Gymnastics" CBS News 60 Minutes (CBS)
Public Service
"The Cut: Exploring FGM" Al Jazeera Correspondent (Al Jazeera)
"Predator In My Phone" R.AGE, Star Media Group (R.AGE)
"Sex.Right.Now. with Cleo Stiller" Fusion Media Group (FUSION)
Radio/Podcast
"Ear Hustle" Radiotopia from PRX (Radiotopia from PRX)
"Lost Mothers: Maternal Mortality in the U.S." NPR and ProPublica (NPR)
"74 Seconds" Minnesota Public Radio, American Public Media (MPR News)
"S-Town" Serial and This American Life (stownpodcast.org)
"Seeing White" The Center for Documentary Studies at Duke University (podcast.cdsporch.org)
"The Pope's Long Con" Kentucky Center for Investigative Reporting, Louisville Public Media (Louisville Public Media)
"The View from Room 205" WBEZ-Chicago Public Media (WBEZ)
"Uncivil: The Raid" Gimlet Media (Gimlet Media)