News
Spotlighting Alberto El Patron at Bound For Glory is Another Failure For Impact
Bound for Glory should have been a statement, and instead it was a dud ...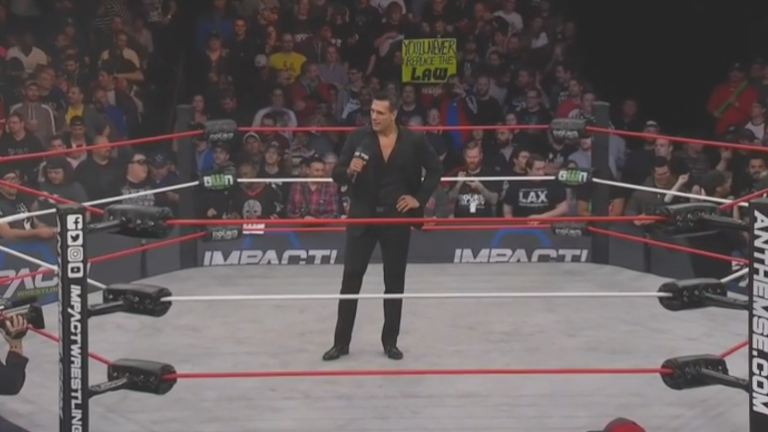 Almost directly from the start, Bound for Glory was an abomination. First and probably foremost, Alberto El Patron returned to the company and is now back at the center of the storyline, depsite being on his first night back from a four-month suspension.
This wasn't a good show. In fact, it was really bad.
There weren't any matches that stood out as being great, and at the same time, a lot of it felt flat. El Patron's interference to ruin the title match … thanks. A screwjob finish is what this company needed right now. Especially from THAT guy.  Although it wasn't anything special before that, watching him hit Impact over the head — unprotected — with a chair made my stomach turn. Even if it was a plastic chair instead of a metal chair. The booking on the show was below average, at best. If this is what the new "creative" team is capable of, and I do put "creative" in quotes, then I really fear what the rest of the year will look like after this week's TV tapings.
Also, it's absolutely inexcusable to make El Patron the focal point of the company. Here's a guy who is back for his first show since SERVING A SUSPENSION! Did Impact management forget that? Fool me once, shame on you. Fool me twice? You know the saying. I can't believe Impact officials are naive enough — or dumb enough — to make El Patron the focal point of the promotion. Because it worked out so well three months ago when he was at the center of the company, right? If he screws up again, and he has a long history of doing so, Impact will deserve all negative feedback it will get.
Earlier in the show, El Patron cut a promo in the ring where he blamed Impact for suspending him, despite never being charged, and they used the real-life domestive violence investigation as a reason to turn El Patron heel. I'm not sure how I feel about using a real-life domestic violence investigation into a storyline, but you know what? Everyone knows what happened. It was clear when he made his ring entrance, before the promo even began, that the crowd was not going to react to him as a babyface. There were segments of the crowd who were cheering "Si!" but it appeared like the majority of the crowd was anti-Patron. Impact was smart enough to realize this ahead of time, I think, and decided to go with him as a heel. You could tell that El Patron was tapping in to some real-life frustrations, and I thought that made it better.
The biggest criticsm should be using El Patron at all, and especially in a prime spot. For some reason, Impact officials are under the impression that this guy is a big star. He's not. And to boot, he's a terrible human being.
Trevor Lee retained the X-Division Title in a six-way match
I actually expected this match to be a little more up-tempo. It seemed like there were some sloppy spots — uncharacteristically, a few with Xavier — but the crowd made up for some of that with their enthusiasm for Williams. The live crowd has made a huge difference from the typical Impact Zone crowd thus far. It's a noticeable difference.
Taiji Ishimori beat Tyson Dux
Good match, but the cutaways to Laurel Van Ness took the viewer out of it a little bit, especially considering it led to nowhere. It was good to see Dux in Impact. If he is one of the new talents they are going to utilize, that's a good sign. I'm also glad they brought Ishimori back from NOAH. I thought he was missed at the last set of TV tapings.
Abyss beat Grado in a Monster's Ball Match
Considering her match with Taya Valkyrie was canceled, this was really good use of Rosemary even though it didn't result in Grado getting the win. The Blackhole Slam looked sloppy and the timekeeper screwup was unfortunate. Other than that, it was the typical gimmick match. Tacks, barbed wire boards and Janice. I'm not sure what else they can do with a hardcore match, but this felt like Part II of the match at Slammiversary that Steiner was involved in with Mathews and Borash. It's a lot of the same stuff. On top of all that, the execution was bad. It was slow. Not good.
Team Impact beat Team AAA in a six-man tag team match
The dive spots were different, and unexpected from Storm. There were portions of this match that felt like it was in slow motion. Pagano, in particular, looked like he was going through the motions. This just didn't feel like the culmination that it was supposed to be.
OVE beat LAX in a 5150 Street Fight to retain the Impact Tag Titles
The crowd barely reacted to Sami Callahan's debut, which was a surprise. Also, was there a double turn here that I missed? OVE attacked LAX after the match, with Santana, sympathetically, covering up Ortiz. Strange finish and it was also a really flat finish because the crowd didn't respond, at all, to Callahan's debut. It could have been because of how poorly the secret was kept. Regardless the crowd was red hot earlier in the show, and it feels like the energy has dwindled considerably. The beginning of this match was filled with spots, and the crowd started a "This is Awesome!" chant, but the latter half was flat.
Gail Ki beat Sienna & Allie in a Triple Threat to win the Impact Knockouts Title
Congratulations to Gail Kim, who has been great for the company, obviously. But another match that felt flat. The finish came out of nowhere, but it was slow to set up. Then after what was supposed to be this big moment, they cut away seconds later to an American Top Team pre-tape.
Bobby Lashley & King Mo beat Stephan Bonnar & Moose
The worked MMA stuff with Bonnar and King Mo was interesting for a few minutes. It was a little surprising to see the heels get the win here. I assume that means they still do some things with Impact on the next set of TV tapings this week.
Eli Drake beat Johnny Impact to retain the Impact Global Title
Just dumb. A screwjob finish through interference? That's Impact in a nutshell. They don't deliver on their main event in their biggest show of the year. Great job. Well done.