Features
South Park Madness, Round 1, Part 2
Continuing coverage on our South Park Tournament as episodes duke it out...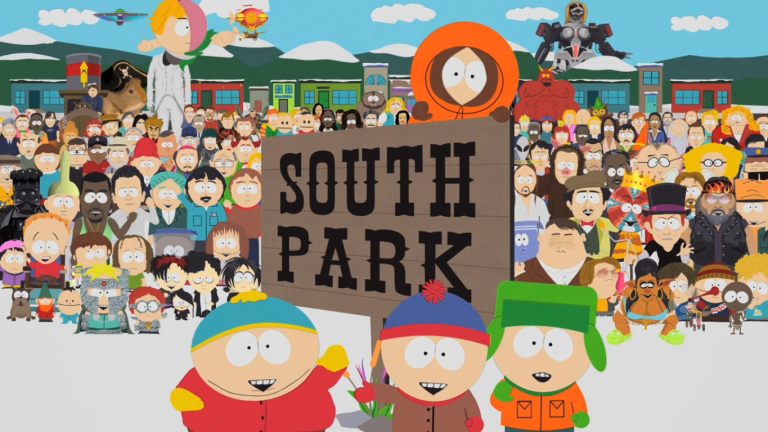 Continuing to fill the void as South Park's approach crawls towards us, the Tournament for Best Episode of the iconic series continues. Put down the cheesy poofs and lay off the Chocolate Salty Balls (at least for now) and don't forget to put your two cents in!
Stark's Pond Region
[1] Crème Fraiche vs. [16] The Tale of Scrotie McBoogerballs
Chris Longo: For me this is one of the hardest matchups. The story of Scrotie is filthy, childish, grotesque, other adjectives, but I love it. I love it when Morgan Freeman reads no-no words. I love any mean joke directed at Sarah Jessica Parker. The problem is I simply cannot ignore Randy becoming a celebrity chef and basting the shit out of any dish Food Network deems appetizing. In the NCAA tournament, a 16 seed has never defeated a 1 seed and it will not happen here because Crème Fraiche proves that food porn is a thing.
Nick Harley: The Sarah Jessica Parker depiction is pretty spot on. Sorry SJP. Unfortunately for Scrotie, Crème Fraiche is a modern classic. Randy as a character really shines in the later seasons and watching him lustfully moan while watching the cooking channel is probably the funniest the character has ever been. Plus the womanizing Shake Weight? This may be the episode to beat.
Joe Matar: I almost gave it to Scrotie just because I love the title of Butters' follow-up work, "The Poop That Took a Pee" so much. But I think the Shake Weight half of Créme Fraiche with its cooling mist gives that episode the edge.
[8] Sarcastaball vs. [9] Eat, Pray, Queef
CL: I can be a sarcastic asshole from time to time so Sarcastaball is right up my alley. If you could douche your way to being coach of the Denver Broncos then I need to play sarcastaball more often.
NH: "This is cum." Sarcastaball. 
JM: I did love the Randy's matter-of-fact reveal of the truth behind Butters' sports drink in Sarcastaball, but just I love the one female senator's Road Warrior queef so much. So, so much. And the fart versus queef double-standard message in Eat, Pray, Queef is something we could all stand to be more aware of.
[5] Bass to Mouth vs. [12] W.T.F.
CL: Another tough matchup brings the return of Lemmiwinks vs. Vince McMahon's South Park debut. W.T.F had the making of a solid episode but "wrasling" isn't enough to get by South Park's take on WikiLeaks. You might not want to, but sometimes you need to go Bass to Mouth.
NH: As you can see by reading my essay on this site about the Royal Rumble, I have an interesting relationship with the world of professional wrestling. This is a topic that South Park could have tackled during season one, but they wouldn't of approached it with such mastery as they do in W.T.F., basically calling out fans of the show for watching the equivalent of a male soap opera. The crown jewel of the episode is when the traditional wrestling character tries to grapple with a police officer, his bemused, perplexed, profanity laced reaction is classic.
JM: Bass to Mouth was just too insane and dumb for me to get behind. Wikileaks is Lemmiwinks' evil brother? Um… okay, fine. I have to give it to W.T.F. Professional (why does it get away with being called "professional" again?) wrestling is some profoundly stupid crap. Watching South Park take it down was highly gratifying.
[4] Fishsticks vs. [13] Faith Hilling
CL: South Park's answer to the Internet sensation known as "memes" draws a tough matchup with the Kayne West hate-a-thon known as Fishsticks. Kayne said the episode "hurt his feelings" so that could only mean he saw some truth to the spoof. Bonus points for Fishsticks.
NH: Oh long Johnson. Faith Hilling is definitely no slouch, but Fishsticks went after Kanye West at the perfect time, and honestly, portrayed the rapper pretty accurately and fairly. This was one of the closet matchups yet, for me, and I wish Kanye was here to say, "Imma let you finish, but "fishsticks" is one of the best jokes of all-time!"
JM: Faith Hilling had some good ideas and I like that Oh long Johnson cat a lot, but the way he was incorporated into the show made it feel like I was watching some amateur YouTube video. Fishsticks wins for mocking both Kanye West and Carlos Mencia (while he still had a show on the very same network). Mencia acted like he took it better than Kanye, but I bet he hurt inside.
[6] You're Getting Old vs. [11] A Scause For Applause
CL: South Park has struggled with two-part episodes and in my opinion, You're Getting Old was the weaker half of the Stan/Marsh divorce arc. A Scause For Applause takes this one easily for taking a public disgrace like Lance Armstrong and making a point by using Dr. Seuss style art direction.
NH: I loved A Scause For Applause, but something about the downer ending of You're Getting Old really resonated with me. As the final episode of the first half of season fifteen, many fans and reviewers wondered if the events of You're Getting Old would have long term repercussions for the show, with Stan's parents getting divorced, him moving, and being exiled from his group of friends. With Fleetwood Mac's "Landslide" playing in the background, a solemn Stan faces real problems in his life. And then the episode ends, just like that. No joke, no happy ending, just a total downer. What's funnier than that?
JM: The only part that really stuck with me for A Scause for Applause was the Seuss sequence. I tend to like it when a show gives a different tone a try and, yeah, though it has a lot of shit flying all over the place for most of it, You're Getting Old is genuinely pretty sad and somber. I found that really cool.
[3] Butters' Bottom Bitch vs. [14] Medicinal Fried Chicken
CL: I wouldn't want to live in a world without KFC so you can imagine what a lack of original recipe would do to Cartman. His Scarface approach to illegal gravy dealing gives the episode an appetizing sub-plot but Randy's oversized balls are the key to sending Medicinal Fried Chicken to the next round.
NH: Butters is just the sweetest little pimp whoever lived. Sergeant Yates does some pretty, ahem, deep undercover work as well. Now I love the idea of men using their oversized, cancer-ridden testicles for transportation as much as the next guy, but Butters' Bottom Bitch eases out the Colonel. 
JM: I actually Butters' Bottom Bitch might be the cleverer episode, but come on. Medicinal Fried Chicken has giant ballsacks in wheelbarrows. Plus, I highly (get it?!) support the message that we need to stop trying to legitimize marijuana use with the medical dispensary system and just legalize it.
[7] HumancentiPad vs. [10] Butterballs
CL: "6 Days to Air: The Making of South Park" changed my view of HumancentiPad. When you watch Trey Parker and Matt Stone voice the characters, specifically a Japanese man shitting into Kyle's mouth, you realize how special the show is. If only the damn HumancentiPad could read.
NH: 6 Days to Air gave me a new impression of HumancentiPad as well, but Butterballs was really special to me. Watching Butters get bullied by his grandmother just adds a whole other dimension to the character, and the bullying bathroom sequence that escalates to Jesus getting in on the bullying action is just a side splitter. Oh and one more thing, just try to get "Jackin' it in San Diego" out of your head. It's a real toe-tapper.
JM: Much like the movie it parodied, HumancentiPad just kind of grossed me out. I liked Butterballs for its odd collection of references. The bullying video Stan produces is a reproduction of one that wasn't exactly famous before this episode and I hadn't been keeping up with Jason Russell and his jackin', so this was an educational episode for me all around.
[2] Broadway Bro Down vs. [15] It's a Jersey Thing
CL: "A Blowjob isn't with your mouth it's with your heart." I know I'd go to see "The Woman in White" if it ever comes to Broadway. Broadway Bro Down.
NH: Broadway Bro Down is insanely funny. Not only does it lampoon Trey and Matt's success with the Book of Mormon, it also paints the portrait that Stephen Sondheim ad Andrew Lloyd Webber are total bros. If there's one lesson that the episode can teach, aside from the fact that musicals are a one way ticket to beej land, is that Spider-man acts in mysterious ways.
JM: Broadway Bro Down by a landslide. Probably because of Trey and Matt's new familiarity with the musical world, it ended up being the funniest episode the show had done in a long time. The bro down itself ("Merrily We Roll Along, bro!") is one of my favorite moments in the show's history. I also love when Randy, as Spider-Man, ruins everything, causing one guy in the audience to casually state: "It's Spider-Man."
The Lemmiwinks Region
[1] Cartman's Mom is a Dirty Slut; Cartman's Mom is Still a Dirty Slut (2-parter) vs. [16] Rainforest Shmainforest
Chris Longo: So if one of the 1989 Denver Broncos impregnated Cartman's mom, that makes the fat little bastard older than me. Good thing he hasn't aged since 1997 because I don't think the world can handle teenage Cartman. As it turns out, Cartman's dad is not one of the 1989 Broncos. Even worse, the "your mom is a slut" jokes actually turned out to be true. No trip to the rainforest can beat South Park's scandalous cliffhanger. Dirty Sluts. 
Nick Harley: Cartman's Mom Is a Dirty Slut is a key piece of South Park mythology. I mean, we all anxiously awaited to find out who really was Cartman's father. I was really hoping it was Elway and the Broncos, even Chef as the dad would have been interesting, but no, Cartman's mother being a hermaphrodite and being both his mother and his father makes a lot more sense. Cartman has to have some antichrist birth story.
Tony Sokol: Stop the rainforest before it's too late. It's not that "I hate the rainforest" but "you go on and plow down the whole fucking thing" compared to Cartman's Mom Is a Dirty Slut. Despite the copout ending, so much happens that it makes up for it. I remember when it originally ran, we waited through the break after the cliffhanger ending before they came back with … the Terence and Philip special Not without My Anus … and waited another week not to find out who Cartman's dad is. I was rooting for the Denver Broncos. I hate leaving things unfinished … I'm sailing away.
[8] Summer Sucks vs. [9] Big Gay Al's Big Gay Boat Ride
CL: A John Stamos reference is enough to advance any episode. When Richard Stamos (John's fictional brother) performs at halftime of an elementary school football game, I lose it. Big Gay Al's Big Gay Boat Ride. 
NH: The gay character has become essential to almost every television show on network and cable, but South Park paved that path long ago with Big Gay Al. In 1997, the depiction of an open homosexual character on television was a rather big deal, but South Park's depiction went on to be nominated for an Emmy and a GLADD award. Fun fact: George Clooney guest stars as the voice of Stan's dog, Sparky. He has no actual lines and only barks.
TS: Big Gay Al's Big Gay Boat Ride was super, thanks for asking. It doesn't kick Summer Sucks' ass, it does something to its ass though. It beats the spread by more than 70 points. Summer Sucks loses Mr. Hat, but gets swallowed by a 20 story smoke snake and never makes it out of the deep end.
[5] The Red Badge of Gayness vs. [12]Chinpoko Mon
CL: Can't you just picture Bill Clinton in the oval office, door closed, feet on the desk and the phone up to his ear? Now imagine him on that phone, telling the Japanese just how massive their penises are. Global politics at its finest. Chinpoko Mon.
NH: Let's be honest here, Chinpoko Mon has bracket buster written all over it. The only thing that might stop it is if your parents start talking about how much they like it.
TS: Chinpoko Mon fulfills the prime directive and destroys the evil power that is The Red Badge of Gayness. Whenever I drink s'more-flavored schnapps, I get scared that the south will one day rise again, but the Chinpokomon representative assured me that I have a big, gargantuan penis, so screw you guys, I'm going home.
[4] Mr. Hankey, the Christmas Poo vs. [13] Starvin' Marvin
CL: There are a few elements that make Starvin' Marvin upset worthy. Everyone hates when sob story commercials are jammed down our throats. Then they decide to put Sally Struthers on those commercials? Perfect time for a bathroom break because while I am in there I can vomit. Starvin' Marvin, as racist as that name is, wins your heart over. The shitty commercials don't do him justice. Luckily, Cartman and the boys get to know him and realize that they can make a difference on Thanksgiving by not only helping him out, but also the entire country of Ethiopia. But to me it is the little things that make South Park one of my favorite shows, like Cartman's scratchy voice telling Starvin' Marvin and his kitty that it is indeed his "pot pie." Starvin' Marvin. 
NH: Mr. Hankey, the Christmas Poo. He was a piece of poop and gosh darn it he gives me more Christmas spirit then a trip to the mall during the holidays or other normal, less poo-filled holiday rituals. Trey and Matt even flex that musical muscle that went on to win Tony's.  Though Sally Struthers was an early celebrity skewering, you got to give it to Mr. Hankey.
TS: Okay, there are no stupid questions, just stupid people, you vas deferens. Thanksgiving versus Christmas. Hunger versus intolerance. Mr. Hankey versus Sally Struthers. These are very close, but the songs put Mr. Hankey, the Christmas Poo in the stocking. They fa la la my la. I cried the first time I heard "A Jew on Christmas." "Kyle's Mom Is a Bitch" was an instant singalong classic. I know a lot of people draw the line at talking poo, but when you're promised a digital sports watch and you get a hungry Ethiopian, you feel like you're being attacked by genetically enhanced Thanksgiving turkeys. Oh, and Kenny lived through the episode for the first time.
[6] Spookyfish vs. [11] World Record Concert
CL: I have to think that the original title for World Wide Recorder Concert was "Four Million Child Blow 2000," but Comedy Central decided against it. Nevertheless, that episode touched me deeply. No, not like that you perverts. I'm talking about the South Park/New York rivalry. As a New Yorker I know that we sometimes come on a little strong, but in the end everyone is just looking for a cheap laugh. The South Park kids get the best of my New York boys in World Wide Recorder Concert thanks to the brown noise and the episode gets the best of Spookyfish.     
NH: Spookyfish is an early glimpse of the high concept masterpieces like Imagination Land, but for someone who was actually in grade school when the episode aired, World Record Concert hit so close to home, and also expanded the vocabulary of many of my friends. I mean, do you remember the feeling of calling or being called a word that you didn't yet know when you were young? Sometimes the small doses of reality hit harder than the big concept jokes.
TS: In World Wide Recorder Concert, the kids go to Arkansas, yes they are a state, for the "Four Million Child Blow 2000," are shown up as a bunch of queefs by the New York kids until they find the brown noise and make everyone in the world shit their pants. I was moved to learn that Mr. Garrison's father loves him enough to get Kenny G to molest him. However, Spookyfish is presented in spookyvision and is hellacool. It's got an evil Cartman, we know he's from an evil alternative universe because, as we learned from Star Trek's Mirror Mirror episode (and Star Trek is like quantum physics on South Park), people with goatees are always from evil alternative dimensions. Okay, we see the spliced screen whenever we see the two Cartmen together, which kind of ruins the reality, but I forgive them, they were on a limited budget and that's a tough effect to pull off in animation.
[3] Chef's Chocolate Salty Balls vs. [14] The Wacky Molestation Adventure
CL: These kids actually went as far as to get their parents arrested in the name of getting what they want. To me, Wacky Molestation Adventure is landmark episode, one that took the focus from the town as a whole to the boys who get into the craziest adventures on cartoon television. Chef's Chocolate Salty Balls is a classic, and he is a classic character, but there is just something about children trying to run an entire town on their own that propels this adventure to the next round. 
NH: Chef's Chocolate Salty Balls get a little lift from an appearance by the one and only Mr. Hankey, the Christmas Poo. Film Festivals have an air of pretense and smug satisfaction that make them an easy target for the sights of South Park. There is also a trailer for a movie with Tom Hanks and a monkey, which I would totally see.
TS: Way back, in the long long ago, I thought Chef had the best balls in the whole world, but I was living under the birth-giver laws. Now that I am a provider, I agree with Mayor Fat Ass and would rather go to a Raging Pussies concert than a festival of films about gay cowboys eating pudding. The Wacky Molestation Adventure wins for Carousel. The Star Trek-style incidental music builds some real suspense. I'm getting my tubes tied tomorrow.
[7] Cartman Joins NAMBLA vs. [10] Timmy 2000
CL: The Lords of the Underworld don't have the star power to top the North American Man Boy Love Association. I'll stop there because what I was about to type sounded like I condone child molestation. I do not. Cartman Joins NAMBLA to the next round, please. 
NH: I mean, Timmy 2000 is undoubtedly a classic, but god damn is Cartman Joins NAMBLA funny. Even though Cartman is a maniacal genius, he can still act like a naïve little child and it's in these moments where Cartman episodes always shine. The Scooby Doo sequence in the hotel with the French music backing it is also just a great moment.
TS: This is a tough round in the battle of the bands, especially when you're taking Ritalin and seeing little pink Christina Aguilera monsters (that's how I got hooked in the first place). Timmy 2000 has a lot going for it. But Cartman Joins NAMBLA showed me that I no longer have to look in two different places for squirrels and provolone cheese. When I first saw the episode, I was relieved when it turned out that Dr. Mephesto belonged to the National Association of Marlon Brando lookalikes rather than NAMBLA.
[2] Pinkeye vs. [15] Sexual Harassment Panda
CL: Sexual harassment isn't funny but it is a fun topic for a South Park episode. I say that not to be insensitive, but because they used a giant panda to tell kids that if you sexually harass, you will be sued. "When one little panda pulls on another little panda's underwear that's sexual harassment." Learning from a panda is better than learning the hard way. Also, we don't take kindly to Pinkeye. Sexual Harassment Panda. 
NH: Kenny's Edward James Olmos costume. Michael Jackson- Chef zombie. Hitler Cartman. Pinkeye.
TS: You know? I learned something today. Death is least funny when it happens to a child. But, is it sexual harassment when the harassee IS an ass-sucker? I'm a sad panda because Pinkeye is one of my all-time favorite episodes, so, let's all point at Sexual Harrassment Panda and laugh. Dead people walking around and Tina Yothers in town. Coincidence? Pinkeye teaches us the true meaning of Halloween. Costumes and candy. Remember that the next time you use Worcestershire sauce as embalming fluid.
As they keep discussing the episodes, give us some feedback. Think one should have beat the other? Come on, South Park fans. Before they kill Kenny again, give us a shout out.