News
Soundgarden's Chris Cornell Dies at 52
The biggest voice of grunge, Chris Cornell of Soundgarden, Audioslave and Temple of the Dog, is silenced at age 52.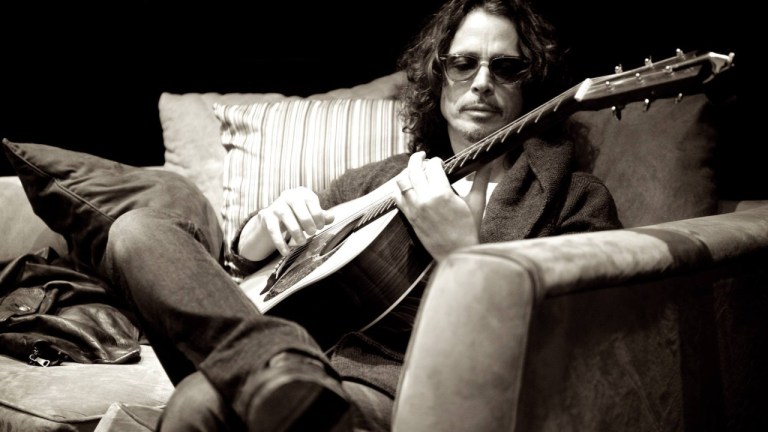 Chris Cornell had an amazing voice. Unquestionably the biggest voice in grunge, his four octave range and the power he put behind it could shame the most confident metal singers. He also proved he could croon, on his solo albums. "You know my name," he sang on the theme he wrote with David Arnold for the 2006 James Bond film Casino Royale. That voice was silenced on Wednesday night, May 18, after a Soundgarden show at Detroit's Fox Theatre. Chris Cornell, the lead singer and songwriter of Soundgarden, Audioslave, and Temple of the Dog died at the age of 52.
Cornell's publicist Brian Bumbery told the Associated Press that the singer's death was "sudden and unexpected." The cause of death has been ruled a suicide.
Soundgarden was in the middle of a national tour and were in the process of writing and recording their first new album in five years.
Chris Cornell was born in Seattle in 1964. He was 20 when Soundgarden formed in 1984. Their first single, "Hunted Down," was put out by Sub Pop in 1987. The band's debut album, Ultramega OK, came in 1988. By their second album, the band was Louder Than Love.
Their third album Badmotorfinger, which included the singles "Jesus Christ Pose," "Rusty Cage," and "Outshined," was released in 1991 and rode the ripples of the grunge wave that started in Seattle with bands like Nirvana, and Pearl Jam, which shared an intimate musical relationship with Soundgarden.
Cornell sang in the band Temple of the Dog, which included Eddie Vedder, Jeff Ament, Stone Gossard, and Mike McCready. Soundgarden's drummer, Matt Cameron, drums in both bands. The band also includes guitarist Kim Thayil and bassist Ben Shepherd. Soundgarden's original bassist was Hiro Yamamoto. They broke up in 1997, after recording platinum albums like 1994's Superunknown, which had the hits "Black Hole Sun," "Fell on Black Days," "Spoonman" and "My Wave", but reunited in 2010. Soundgarden released King Animal, in 2012. After 16 years, they fell right back into the groove.
Cornell joined Audioslave, a political art supergroup that included former Rage Against the Machine members Tom Morello, Brad Wilk and Tim Commerford, in 2001. Audioslave put out three albums in six years. They were, disputedly, the first American band to play an outdoor rock concert in Cuba.
Cornell released five solo albums, starting with Euphoria Morning in 1999. He covered Michael Jackson's "Billie Jean" on his Carry On album. He contributed the song "Seasons" to the soundtrack of Cameron Crowe's film Singles. Cornell's single "The Promise" came out on iTunes in March. Cornell pledged all proceeds to the International Rescue Committee.
Soundgarden didn't just benefit from Cornell's voice, but also his song structure and his shared love, with the band, of off-timing that sounds seamless.
Cornell is survived by his daughter Lilian Jean, who he had with his first wife, Soundgarden manager Susan Silver, and daughter Toni and son Christopher Nicloas, who he had with his second wife Vicky Karayiannis.