News
Slender Man Producers Shopping Distribution
Slender Man is on the loose, and the movie's producers want it to infect more dreams and screens.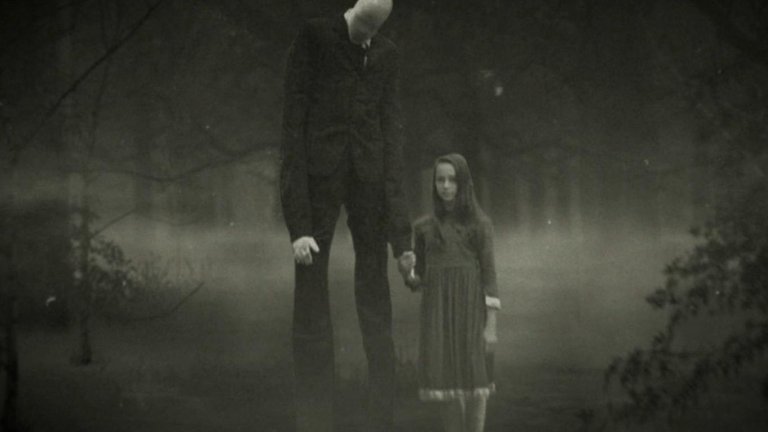 Slender Man, Slender Man, dressed in darkest suit and tie, his branching arms are for collecting. This time he's looking for other men in suits and ties to branch out with new distribution. Those right for the  upcoming horror movie Slender Man are up for grabs because the producers and Sony Pictures disagree about the release strategy. Sony sees the film, which is slated to debut on August 24, as a low-budget film that should break in a limited number of theaters, while the producers think it should open wider, according to Variety.
The producers can't rely on the power of the meme and also want a bigger marketing push. Sony already debuted a trailer, posters, and promotional images for the film. Citing a clause in their contract letting them solicit higher offers, they showed the film to outlets like Netflix and Amazon.
Slender Man was created by Eric Knudsen as an art and photography contest entry and first appeared in 2009 on the Something Awful website. The character became a legendary meme, cementing the reputation of Creepypasta. The long-limbed creature without a face spawned an ever-morphing modern mythology that so captured the imaginations of two 12-year-olds they stabbed a friend 19 times so they could become proxies of Slender Man and live in his mansion in the Nicolet National Forest. The event was profiled in the HBO documentary Beware the Slenderman.
The father of one of the convicted girls criticized the film as "extremely distasteful," and Variety reports Sony executives are concerned about social media backlash.  More than 19,000 people have signed An online petition calling on the studio to pull Slender Man from release, and some theaters in Wisconsin, where the stabbing took place, said they will not show it The Slender Man plot does not reference the real-life stabbing.
Slender Man is directed by Sylvain White. The film stars Joey King, Jaz Sinclair, and Julia Goldani Telles.
If the producers don't find another studio, Sony may still roll Slender Man out to theaters on August 24.
Culture Editor Tony Sokol cut his teeth on the wire services and also wrote and produced New York City's Vampyr Theatre and the rock opera AssassiNation: We Killed JFK. Read more of his work here or find him on Twitter @tsokol.