News
Should WWE Break Up Enzo and Big Cass?
Signs seem to be pointing to the Enzo and Cass 14-month main-roster run as a WWE tag team coming to an end ...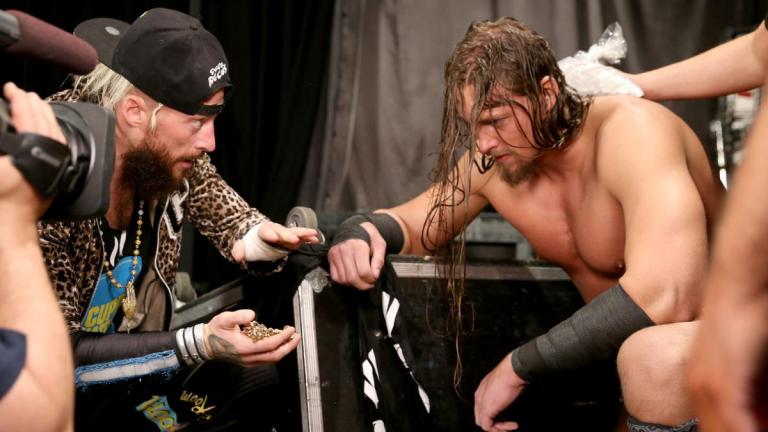 Enzo and Big Cass have only been on the WWE main roster for a little more than one year, and it already appears that they are on the verge of a nasty breakup.
For a few weeks, Enzo has been beaten up backstage, only to be discovered by his seven-foot partner. Last night, Cass was beat up with no one around, left under a piece of staging before being found by a referee backstage, who happened to have a cameraman with him.
Last night on Raw, Cass seemed to insinuate that he thought Enzo attacked him. At least that was the perception that came off during the segment, after Enzo tried to help his partner but Cass seemed to be put off by Enzo caring for him.
Then, when Enzo needed a new partner, he enlisted the Big Show while Cass sat backstage to be tended to by doctors. After the match, which Enzo and Show won over Gallows and Anderson in only a few minutes, Cass said he thought it was ironic that Big Show was around the same night Enzo needed a new partner. Cass seemed to think that Big Show had something to do with him and his partner suffering some unfortunate fates of late.
Is it too early to break up Enzo and Cass? I think so. There is still plenty of equity left in that act, even though it had an extended run on NXT before the main-roster debut. Considering WWE's tag division isn't exactly littered with top acts, I wonder why they would consider breaking up what has been a fairly popular babyface duo.
It could mean that WWE wants to pull the trigger on the Big Cass singles push, and if they do, it looks like they'll be doing it as a heel. My assumption is that, at the end of this storyline, it will be revealed that Cass attacked Enzo and then "faked" his own attack on this week's Raw, setting him up to run as a singles heel with WWE playing up his incredible size, something they obviously like to do.
Or, this could all be one big swerve. With WWE, you just never know. Their booking is so sloppy at times, it's hard to project based on past trends.
Roman Reigns pinned Bray Wyatt
WWE is trying some different things. This is a positive. Reigns and Wyatt opened the show wrestling for almost 20 minutes, which is far from the norm for WWE, which tends to open Raw especially with lengthy promo segments that take up the first segment of the show. Perhaps this change is due, in some part, to WWE's viewership numbers trending downward.
The crowd was more behind Reigns than most nights. The announcers were doing a nice job of building up the fight the two men were in the night before. The win is good for Reigns, while also doing no real favors for Wyatt, who didn't even beat the first man on his "hit list" of Extreme Rules opponents.
Samoa Joe choked out Paul Heyman
Awesome segment! This is how Samoa Joe needs to be built ahead of his title match against Brock Lesnar at Great Balls of Fire in a few weeks.
Joe was calm and collective in his approach towards Heyman. There was no "angry yelling" the way there is with Jinder Mahal.
What still is up in the air is whether or not they are moving Lesnar into the babyface role, out to avenge the beating his manager took. I think that's the right way for them to lean at this point, considering the plan seems to be for Lesnar to face Joe and then Braun Strowman at SummerSlam. Regardless, Lesnar has been walking a tightrope of being a tweener for probably two years now, and doing a very good job of it.
Sheamus & Cesaro beat Heath Slater & Rhyno
The match didn't take long, and considering how each of these teams are positioned right now, the match shouldn't have taken long.
TJP pinned Mustafa Ali
WWE has no clue what it's doing with TJP. It seemed like they were trying to position him as a babyface again, despite the fact that he was an unlikeable babyface when he was supposed to be one before, and for the last few months has been positioned as a heel. I just don't see the fanbase having any sympathy for TJP, as he positions himself as the next challenge for Neville and the Cruiserweight Title.
Kalisto pinned Titus O'Neill
A babyface using a handful of tights to get a win? Sure!
Meanwhile, Apollo Crews was laughing at the Titus Brand honco, who was out to show Crews how to beat Kalisto. Whatever. There was nothing really worthwhile happening here.
Big Show & Enzo Amore beat Luke Gallows & Karl Anderson
Big Show was a good replacement for Cass, who was hurt backstage as noted above. But this match was too short for where Gallows & Anderson should be positioned.
Alexa Bliss beat Nia Jax by DQ
I'm a fan of the finish, with Bliss going over by DQ. But it didn't make Mickie James Dana Brooke look very smart for standing by Jax. From Bliss' perspective, I'm a fan of the finish, but there were definitely elements of this that was confusing and the crowd didn't buy into Jax at all, at least as far as reactions go.
Samoa Joe beat Seth Rollins
As much as the promo segment with Joe was good for him, I'd chalk this up in the negative column. Joe needs to be destroying opponents en route to facing Lesnar at Great Balls of Fire, not having 50/50 competitive matches with Rollins, and only winning due to a distraction from Bray Wyatt. That's not the way to build up Joe as this supreme fighting machine, and making him out to be a bulldozer is the only way to book him ahead of this match with Lesnar.
—
Mike McMahon covers pro wrestling for Den of Geek. Follow him on Twitter @MikeMcMahonPW