News
SDCC Collectibles: DC Announces Artists Alley Line
DC's lineup of artist-focused vinyl figures merges indie design with the most iconic heroes and villains in the DC Universe.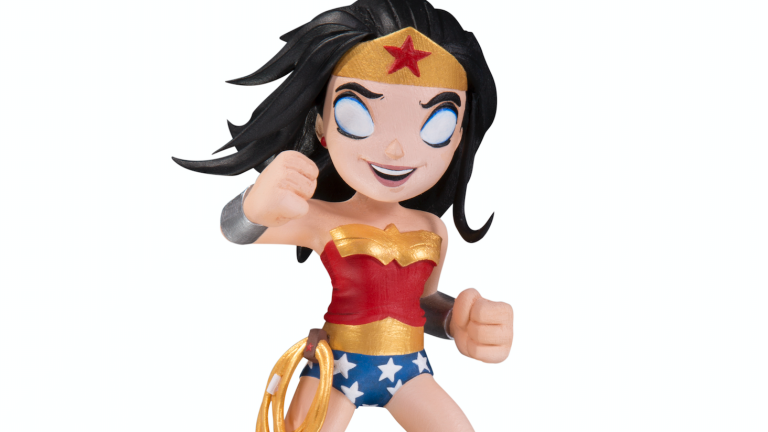 This article was originally published in the Den of Geek SDCC Special Edition Magazine. Click here to view the full issue!
When it comes to most fan conventions, the dealers' room, where licensed merchandise is sold, and artists' alley, where the comics world's best talent sell their wares, are separate. But now DC Collectibles has combined one of the most popular convention souvenirs—vinyl figurines of fan favorite characters—with the singular vision of the artists in attendance by introducing highly detailed, limited edition PVC statues in a product line designated as "DC's Artists Alley."
Participating artists include Christopher Uminga, a Connecticut-based painter and illustrator with a unique "creepy but cute" style; HaiNaNu "Nooligan" Saulque, a comic creator and graphic designer from Sacramento who combines contemporary technique with a nostalgic flare; and Sho Murase, whose European upbringing and Japanese/Korean heritage inform her Western-influenced, manga-style art with a dark twist.
Uminga has previously designed figures for Batman and Superman, Saulque has created statues for Joker and Harley Quinn, and Murase has showcased Catwoman. New figures introduced at this year's San Diego Comic-Con include Uminga's vision of Wonder Woman (pictured below), Saulque's depiction of Batman, and Murase's interpretation of Poison Ivy and Harley Quinn.
The DC Collectibles figures are 6.75 inches tall and will be accompanied by a print of the original artwork behind the design. The first wave of Artists Alley figures will be released in 2018 and are now available for pre-order.
Read and download the full Den of Geek SDCC Special Edition magazine here!