News
Scott Peterson: An American Murder Mystery Testifies to Monstrosity
As Laci Peterson's husband appeals his conviction, ID's Scott Peterson: An American Murder Mystery files an objection.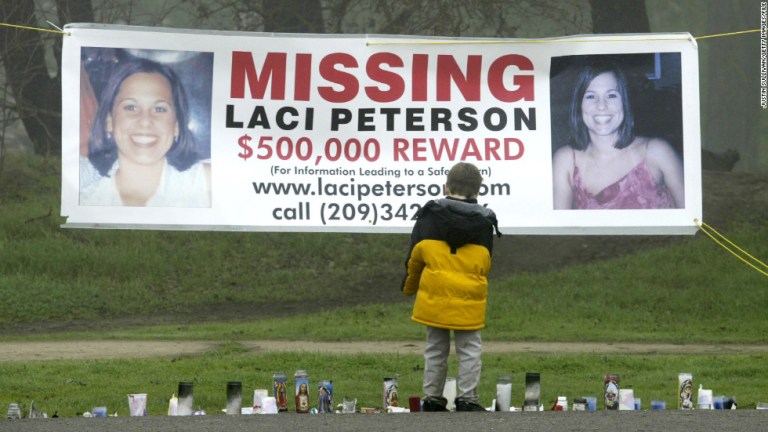 Laci Peterson disappeared on Christmas Eve 2002. She was seven and a half months pregnant with her first child. Her husband, Scott Peterson, had an alibi. He claimed he was 90 miles away, fishing on his boat at the Berkeley Marina in Richmond, California. On April 13, 2003, the remains of a male fetus washed ashore on a beach in San Francisco Bay. Laci's badly decomposed body was discovered soon afterwards.
Scott Peterson was convicted of first-degree murder in 2004, and sentenced to death by lethal injection. He is currently on death row at the San Quentin State Prison.  As the 15th anniversary of his conviction approaches, Scott Peterson is appealing his sentence and Investigation Discovery will probe the case in "Scott Peterson: An American Murder Mystery," the latest Installment of American Murder Mystery. The franchise debuts Wednesday, November 29 at 9 p.m Eastern Time.
"The disappearance and murder of Laci Peterson and her unborn son, Conner, is, perhaps, one of the most heart-breaking, traumatic true stories of all time," Henry Schleiff, Group President of Investigation Discovery, American Heroes Channel and Destination America, said in a statement.
"On Christmas Eve in 2002, 9-1-1 dispatchers in Modesto, California receive a particularly harrowing call from local resident Ron Grantski," reads the official synopsis.
"His 27-year-old, expecting stepdaughter, Laci Peterson, is missing. Investigators and family frantically search for the pregnant woman, retracing Laci's every move in hopes of finding the missing mother-to-be and her unborn son, Conner. Laci's college sweetheart husband, Scott, chronicles the day for police; but when details of the timeline don't quite add up, detectives turn their suspicions on him."
The two-hour special will present the initial missing persons' report filed. It will detail the discovery of Scott's double life. Scott Peterson: An American Murder Mystery features all-new and exclusive interviews with those closest to the case, including Laci's stepfather, Ron Grantski; Scott's ex-girlfriend Amber Frey; and Laci's friends, Stacey Boyers-Birdsong, Lori Ellsworth-Haints and Rene Tomlinson. They also interview Jon Buehler and Al Brocchini from the Modesto Police Department, who were the lead investigator and lead detective, respectively, on the case, and Cliff Gardner, Scott's appellate attorney.
"This latest installment of An American Murder Mystery will transport our viewers back to each pivotal moment of the investigation and trial, unraveling a very distorted web of lies that reveals the monster Scott Peterson really is."  
"Once again, ID is able to leverage the unrivaled archives and news-gathering resources of American Media, Inc. to present this tragic story in a new and illuminating way that will break fresh ground and offer never-before-seen details of what remains one of most captivating American murder mysteries of the last 50 years," said Dylan Howard, Dylan Howard, Chief Content Officer of American Media, Inc.
Scott Peterson: An American Murder Mystery premieres Wednesday, November 29 at 9/8c, exclusively on ID.