News
Sarah Silverman Talks Trump, PC Culture, And Her New Netflix Special
Long known for offensive humor, Sarah Silverman is more conscious of her words in her new special.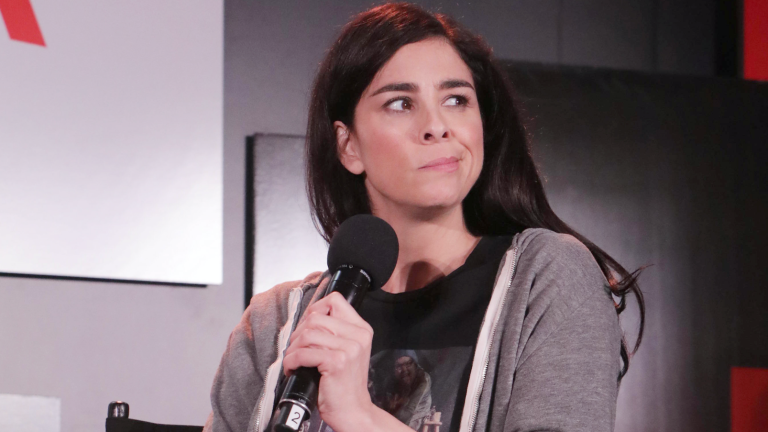 Comedians often find their bread butter in the landscape of offensiveness. For a long time, being politically incorrect was okay, if it was funny enough. The idea of political correctness isn't new, but times have changed. Do the rules of comedy have to account for that? Do they bear the burden, or is funny funny? 
Few can understand that shift in comedy better than veteran comic Sarah Silverman, who has been in her own trouble for being politically incorrect and offensive. We met at a Netflix junket in New York City to talk about her new special A Speck of Dust. Before I can take my seat, she has her hand outstretched to me, the tool of her dress gathered under her elbows. 
A Speck of Dust starts out with a crack about metal detectors. Silverman, at the time the special was in production, sent out a tweet calling for a military coup against the Trump administration.
"Sorry about the metal detectors, that is my bad," Silverman says to the audience. "I tweeted something and it made some people feel the need to express wanting to kill me…when you are a comedian now, you really have to think things through before you post them on Twitter, who do we think we are, presidents?"  Clearly Silverman is being facetious about the idea of comedians having to censor themselves, especially when compared to what the current President is tweeting on a daily basis.  
"I am of two minds of it," Silverman says during our interview. "One, I think it is very easy to be righteous when you are not looking someone in the face and go, 'Ugh, I'm right you're wrong and fuck you!' And I am guilty of it myself."  
In the past year, Silverman has been a progressive advocate. She has not been shy about taking a stand against Donald Trump and his politics, and though she started as a Bernie Sanders supporter, she urged everyone to throw their support to Hillary Clinton. She's been at the marches and the rallies and A Speck of Dust, though not all politically-inclined, still has a very distinct message about  Trump, equality and the policing of women's bodies. She was always political, that's true, but she has never been known for her censorship and has faced her own fair share of backlash over the course of her career. So what changed? 
Watch the video below for more from our interview with Sarah Silverman: