News
San Diego Comic Con 2018: Last-Minute Travel Tips
Looking for last-minute flights, hotels, or cars for SDCC 2018? Here are some of our best travel tips...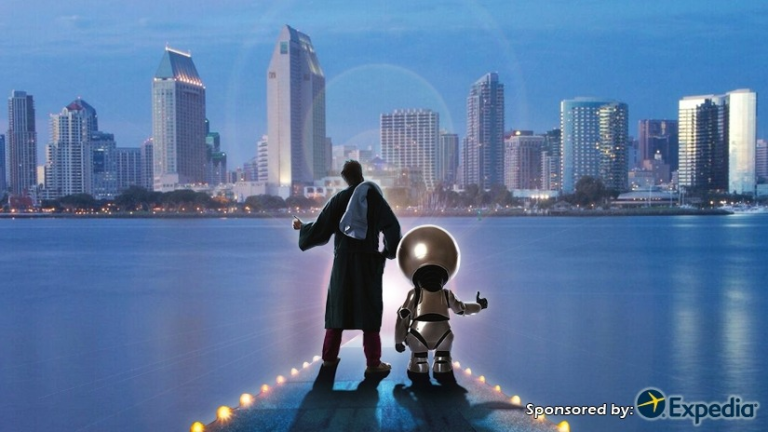 Presented by Expedia
San Diego's Comic-Con International, aka the biggest nerd party on the planet, is just around the corner and more than 130,000 people are getting ready to attend. If you know anything about San Diego Comic-Con, then you know how hard it is to not only score a badge, but to find a nearby hotel, inexpensive flight, and even make your way to and around the Gaslamp District once you've arrived.
We can't help you with the badge thing (those golden tickets have been locked down for months), but, as frequent attendees, the Den of Geek team knows its way around SDCC better than most. Here are some tips for last-minute travel, if you're not yet sorted out exactly how you are going to get to SDCC 2018 or where you are going to stay once you get there…
Finding a Flight
So, you have plans to attend SDCC 2018, but you don't yet have a flight. As Douglas Adams would say, "Don't Panic!" There are still flights available to San Diego from around the country and world.
The big decision in booking at this point in the year is time frame. If you can swing it, getting into the city as long as you can before Comic Con and leaving as late as you can after will save you some serious money. (Comic-Con 2018 runs from July 19th to July 22nd, with "Preview Night" on July 18th.)
If money and timing are both tight, you might want to consider seeing if you can fly into a nearby city for cheaper, and flying down. Los Angeles International Airport is the largest and busiest international airport on the West Coast, which means it often has deals. Plus, the train from Los Angeles to San Diego takes about three hours, and is a lovely ride!
Finding a Hotel
We're not going to lie… this one is tricky. Rooms in the SDCC hotel lottery go faster than nerdy action figures on the show floor. But don't give up hope! There are still rooms left.
The big decision you have to make is how much you are willing to pay in comparison with how close to the Convention Center you want to be. The closer you are, the more you will pay. If you can score yourself a hotel in the Gaslamp District or downtown, you'll have the best chance of getting to and from the show with your cosplay intact, and you won't have to walk quite as far with your Bag of Holding full of all the cool swag you bought!
If you're not willing to shell out as much for a closer hotel, you're in luck. Comic-Con International operates a free shuttle service Wednesday through Sunday, while the Con is running. It starts at Wednesday at 3 p.m., kicking into 24-hour service at 4:30 a.m. on Thursday, and picks up attendees at 63 locations around downtown, Mission Valley, and at hotels near the airport on Shelter Island and Harbor Island. So if it turns out there are only hotels available in those neighborhoods, just plan around that shuttle route! 
Renting a Car For SDCC
If you're staying outside of the designated shuttle area for SDCC, then you might need to rent a car to get into the city for the day's events. Even if you are close enough that renting a car doesn't make sense, we recommend renting a car to do a bit of sightseeing either before or after the Con.
If there's anything we've learned from attending SDCC, it's that four days packing into a smallish space with thousands and thousands of people will test you. It's incredibly important to get some space either before or after the Con starts, and one of the best ways to do that is renting a car and exploring the beautiful areas in and around San Diego that don't get as much attention during the Con. It might even end up being the highlight of your trip!