News
Samoa Joe Will Challenge Brock Lesnar at WWE Great Balls of Fire
The former TNA World Champion will be challenging Brock Lesnar at the strangely named WWE Great Balls of Fire.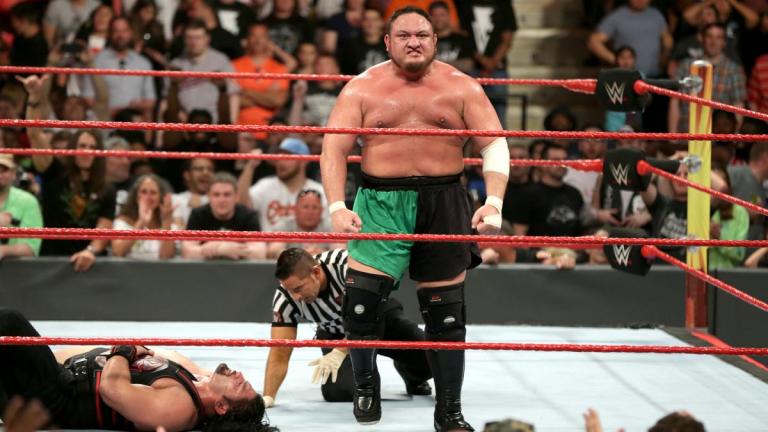 The name of WWE's next Raw brand pay-per-view might be terrible, but the main event is going to be a match of the year candidate.
Mark it down.
Great Balls of Fire (yes, that's really the show's name) will be headlined by Samoa Joe challenging Brock Lesnar for the Universal Title, after Joe won a Fatal Five Way Sunday night at Extreme Rules.
Joe vs. Brock. Get ready!
For most wrestling fans, this is a dream match. It's one of a few dream matches WWE can go to, with Styles-Nakamura, Joe-Styles, and others that have even been done before, but not in WWE. Joe-Lesnar is a match we've never seen. For most fans, it's a match we never thought we'd see.
From a booking standpoint, there is a chance this could be Joe's time. WWE ratings are plummeting. Raw is hitting record lows, or at least nearing them, on about a weekly basis and this is all happening while Raw's World Title has been off the show, with Lesnar as champion and retreating for the last two months.
It's possible Lesnar bulks up his dates heading into Great Balls of Fire and beyond it. That has to be the hope if you're Vince McMahon. But with limited dates, if Lesnar is slated to have another prolonged absence in the near future, I'd say it's very likely WWE decides to take the title off Lesnar, so that it can appear on television every week. That's not going to solve WWE's issues in regards to ratings, but inside WWE's bubble, executives (especially Vince McMahon) will believe that it's a solution.
It's part of a solution, but certainly not the whole thing. There's also the possibility that Lesnar is scheduled for a lot of television over the next two months, leading to SummerSlam, and it will be Braun Strowman that takes the belt off of him instead of Joe.
My point is that WWE often makes drastic changes, and alters course in big ways, when things aren't going their way. Joe could be a drastic change in direction.
While I think there is some equity in having Lesnar hold the title until WrestleMania next year, I can't see McMahon allowing Lesnar to hold the belt for another prolonged layoff. Not with WWE's ratings suffering and the television deal up for renegotiation next year.
But there are big questions we don't know the answer to. What is Lesnar's schedule? How many dates will he be on Raw?
If the plan is for another two-month layoff between SummerSlam and Survivor Series, taking the belt off of him is almost a certainty. It's just a matter of whether or not it's Strowman or Joe.
If WWE is really feeling the heat, Vince could try something drastically different. He's doing it on SmackDown at this exact moment with Jinder Mahal.
I also find the contrast between the two shows very interesting right now. At Payback two weeks ago, the main event was a slow, trudging WWE style between Randy Orton and Mahal. Last night's Raw PPV was headlined by former indy talent, and internet darlings.
If they're going for a contrast, there might not be a bigger contrast, at least in look, than there is between the vascular Mahal and the thick, ready to fight Joe.
The Miz beat Dean Ambrose to win the Intercontinental Title
There's some tidbits about this match that were difficult to watch and comprehend as a reasonable, rational person. There were also portions of the match that made a lot of sense.
Let me explain.
The stipulation was that the title could change hands on a DQ. That's a ridiculous stipulation, especially for a babyface champion and a heel challenger. Why didn't Maryese just go into the ring and kick her hushand where the sun don't shine in order to give him the championship?
Well, they did try to do that. Maryese slapped Miz but but the referee instead ejected Maryese. Good! At least they acknowledged the ridiculousness of the stipulation, and gave us a story to get around that fact.
At the end of it though, Miz will won the match and it's going to be just another IC title reign for Miz, who feels like he's spinning his tires in mud despite some good stuff over the last year. Unless they freshen it up somehow, my fear is that this will just be more of the same stuff we've seen from Miz for the last year. It's not going to elevate him, and it's not going to elevate the title.
Sasha Banks & Rich Swann beat Alicia Fox & Noam Dar
Rich Swann, of all people, breaks the curse of WWE wrestlers not winning in their hometown.
The idea behind Sasha Banks on 205 Live, with Swann, is probably to elevate the Cruiserweights and give them someone with main-roster credibility on the show.
That's the idea.
It's not working though. If anything, it's defining Banks down and killing the momentum she had in the fall. She needs to turn heel, and quickly, in order to freshen things up.
Alexa Bliss beat Bayley in a Kendo Stick on a Pole match to retain the Raw Women's Title
I don't think WWE could have done more to bury Bayley than if they literally tossed her character into a hole and threw dirt on it.
To summarize, Bayley got the kendo stick, but was never able to actually use it. Meanwhile, Corey Graves is questioning whether or not Bayley "had the guts" to even swing the weapon.
This, mind you, is coming eight months after WWE headlined a Hell in a Cell pay-per-view with the first women's match inside the cell in company history. In just two weeks, the women on SmackDown will have the first-ever women's Money in the Bank match.
Meanwhile, on Raw, little Bayley "doesn't have the guts" to swing a kendo stick.
They've murdered the Bayley character. Like Old Yeller, they've brought the character behind the barn.
Good luck getting anyone to take her seriously as a wrestler. It's mind-boggling how they could misuse someone so badly. At this point, it would probably be better for Bayley to go back to NXT and hit the reset button. They need to get her off the main roster if this is how she's going to be treated. Honestly, it's as if she's Eugene or some mindless child. That's how she's being portrayed. It's a travesty.
Cesaro & Sheamus beat Matt & Jeff Hardy to win the Raw Tag Team Titles
This was a good match that the crowd was very into. It was smart they way they played up Jeff Hardy returning to the back, and thus having his escape no longer count because he returned to the match. That's a rule that makes sense and I'm glad to see them incorporate something like that rather than just blatantly ignore it.
As for the result, I was a little surprised they changed the titles here, only because neither team seems to have much going on.
Neville beat Austin Aries in a submission match to retain the Cruiserweight Title
This is the biggest and best match the cruiserweight division has to offer right now. No one else has been built up to the point where they would be taken at all seriously in a title shot.
These matches have been good and they protected Aries after having Neville tap at ringside. Aries has the out of "should of" winning the match, which I like because preserves Aries as a top babyface within the context of the division.
I'd make the argument that it's time to move on from this feud, and give these guys a break from each other, but like I said, there's no one ready to challenge Neville so my guess is that this continues.
Samoa Joe beat Finn Balor, Roman Reigns, Bray Wyatt and Seth Rollins in a Fatal Five Way to become No. 1 contender for the Universal Title
Even aside from the excitement of Joe's win, this was just a electrifying match. With the odd number of wrestlers, the flow could be clunky and disjointed, but these guys did a good job of keeping the focus on 2-3 guys in the ring while the others were recovering on the outside.
Balor had some highlight moments, which was promising. Reigns did too, and Rollins' frogsplash off the top rope to the ringside table was one of the highlights of the match.