News
Salem Witch Trial House Up for Sale
Spacious home available for $600,000, but buyer beware, its first owner was hanged for dark magic during the Salem Witch Trials.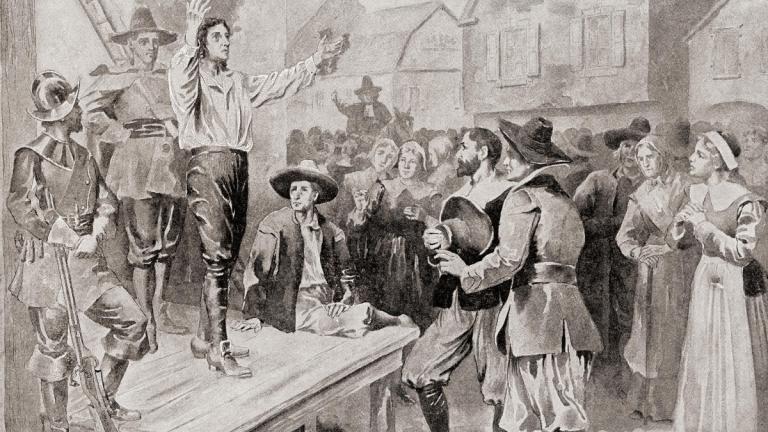 There was only circumstantial spectral evidence against John Proctor when he was conviced of witchcraft and hanged on August 19, 1692, during the Salem Witch Trials. The landowning Massachusetts Bay Colony man was only defending his pregnant third wife Elizabeth, who was accused by servant Mary Warren of giving her fits and summoning the ghost of Giles Corey against her. Corey had been pressed to death, some say because local residents wanted his property. The former home of John Proctor is on the market for $600,000, according to a real estate listing on J Barrett & Company's website.
The nearly 4,000-square-foot John Proctor House is in Peabody, Massachussetts, which at the time of the Salem Witch Trials was part of Salem Village. The six-bedroom, two-bathroom home was built in 1638, and is a "grand example of Colonial and American History," according to the listing. The exterior is a deep-grey color with a bright red door.
"This first period, registered historic home features period detail with the functionality of todays needs. Large eat in kitchen with plenty of workspace. The dining room can accommodate your largest holiday gathering. All the bedrooms offer storage and ample space to relax. Enjoy the summers around your oversized inground pool."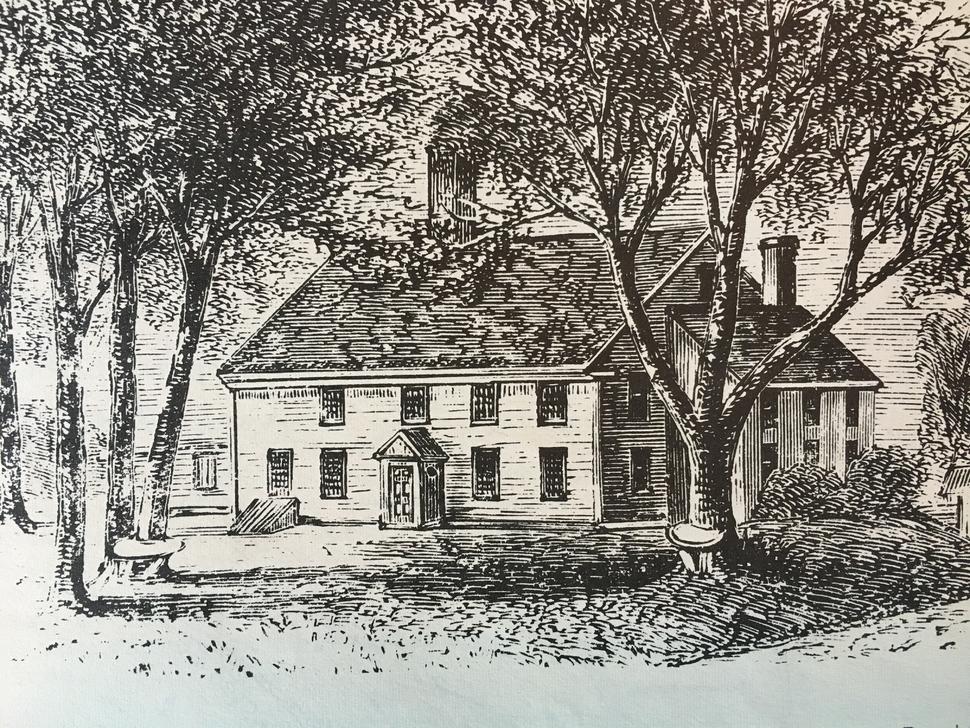 The home's owner died earlier this month. There is no word yet on whether the structure will be bought for public showings but its history is undeniable. Proctor was an early critic of the mass hysteria that gripped Salem during the Witch Trials, calling the afflicted girls who leveled charges frauds and liars. "We are what we always were in Salem, but now the little crazy children are jangling the keys of the kingdom, and common vengeance writes the law," Proctor said in Arthur Miller's 1953 play The Crucible. He was played by Daniel Day-Lewis in the 1996 adaptation. Miller's depicts Abigail Williams and John Proctor as former lovers, but he was 60 years old and she was 11 at the time of the trials.
John Proctor testified against Corey when he was being tried for beating his farmhand, Jacob Goodale, to death in 1676. Corey was fined for the death, but it killed his reputation in Salem. Elizabeth Proctor was accused of witchcraft on April 4, 1692. Her testimony was at the center of some of the most dramatic moments of the trials. When she proclaimed her innocence, Abigail Williams cried out "there is Goodman Procter going to Mrs. Pope , and immediately, said Pope fell into a fit. You see the devil will deceive you; the children could see what you was going to do before the woman was hurt," according to the transcripts, followed by fits from Goody Bibber.
Further reading: Salem Witch Trial Book Hits The Auction Block
"During the examination of Elizabeth Procter, Abigail Williams and Ann Putman, both made offer to strike at said Procter; but when Abigail's hand came near, it opened, whereas it was made up into a fist before, and came done exceeding lightly, as it drew near to said Procter, and at length with open and extended fingers, touched Procter's hood very lightly. Immediately Abigail cried out, her fingers, her fingers, burned, and Ann Putman took on most greviously, of her head, and sunk down," the transcripts continued.
Mary Warren, who was accused of being a witch along with Bridget Bishop, Giles Corey and Abigail Hobbs, testified that the John and Elizabeth Proctor made her sign and touch the book of the devil. Proctors called Mary Warren's testimony nonsense and said such her fits could be cured with a good whipping.
Proctor, his wife, their children, Benjamin, Sarah and Elizabeth Proctor's sister, Mary Basset DeRich, and sister-in-law, Sarah Bassett were all accused of witchcraft. Proctor was officially indicted on three charges of witchcraft against Mary Walcott, Mary Warren and Mercy Lewis on April 11, 1692. On June 2, John Proctor was searched and physically examined for signs that he was a witch but his examiners reported that they didn't find anything suspicious. Williams, Elizabeth Hubbard and Ann Putnam, testified that Proctor's spirit tortured and afflicted them during his examination in court.
Further reading: Activist Witches Protest Trump Immigration Policy at Detention Center
On July 23, Proctor wrote a letter to the clergy of Boston saying the accused witches would never get a fair trial in Salem. "The magistrates, ministers, juries and all the people in general, being so much enraged and incensed against us by the delusions of the devil, which we can term no other, by reason we know in our own consciences we are all innocent persons," he wrote.
"Here are five persons who have lately confessed themselves to be witches, and do accuse some of us being along with them at a sacrament, since we were committed into close prison, which we know to be lies. Two of the five are (Carrier's sons) young men, who would not confess anything till they tied them neck and heels, till the blood was ready to come out their noses; and it is credibly believed and reported that this was the occasion of making them confess what they never did, by reason the said one had been a witch a month. And another five weeks my son William Proctor, when he was examined, because he would not confess that he was guilty, when he was innocent, they tied him neck and heels till the blood gushed out at his nose, and would have kept him so twenty-four hours, if one, more merciful than the rest, had not taken pity on him, and caused him to be unbound.

These actions are very like the popish cruelties. They have already undone us in our estates, and that will not serve their turns without our innocent blood. If I cannot be granted that we can have our trials in Boston, we humble beg that you would endeavour to have these magistrates change, and other's in their rooms; begging also and beseeching you would be pleased to be here. if not all, some of you, at our trials, hoping thereby you may by means of saving the shedding of our innocent blood. Desiring your prayers to the Lord on our behalf, we rest your poor afflicted servants."
Proctor and his wife were convicted of witchcraft on August 5, 1692. John Proctor was hanged at Proctor's Ledge on August 19 along with George Burroughs, John Willard, George Jacobs, Sr., and Martha Carrier. Elizabeth was spared because she was pregnant. Altogether, 18 people were hung for witchcraft at the Salem Witch Trials.
Culture Editor Tony Sokol cut his teeth on the wire services and also wrote and produced New York City's Vampyr Theatre and the rock opera AssassiNation: We Killed JFK. Read more of his work here or find him on Twitter @tsokol.
Read and download the Den of Geek NYCC 2018 Special Edition Magazine right here!