News
Sailor Moon Crystal: Season 2 Blu-ray/DVD Release Date Announced
Sailor Moon Crystal season 2 is finally headed to Blu-ray and DVD. Get the details here.
There's something to be said for surprises, because with only a few days notice, VIZ Media announced the Blu-ray and DVD release date of Sailor Moon Crystal's second season. Picking up only moments from where Season 1 left off, The Black Moon Arc centers on the Sailor Guardians taking under their protection a mysterious little girl named Chibi-Usa, who is in search of the Silver Crystal. Chibi-Usa turns out to be a refugee from the 30th Century city of Crystal Tokyo, which has come under siege by a band of occult terrorists who believe Utopia isn't all it's cracked up to be.
SAILOR MOON CRYSTAL Set 2 covers Episodes 15-26 of Sailor Moon Crystal and, like Season 1: Dark Kingdom, will be released in multiple formats.
The Standard DVD-only Set is already available and features four discs with beautifully illustrated variant O-card packaging and specialty foil printing. Episodes are presented in 480p standard video format. This set carries an MSRP of $39.99 U.S. / $52.99 CAN.
The Standard Edition Blu-ray/DVD Combo Pack contains a deluxe, four-disc collection (two DVDs & two Blu-ray discs), featuring Episodes 15-26. Blu-ray episodes are presented in crisp 1080p HD video format sourced from the Japanese home video masters. In addition, the Blu-rays contain notable bonus content including the digital art gallery, clean opening and closing segments, and a special interview with Japanese pop group Momoiro Clover Z, who perform the series' theme songs.
This set drops on February 28th and carries an MSRP of $69.99 U.S. / $81.99 CAN.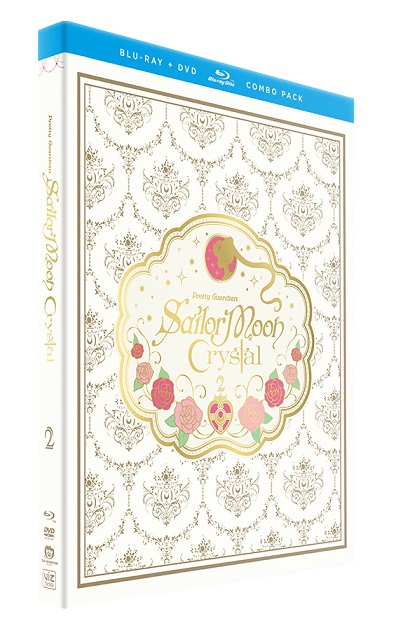 Lastly, for those die-hard collectors out there, the Limited Edition Blu-ray/DVD Combo Pack offers the Standard Edition set packaged in an exclusive chipboard box along with six full-color collectible art cards and a premium full-color art booklet featuring episode summaries and more! The Limited Edition Combo Pack also drops on February 28th and carries an MSRP of $79.99 U.S. / $93.99 CAN.
Pre-orders are available now from a variety of leading outlets and online retailers. Fans that order SAILOR MOON CRYSTAL Set 2 from RightStufAnime.com will receive a special Sailor Moon Suncatcher premium – while supplies last!
Check back with Den of Geek for all your Sailor Moon news!