News
Russell Crowe to Star as Fox News' Roger Ailes in Miniseries
Beautiful Mind star Russell Crow to explore an ugly mentality in upcoming Showtime miniseries.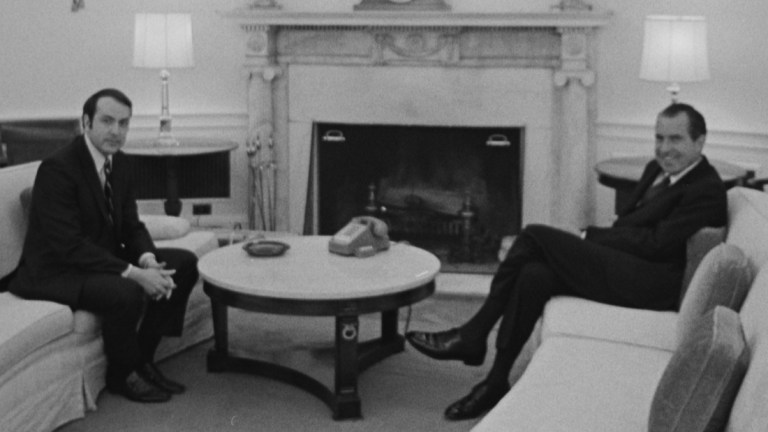 "Despite my privileged upbringing, I'm actually quite well-balanced," Russell Crowe said as John Nash in A Beautiful Mind. "I have a chip on both shoulders."  The actor will play the man who declared "truth is whatever people will believe," Roger Ailes, in Showtime's upcoming limited series about the rise of Fox News, according to Variety.
This is Russell Crowe's his first regular TV role. He appeared on international series Republic of Doyle, Police Rescue, and an Australian soap opera called Neighbours.
The eight-episode drama series titled is based on journalist Gabriel Sherman's bestselling Ailes biography, The Loudest Voice in the Room. The book was published in 2014, two years two years before Ailes was dropped from Fox. Ailes, who died in 2017 at the age of 77, was forced to resign in 2016 after sexual harassment allegations, including a lawsuit filed by former Fox & Friends and Real Story host Gretchen Carlson. Sherman's book didn't include any cooperation from the former Fox News chief. The official synopsis says the story will be "told through multiple points of view."
The first episode will be written by Sherman and Tom McCarthy, who directed the Academy Award -winning film Spotlight. The series will be executive produced by McCarthy and Jason Blum (Get Out).
"In many ways, the collision between the media and politics has come to define the world we live in today," Showtime Networks president David Nevins said in a statement. "We've seen this phenomenon depicted on screen as far back as the story of Charles Foster Kane, and it finds contemporary embodiment in the rise and fall of Roger Ailes. With Russell Crowe in the lead role, this limited series promises to be a defining story for this era."
Crowe will be playing an older character for much of the series. The series will focus "primarily on the past decade, in which Ailes arguably became the Republican Party's de facto leader, while flashing back to defining events in Ailes' life, including an initial meeting with Richard Nixon on the set of The Mike Douglas Show'that gave birth to Ailes' political career and the sexual harassment accusations and settlements that brought his Fox News reign to an end," according to the official synopsis.
Roger Ailes started Fox News in 1996 and remained the best-paid person in News Corporation during his tenure. He was also the unofficial GOP head since he was media adviser to George H.W. Bush's campaign in 1988. With Fox News, Ailes and and Rupert Murdoch built the most formidable propaganda machine in media. According to their public relations, Fox was developed to be the antidote to what was being called the liberal media. It helped make liberal a dirty word. After he left Fox, Ailes became an adviser to the Donald Trump presidential campaign. According to reports, he helped prepare the candidate for debates.
Annapurna Pictures is developing a feature film about the sexual misconduct allegations aimed at Ailes. Charlize Theron will play former Fox News host Megyn Kelly.Culture Editor Tony Sokol cut his teeth on the wire services and also wrote and produced New York City's Vampyr Theatre and the rock opera AssassiNation: We Killed JFK. Read more of his work here or find him on Twitter @tsokol.