News
Roxy Music's Virginia Plain Gets Celebratory Music Video
Bryan Ferry takes to Facebook to announce Ferry Gouw's music video for Roxy Music's 'Virginia Plain.'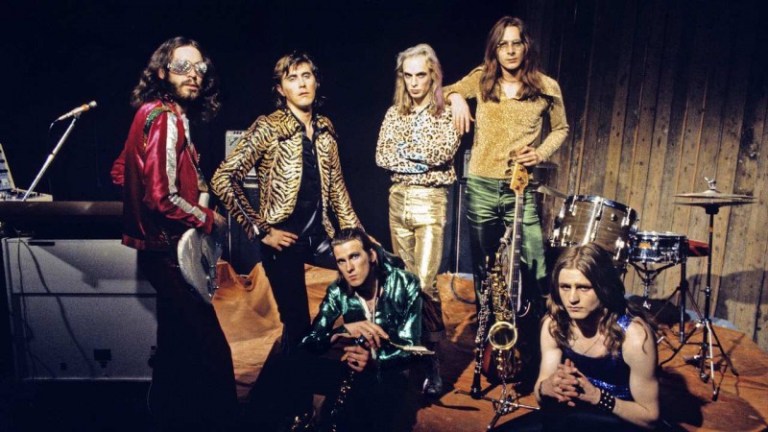 Bryan Ferry is making a deal and making it straight. It's all signed and sealed. In advance of the upcoming release of Roxy Music's eponymous debut album, Roxy Music, the band is issuing a music video for a song that broke all the rules of pop.
"To celebrate the anniversary release of 'Roxy Music' we asked graphic artist Ferry Gouw to create a music video for Virginia Plain!" Bryan Ferry wrote to Facebook.
"Virginia Plain!" wasn't structured like most singles. It didn't have a chorus. It ended with an abrupt stp and Virginia Plain doesn't even get mentioned until the last verse, but "The glam-rock pomp of Roxy Music's debut single …. lent itself to vibrant scenes of excess," according to a write-up in  Another Man Dazed and Confused Magazine that Ferry likes. "Storming through images of rollercoasters, airplane rides and whistle-stop holidays of scorching locales like Rio and Acapulco, the escapism that Virginia Plain painted such a vivid picture of would go on to become band leader Bryan Ferry's lyrical calling card."
You can watch the video here:
Bryan Ferry sang and played piano and Mellotron on the song. Andrew Mackay played oboe and saxophone. Brian Eno played the VCS3 synthesizer. Phil Manzanera played electric guitar, Rik Kenton played bass. Paul Thompson was on drums. The single, which was recorded at London's Command Studios in July 1972 and released in August, is being reissued 40 years after its original release. "Virginia Plain" wasn't on the original issue of Roxy Music.
Ferry commissioned the video from his longtime visual collaborator graphic Ferry Gouw, who worked on his Olympia solo album. The video mixes day-glo-washed images of casinos and travel spots with archival footage from Roxy Music.
Roxy Music The Debut Album 45th Anniversary Edition  includes the original album's 1999 Bob Ludwig master. Additional sounds were mastered by Frank Arkwright at Abbey Road Studios. The anniversary edition included are the John Peel BBC Sessions, a second CD that includes alternate session versions and a DVD with promos, BBC TV appearances, and footage of Roxy at the Bataclan Club in Paris in November 1972.
Roxy Music The Debut Album 45th Anniversary Four-Disc Super Deluxe Edition was released by Virgin/UMe on February 2, 2018.