News
Rock Hall of Fame Announces Nominees for the Class of 2020
The 16 nominees for next year's class of the Rock and Roll Hall of Fame includes 9 who are up for the first-time.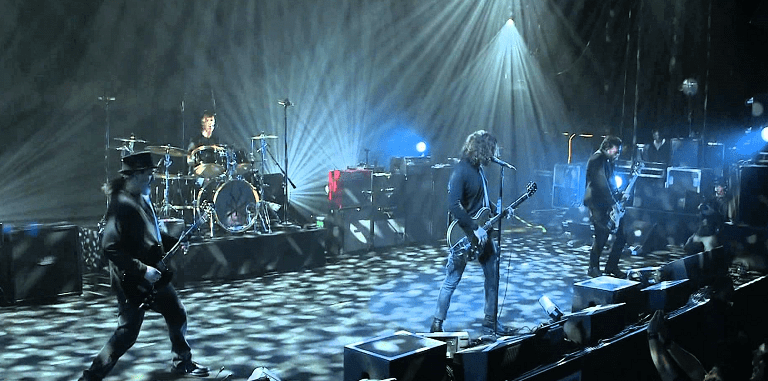 The Rock & Roll Hall of Fame has announced the nominees for its class of 2020, and it is a versatile group of performers. Sixteen acts representing genres from pop rock, hard rock, synth rock, hip hop, and rhythm and blues are on the ticket this year. Nine of them have never been on the shortlist before. This year's nominees are Pat Benatar, Dave Matthews Band, Depeche Mode, The Doobie Brothers, Whitney Houston, Judas Priest, Kraftwerk, MC5, Motörhead, Nine Inch Nails, The Notorious B.I.G., Rufus featuring Chaka Khan, Todd Rundgren, Soundgarden, T. Rex, and Thin Lizzy.
The Notorious B.I.G., Soundgarden's lead singer and rhythm guitarist Chris Cornell, Lemmy from Motörhead and Whitney Houston were nominated posthumously.
The 35th Rock & Roll Hall of Fame induction ceremony will be held in Cleveland, the home of the Rock and Roll Hall of Fame museum, on May 2, 2020. The 2019 induction ceremony was held at the Barclays Center in Brooklyn. 
The Rock Hall has inducted nearly 900 individual artists over the past 34 years. This will be the first time fans will have a say in the vote. From Oct. 15 through 11:59 p.m. ET on Jan. 10, 2020, fans can cast a ballot with Google, vote at RockHall.com or at the Museum in Cleveland. The five artists who get the most fan votes will be tallied along with an international group of over 1,000 voting members.
To be eligible, an artist's first commercial recording must have been released 25 years prior to the year of induction. MC5 have been eligible the longest. This is the first year The Notorious B.I.G. was eligible. If inducted, he will be the second solo rapper to join the Hall. Tupac Shakur was inducted in 2017. 
2020 will also mark the 25th Anniversary of the Rock and Roll Hall of Fame museum.
Pat Benatar
The singer of "Love Is a Battlefield' and "We Belong" was a classically-trained mezzo-soprano who quit her job to pursue a singing career in 1971.  "She started out performing in lounges and nightclubs, using open mic and amateur nights to develop her persona and style," according to the official web site. "In 1979, she was introduced to Neil Giraldo, whose distinctive, distorted guitar playing complemented the clarity and strength of Benatar's voice."
The duo created a hard driving sound on songs like "Heartbreaker," "Treat Me Right," "Hit Me with Your Best Shot," and "Invincible." During her run, Benatar was awarded two certified multi-platinum studio albums and ten gold and platinum releases.  Benatar won four consecutive Grammys in the 1980s. She was nominated for nine Grammys.
Benatar was the first woman to appear on MTV when her cover of the Rascals song "You Better Run" was second-ever video to air on the music channel. Benatar and Giraldo continue to perform together today. 
Dave Matthews Band
Charlottesville, Virginia's DMB have "been called a college band, a jam band, a pop band," according to the Rock Hall website. They formed in 1991 and "cultivated a trademark sound that includes long, intricate solos, non-traditional rock & roll instruments, unique time signatures, and an electric live show."
The group includes jazz musician LeRoi Moore on saxophone, bluegrass fiddler Boyd Tinsley, drummer Carter Beauford, and bassist Stefan Lessard behind lead singer Dave Matthews' signature percussive style guitar work.
The Dave Matthews Band grew through strong word of mouth, live shows and tape sharing. They were the top-selling live act from 2000 to 2009. They are the only band to have seven consecutive albums debut at number 1.  The released their indie-label album debut Remember Two Things in 1993, which was popular locally. The first major label album Under the Table and Dreaming came out in 1994, and produced the hits "What Would You Say," "Satellite," and "Ants Marching."  Crash, from 1996, went 7-times platinum. It also netted them first Grammy, and produced the "Crash into Me." 
Depeche Mode
Depeche Mode is known for their "dark, industrial love songs," according to the official website. Led by frontman Dave Gahan and songwriter Martin Gore, the band formed in the U.K.'s Basildon in 1981. Depeche Mode helped invent goth music with hits like "Master And Servant" "Stripped," "A Question Of Lust," "Never Let Me Down Again," and cult classics "Personal Jesus" and "Enjoy The Silence."
The band explored swampy blues and gospel to the goth-grunge album Songs of Faith and Devotion in 1993. Depeche Mode have "kept evolving through the 1990s and beyond, remaining a legendarily fearsome live act across the planet, with a foot in the underground and another in the club – but always with an eye on the future," according to the Rock Hall website.
The Doobie Brothers
Two drummers and three part harmonies defined the Doobie Brothers. The band was formed in Northern California by rhythm guitarist Tom Johnston, drummer John Hartman, and fingerpicking guitarist Patrick Simmons. When bass player Tiran Porter and drummer Mike Hossack joined, The Doobie Brother hit radios with the 1972 anthem "Listen to the Music." Their 1975 folk-bluegrass mix"Black Water" was their first number one hit.
The band changed player during the mid-1970s, adding guitarist Jeff "Skunk" Baxter and drummer Keith Knudsen. Keyboardist Michael McDonald took over lead vocals in 1975. Following the 1978 hit single "What a Fool Believes," the Doobie Brothers won four Grammy awards. Multi-instrumentalist John McFee replaced Baxter in the late 1970s.
They took some time off in the mid-1980s, but the Doobie Brothers reunited, and continue to perform.
Whitney Houston
The daughter of Cissy Houston scored 11 Number 1 hits, including her rendition of Dolly Parton's "I Will Always Love You," in 1992. Called the "greatest singer of her generation," Whitney Houston was 19 years old when Clive Davis signed her to Arista Records in 1983.  Her debut album topped the Billboard 200 for fourteen weeks, and contained three chart toppers: "Saving All My Love for You," "How Will I Know," and "The Greatest Love of All."
Houston was the first artist to have seven consecutive number 1 hits, and was the first woman to enter the Billboard 200 at number 1 with the album Whitney. She has won 6 Grammys and an Emmy.
Houston's mother sang back up for Elvis Presley and Aretha Franklin. Whitney collaborated with such artists as Stevie Wonder, Luther Vandross, Babyface, Missy Elliott, Bobby Brown, and Mariah Carey.
Judas Priest
The heavy metal band's highest charting song was "You've Got Another Thing Comin'," which hit No. 67 in 1982. But Judas Priest's "twin guitar attack, driving riffs, soaring operatic vocals and pounding drums has kept the band at the top of their game for almost 50 years," according to the Rock Hall web site.
Judas Priest's root go back to 1969, but their signature sound came to being when vocalist Rob Halford, guitarists Glenn Tipton and K. K. Downing joined bassist Ian Hill in the 1970s. Their 1980 album British Steel "would propel the band beyond the world of metal and hard rock – starting a run of platinum selling albums – and onto mainstream radio with 'Living After Midnight' and 'Breaking the Law," according to the Rock Hall website.
Judas Priest has gone through a lineup changes but still perform. Their last album was 2018's Firepower. Judas Priest was previously nominated in 2018. Current members Rob Halford, Ian Hill, Glenn Tipton and Scott Travis would be inducted along with K.K. Downing, Les Binks and late drummer Dave Holland.
Kraftwerk
Kraftwerk is the "foundation upon which all synthesizer-based rock and electronic dance music is built," according to the Rock Hall website. The band was formed in Düsseldorf, Germany, in 1970 by Ralf Hütter and Florian Schneider as part of a new wave of musicians which made "Kosmische Musik" (cosmic music).
After three albums of experimental proto-punk jams, Kraftwerk and producer Konrad "Conny" Plank changed styles with 1974's Autobahn. The title track was 22 minutes of electronics which  merged the Beach Boys and Karlheinz Stockhausen "through the amalgamation of Moog synthesizers, multi-track recording, and traditional instrumentation," according to the Rock Hall site.  They became a synthesizer quartet with the 1977 album Trans-Europe Express. Albums like The Man-Machine (1978), Computer World (1981), and Electric Café (1986) created modern electronic music.
Kraftwerk has been invited to perform at MOMA and the Tate Modern as a result of their contributions to avant-garde art.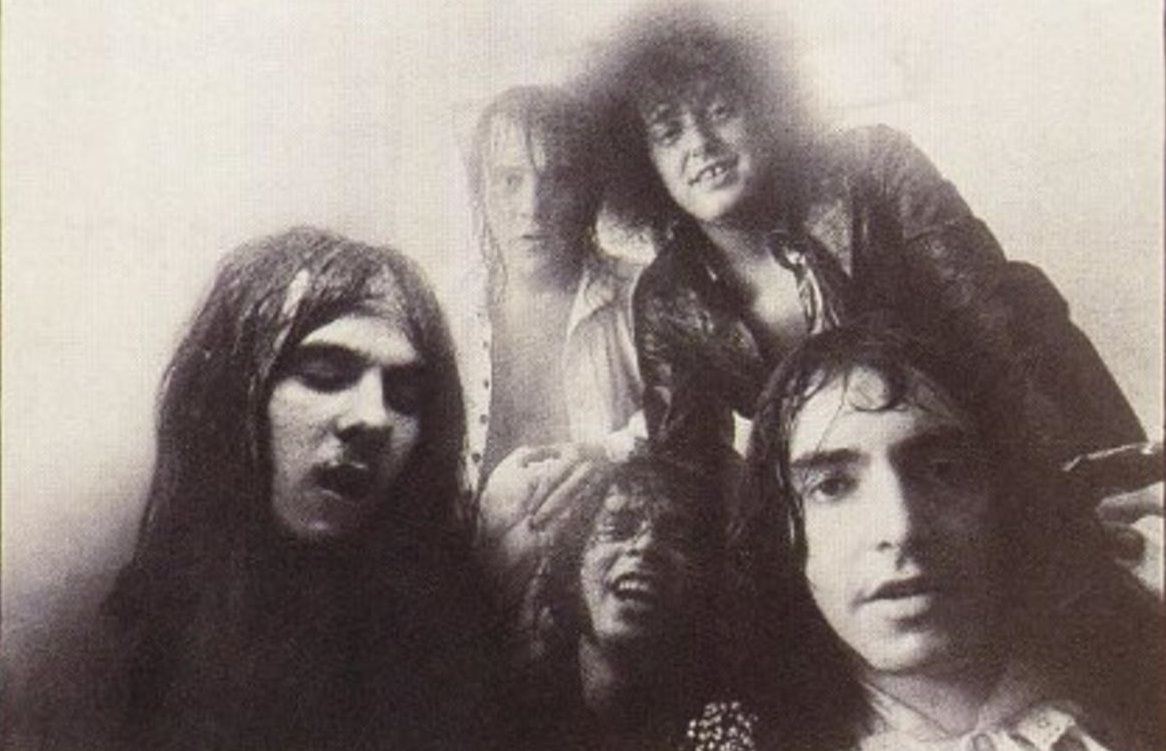 MC5
The Motor City 5, guitarists Wayne Kramer and Fred "Sonic" Smith, bassist Michael Davis, drummer Dennis Thompson, and lead singer Rob Tyner, were the most political garage band to ever "Kick Out the Jams," their only song to hit the top charts, reaching number 82 in 1969. Combing R&B, psychedelia and garage rock the band was the only band to play outside the 1968 Democratic National Convention in Chicago, when they were invited by Abbie Hoffman. Their audience was sprayed with tear gas and endured police brutality.
The MC5 was a precursor to the American punk rock made popular by The Ramones. Their second album, Back in the USA, was produced by then rock critic Jon Landau. Fifty years after the release of the band's first album, founder Wayne Kramer tours with the political band The MC50, features members of Faith No More, Fugazi, Soundgarden, and Zen Guerilla.
Motörhead
Motörhead has never hit the top 100, but is one of the most influential hard rock bands. Singer and bassist Lemmy Kilmister formed the band "with one simple goal: to make loud, fast, and vicious rock. He recruited guitarist Larry Wallis and drummer Lucas Fox to create an intense power trio sound featuring distorted bass and guitar, aggressive punk rock drums, and the melodic gravel of Lemmy's voice," according to the Rock Hall website.
Their first album, Motörhead, came out in 1977, and featured Phil "Philthy Animal" Taylor on drums and "Fast" Eddie Clarke on guitar. The stream of albums made between 1977 and 1982's Iron Fist built a catalog of hit songs still in heavy rotation today. The 1980 song and album Ace of Spades are frequently listed as the number one metal song or album of all time. Beavis and Butthead once proclaimed "Lemmy rules!" Lemmy, who died in 2015, Clarke and Taylor would be inducted, if voted in. Longtime drummer Mikkey Dee says it's "pure wrong" that he and guitarist Phil Campbell are not listed on the ballot.
Nine Inch Nails
Nine Inch Nails "juxtaposes the brutal and delicate, chaos and order, nihilistic despair and spiritual rapture," according to their Rock Hall bio. Taking "the sounds and sights of transgressive art — monkey messiahs, shiny boots of leather, serial killers — into the mainstream, transmuting alienation into community."
Trent Reznor started Nine Inch Nails as a studio project in Cleveland in the late 1980s. He dropped the debut album Pretty Hate Machine in 1989. The band came to true life onstage during the first Lollapalooza tour in 1991, which found them "laying waste to its instruments in the afternoon sun as dismayed fellow musicians and converted fans looked on," according to the Rock Hall bio. The 1994 album The Downward Spiral merged mechanized funk and industrial rock with melody. The album debuted at number two on the Billboard album chart. It contained the hit "Closer," and the song "Hurt," which was later covered by Johnny Cash. Nine Inch Nails co-headlined a tour and backed David Bowie in 1995. Treznor's pseudonym musical outfit won two Grammys.
The Notorious B.I.G.
Bedford-Stuyvesant, Brooklyn-born Christopher George Latore Wallace, aka The Notorious B.I.G., aka Biggie Smalls, was 24 years old when he was killed in Los Angeles on March 9, 1997. He was leaving an after-party thrown by Vibe magazine with his crew, which included Sean "Puffy" Combs, when the drive of a black Chevy Impala rolled down and shot him four times in the chest with a 9 mm blue-steel pistol. But the creator of the hits "Hypnotize" and "Mo Money Mo Problems" may have seen it coming. He recorded the albums Ready to Die and Life After Death.
Biggie Smalls "is celebrated as the greatest of his generation," according to his Rock Hall bio. "Party and Bullshit," his 1993 debut single "proved he was a star in the making, and quickly made him the focal point of Comb's Bad Boy records.
Biggie's music "ranged from smooth R&B samples to hard-hitting beats, and his autobiographical approach to storytelling transported you into his life," reads the Rock Hall website. "The music complemented Biggie's high-end, Versace-laced fashion sense to make him a superstar: the East Coast's answer to Dr. Dre and Tupac.  By 1995, he was the top-selling solo male artist on the rap, R&B and pop charts – all without compromising his art or his street cred."
His final completed album Life After Death debuted at number 1, making the rapper the first artist to earn multiple posthumous number ones. It is one of the few solo hip-hop albums to be certified Diamond by the Recording Industry Association of America.
Rufus featuring Chaka Khan
Rufus and Chaka Khan make you wish there was 48 hours to your day. Khan represented not only the freedom and raw sexuality of pure funk, but also the racial and social integration at the heart of rock & roll. Their 1974 signature hit "Tell Me Something Good," written by Stevie Wonder, hit No. 3, the same spot Khan reached as a solo artist with "I Feel for You" in 1984.
"In the 1970s, as the rise of disco intensified racially charged divisions between rock and roll and dance music, a band from Chicago brought on the funk with both force and grace, defying all boundaries," according to their Rock Hall bio. "First formed by black and white members of the 1960s rock band the American Breed, Rufus acquired a secret weapon in Chaka Khan, whose voice of liquid fire and sweet incense carried a carnality as ferocious as it was distinctly feminine."
Khan has been called a funk queen, a rock goddess, a jazz singer, and a disco diva, but she transcends the labels. Rufus was one of the ne of the most popular and most influential funk bands in history, dropping four consecutive number one R&B albums, ten Top 40 Pop Hits, including "Sweet Thing," "Once You Get Started," and "At Midnight (My Love Will Lift You Up)" and five number 1 R&B singles. Their live album Stompin' at the Savoy won a Grammy.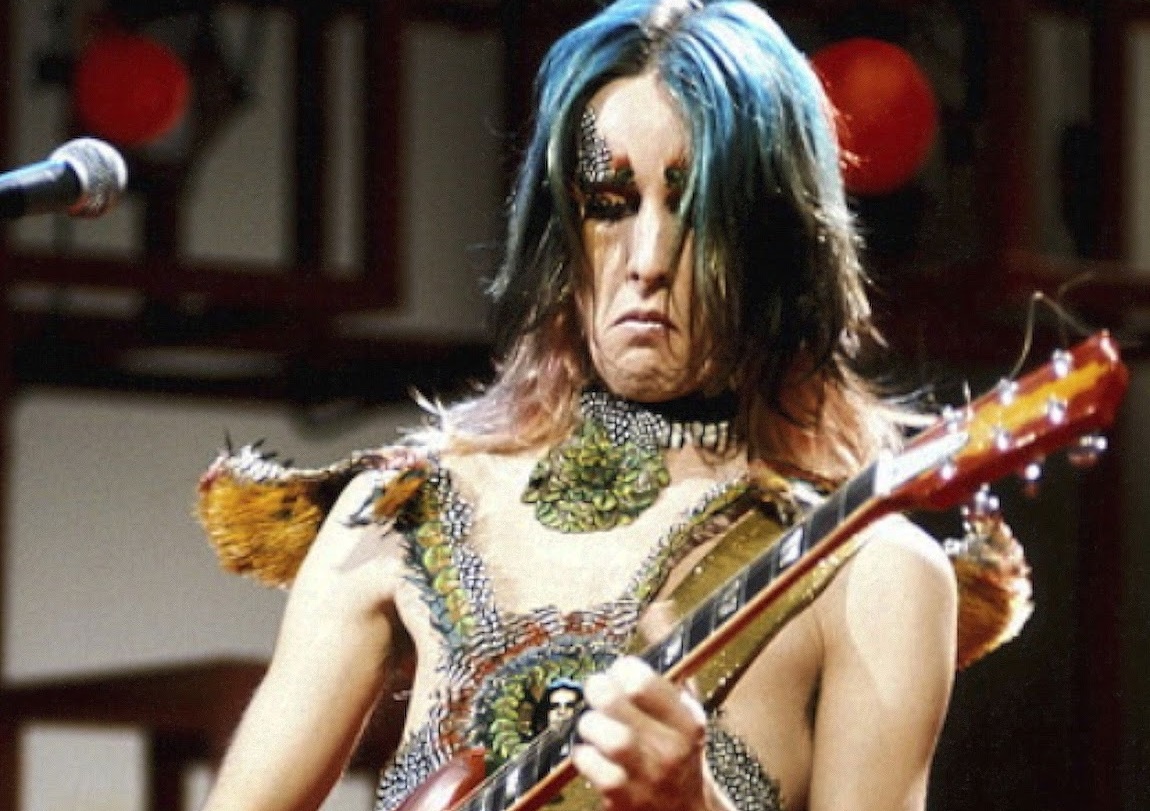 Todd Rundgren
From pop to prog, and playing all kinds of instruments, the Rock Hall of Fame calls Todd Rundgren "a wizard, a true star, who can do it all." Except maybe he couldn't out-wit John Lennon. Rundgren went solo after forming the psychedelic band Nazz in 1967 and his influence can be felt in power pop, lo-fi, music video production, overdubbing and experimental music.  "Where most artists strive to build one audience, Rundgren has built several devoted fanbases around the world," reads his Rock Hall bio.    
Born in Philadelphia, Rundgren was influenced by the soul, British rock, vocal harmony, and 1960s singer-songwriters. He earned his first top 20 hit with "We Gotta Get You a Woman" as part of his debut solo effort Runt (1970).  His 1972 double album Something/Anything? yielded the hits like "I Saw the Light" and "Hello It's Me."
Rundgren put out 12 solo albums, and 9 albums with his band Utopia in the 1970s and 1980s. He produced Patti Smith Group's Wave album, Meat Loaf's Bat Out of Hell, Grand Funk Railroad's We're an American Band, and the New York Dolls eponymous debut album. In 2017, Rundgren released White Knight, which includes collaborations with Trent Reznor.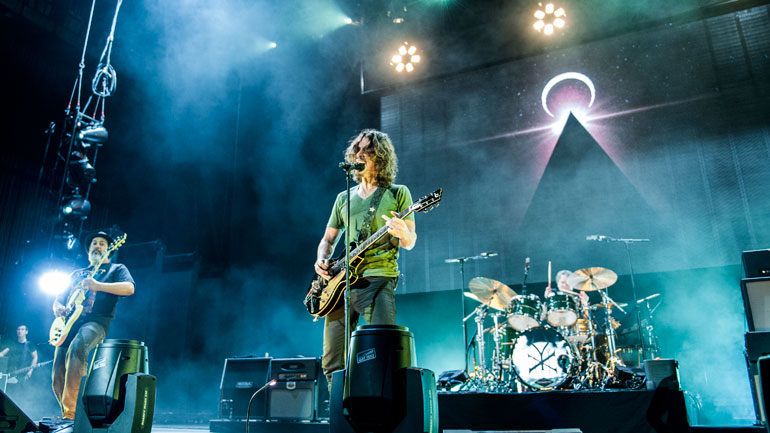 Soundgarden
Chris Cornell had the biggest voice in grunge, a four octave range with the power of the most confident metal singer. He could also croon. "Soundgarden ignited a musical movement that changed rock and roll," reads their Rock Hall bio.  "From the Northwest a raw power flew in the face of a synthetic, disconnected world and gave countless fans what they had long desired: a place to belong in an increasingly disconnected world."
Bassist Hiro Yamamoto formed Soundgarden with guitarist Kim Thayil, and Cornell in 1984, adding Matt Cameron on drums in 1986. After their debut EP Screaming Life came out on the indie record label Sub Pop, Soundgarden became the first grunge band to release an album on a major label when Louder Than Love was released in 1989. Ben Shepherd replaced Yamamoto on bass with the 1991 album Badmotorfinger. Soundgarden combined alternative, metal, punk, and progressive experimentalism with songs that groove in odd time signatures.  The band paved the way for Nirvana, Pearl Jam, and other grunge bands, and set the stage for major labels to seek out alternative sounds. The band went 5-times platinum with the 1994 album Superunknown. After the 1996 album Down on the Upside, Soundgarden disbanded in 1997, but reunited in 2010.
Cornell died on May 18, 2017, a few hours after a Soundgarden show at Detroit's Fox Theater. He was 52.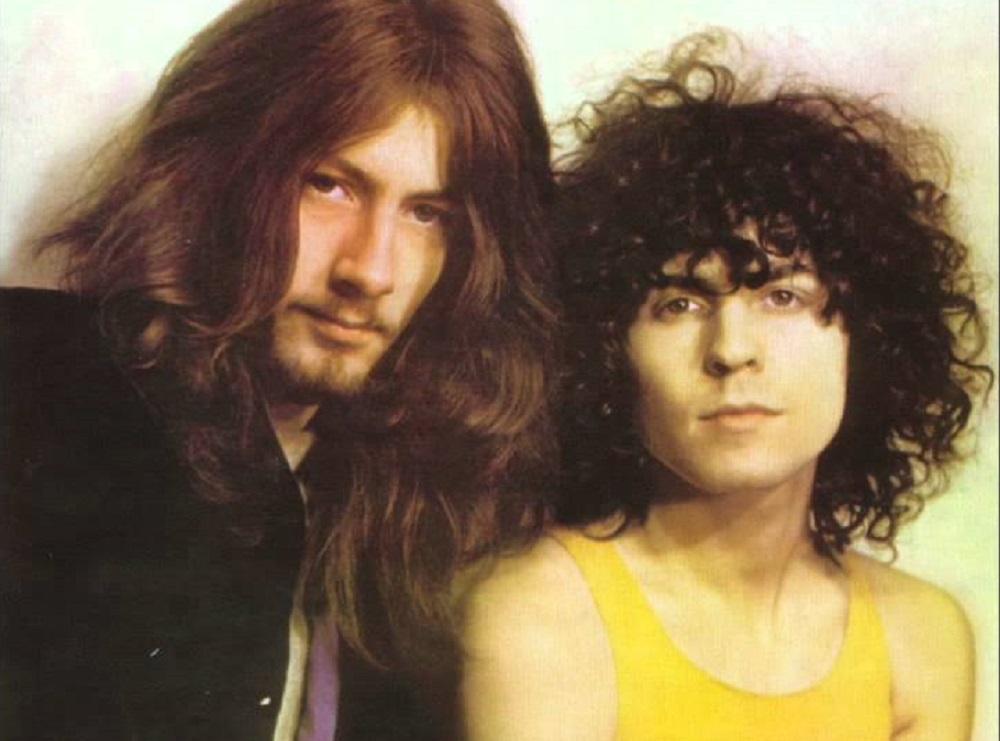 T. Rex
T. Rex was a "rock and roll comet that graced earth and left behind a new rock style and inspired generations of musicians," according to the Rock Hall website. "Marc Bolan and Steve Peregrin Took began the group as psychedelic folk-rock with elements of eastern music, baroque songs, and fantasy stories."
Glam Rock began in 1970 with T. Rex's "Ride a White Swan," produced by longtime David Bowie main man Tony Visconti.  Their self-titled debut album experimented with electronics and rock. Bassist Steve Currie and drummer Bill Legend joined for the album Electric Warrior, which mixed folk-rock and psychedelia, with crunchy guitars, rockabilly rhythms, and pop vocals, and contained their signature song "Bang a Gong (Get It On)."
T. Rex was formed in 1967 and initially was called Tyrannosaurus Rex. They released four psychedelic folk albums under this name. T. Rex played two shows at the Empire Pool, Wembley, on March 18, 1972. They were filmed by Ringo Starr and his crew for Apple Films. Part of the second show was included in the film Born to Boogie, which also features Elton John. T. Rex put out at least one album a year between 1971 and 1977 until Bolan's death on Sept. 16, 1977, put an end to the band.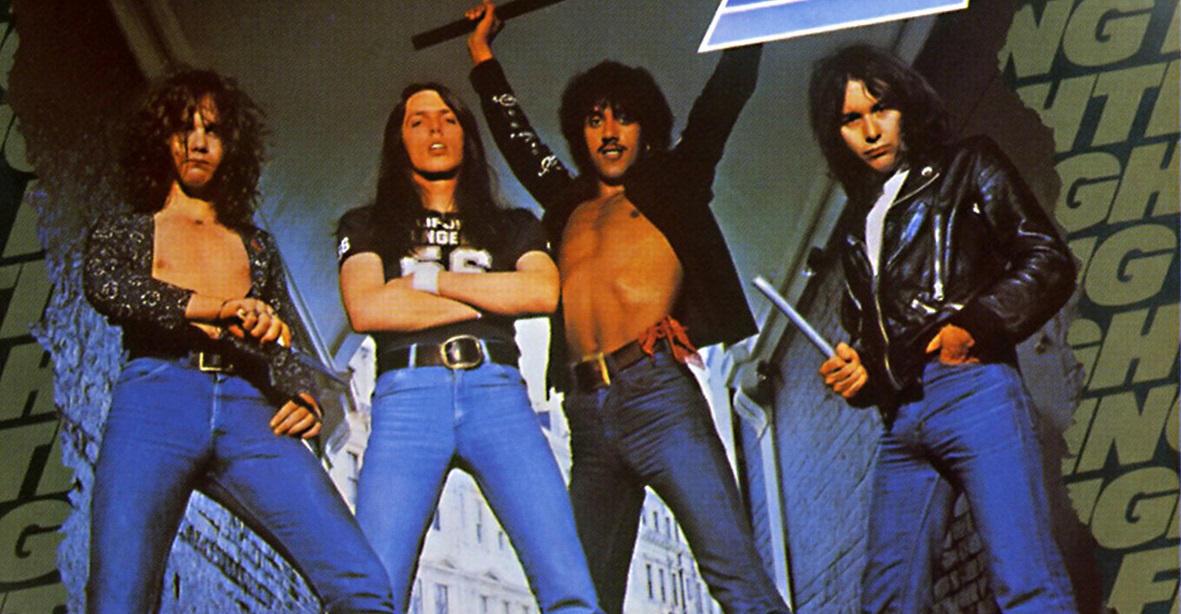 Thin Lizzy
Thin Lizzy, are best known for their 1976 hit "The Boys Are Back in Town," but their "classic twin lead guitar harmonies, raw yet poetic lyrics, and energetic live shows defined hard rock," according to their Rock Hall Bio. "Thin Lizzy's impact on rock & roll reaches far and wide."
Dublin, Ireland, schoolmates Phil Lynott and Brian Downey formed Thin Lizzy in 1969. Thin Lizzy was a "hard rock band that simultaneously defined and defied rock norms. On the one hand, their classic licks, charismatic leader, and energetic live shows fit squarely into the equation. On the other, they were an interracial band from Ireland who brought a thrilling new guitar sound into the genre." Lynott was the first black Irish rock star. Formed during a political, nationalistic conflict in Northern Ireland, the band crossed geographical, racial, and religious lines, consisting of musicians from Northern Ireland and the Irish Republic in the South, black and white, Catholic and Protestant.
Thin Lizzy blended psychedelic rock, blues, and folk for their first two albums. But went hard rock for their third album Vagabonds of the Western World. They added twin lead guitar harmonies for the mid-1970s songs "Wild One," from their 1975 album Fighting 1975 and their signature hit "The Boys Are Back in Town" from their Jailbreak album, which came out in 1976.  Lynott died in 1986. 
The Rock & Roll Hall of Fame 2020 Induction Ceremony will take place at Public Auditorium in Cleveland, Ohio on May 2, 2020.
Culture Editor Tony Sokol cut his teeth on the wire services and also wrote and produced New York City's Vampyr Theatre and the rock opera AssassiNation: We Killed JFK. Read more of his work here or find him on Twitter @tsokol.