News
Rock Hall 2019 Nominees Announced
Tell me something good, Cleveland. The Rock Hall of Fame Class of 2019 nominees vie for trip to Brooklyn.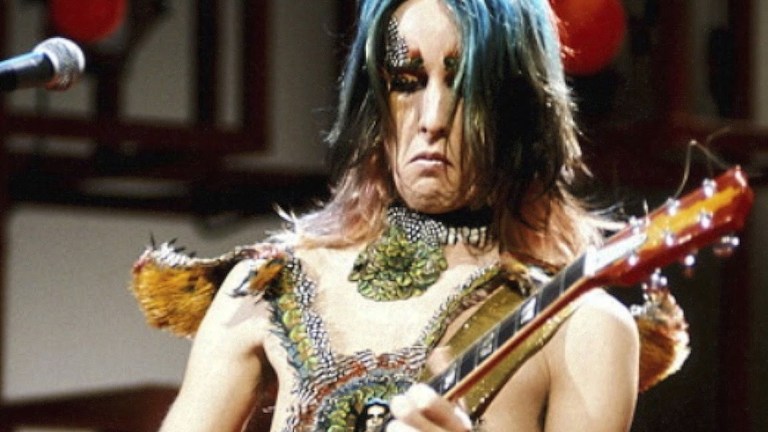 No sleep til Brooklyn, the Beastie Boys proclaimed. And after more than a few all-nighters, The Rock and Roll Hall of Fame the nominees for the Class of 2019. Rufus & Chaka Kahn, Rage Against the Machine, Stevie Nicks, Todd Rundgren, the Cure, Def Leppard, Devo, Janet Jackson, Kraftwerk, LL Cool J, Roxy Music, John Prine, MC5, Radiohead, and the Zombies are all eligible for induction at the March 29, 2019, ceremony in Brooklyn, N.Y., at Barclays Center, according to the Rock & Roll Hall of Fame web site. The winners will be announced in December.
To be eligible this year, each nominee's first single or album had to have been released in the year 1993 or earlier.
Stevie Nicks is on the ballot for the first time as a solo artist. Nicks was inducted into the Rock Hall in 1998 as a member of Fleetwood Mac. If selected, Nicks will become the first female artist to join the Rock Hall a second time.
Hello, it's me. This is the first Todd Rundgren has been nominated. He went solo after forming the psychedelic band Nazz in 1967. It is also the first time for new wave bad Devo, folk singer John Prine, romantic British balladeers Roxy Music, and metal band Def Leppard who became eligible for inclusion in 2004.
Rapper LL Cool J and the group Kraftwerk have made the list four times before. Only two rap acts, 2Pac and N.W.A., have been induced in the last five years. Kraftwerk has been getting nominations all the way back to 2003. Sixties British invasion band The Zombies and Detroit political proto-punkers MC5 were nominated four times.
Three time nominees include Janet Jackson and Rufus featuring Chaka Khan, who got on the ballot in 2012, and 2018 before now. The Cure were nominated twice since they became eligible 15 years ago. Radiohead and Rage Against the Machine both made their debut appearance last year in their first period of eligibility.
Last year's inductees were the Moody Blues, Dire Straits, the Cars, Bon Jovi, Nina Simone and gospel singer-guitarist Sister Rosetta Tharpe.
Todd Rundgren 
From pop to prog, Todd Rundgren can do it all. "A true jack of all trades, Todd Rundgren continues to redefine the sound of rock & roll through genre-melding songwriting and production," according to the Rock & Roll Hall of Fame web site. "Where most artists strive to build one audience, Todd Rundgren has built several devoted fanbases all over the world."
Rundgren is a singer, songwriter, multi-instrumentalist, producer, engineer, audiophile, technophile, all to critical acclaim. Rundgren's influence can be felt in many pockets of rock and roll: power pop ("Couldn't I Just Tell You"), lo-fi (A Wizard, a True Star), music video production ("Time Heals"), overdubbing (A Cappella), and experimental music (No World Order). Where most artists strive to build one audience, Todd Rundgren has built several devoted fanbases all over the world. His biggest hit, 1983's "Bang the Drum All Day," provides a soundtrack for sports stadiums globally.      

A Philadelphia native, Rundgren was influenced by the sound of soul, British rock, vocal harmony, and 1960s singer-songwriters. In 1967, he formed power pop group Nazz and honed his chops as a songwriter. But his curiosity led to more. He joined Albert Grossman's Bearsville Records as a producer and engineer. The decision paid off. Rundgren earned his his first top 20 hit with "We Gotta Get You a Wom-an" as part of his debut solo effort Runt (1970). His ambitious 1972 double album Something/Anything? thrust him in the spotlight with iconic hits like "I Saw the Light" and "Hello It's Me."

Rundgren wore many hats, providing all lyrics, instruments, vocals, and production. Always prolific, in the 1970s and 1980s he released 12 solo albums, 9 albums with his progressive rock outfit Utopia, and produced albums for Grand Funk Railroad's (We're an American Band), New York Dolls (New York Dolls), Meat Loaf (Bat Out of Hell), and the Patti Smith Group (Wave). At each turn, his sound evolved: "I never felt pressure that I had to come back and top what I might've done before."  

You can hear Todd Rundgren's influence in everyone from Prince, Hall & Oates, Bjork and Daft Punk. In 2017, Rundgren released White Knight, which includes collaborations with Trent Reznor and Robyn – further demonstrating the wide-reaching impact of one of rock and roll's truest renaissance men.  
Rufus and Chaka Khan
Rufus and Chaka Khan makes you wish there was 48 hours to your day. Khan represented not only the freedom and raw sexuality of pure funk, but also the racial and social integration at the heart of rock & roll.
"In the '70s, as the rise of disco intensified racially charged divisions between rock and roll and dance music, a band from Chicago brought on the funk with both force and grace, defying all boundaries. First formed by black and white members of the '60s rock band the American Breed, Rufus acquired a secret weapon in Chaka Khan, whose voice of liquid fire and sweet incense carried a carnality as ferocious as it was distinctly feminine. Funk queen, rock goddess, jazz singer, disco diva – Khan has been called, and has transcended, all of the above. Undoubtedly one of the most popular and most influential funk bands in history, they boast four consecutive number one R&B albums, ten Top 40 Pop Hits, and 5 number one R&B singles.  

Stevie Wonder, an early fan, crafted their breakthrough hit "Tell Me Something Good," from which Rufus and Khan made an unabashed simulation of sex without uttering a single naughty word. Subsequent hits such as "Sweet Thing," "Once You Get Started," and "At Midnight (My Love Will Lift You Up)" reinforced the muscular, fluid soulfulness the group retained through lineup changes. The live album Stompin' At The Savoy featuring the studio single "Ain't Nobody," a percolating instant classic, captured its effortless, joyful virtuosity that closed their recording career with another Grammy win.  

Inspired by awe-inspiring female artists like Aretha Franklin and Joni Mitchell, Khan, in her work with Rufus and later as a solo artist, remains one of the mightiest and most influential voices around. It is impossible to imagine today's streetwise but sensual hip-hop-soul diva without Khan; her influence allowed Mary J. Blige, another ardent fan, to forge the template, paving the way for other formidable women from Erykah Badu to Janelle Monae. To listen to any of Rufus and Chaka Khan's recordings is to hear songs that have endured for decades and continue to inspire fellow artists and fans alike. 

Stevie Nicks
The high priestess of all rock and roll covens is best known to Den of Geek fans for her mystifying works on American Horror Story. But she's bee casting spell since Rihanna was a baby. The unmistakeable vocal timbre of Nicks's voice has "dominated rock," according to the Rock Fame Site. "Nicks brought velvet and chiffon into the leather-and-denim world of rock, infusing sounds she admired from the acid rockers and Laurel Canyon singer-songwriters with a hint of black magic."
"When people ask me what I do, I say I am a rock and roll singer." Coming from Stevie Nicks, that is an understatement: the unmistakable timbre of her voice has dominated rock. While still a member of Fleetwood Mac, she shot to the top of the album charts with her solo debut Bella Donna (1981), netting her four hit singles including her signature anthem "Edge of Seventeen." Two years later, Nicks was back with a solo record The Wild Heart in 1983 and another top-ten single in "Stand Back." 

Nicks brought velvet and chiffon into the leather-and-denim world of rock, infusing sounds she admired from the acid rockers and Laurel Canyon singer-songwriters with a hint of black magic. (The first band she joined with Lindsey Buckingham, Fritz, opened for her idols: Janis Joplin, Jimi Hendrix, and Jefferson Airplane.) A songwriter since her teens, Nicks is known for work that shifts from supernatural imagery in songs like "Sorcerer" to relatable, earthly concerns in songs like "After the Glitter Fades." 

Nicks has always thrived and shined on collaboration. She partnered on tracks with Don Henley, David Crosby, and Tom Petty and made records with top producers including Jimmy Iovine and David A. Stewart. Her voice has remained in demand even today: you can also hear her in a cameo on Lana Del Rey's Lust for Life (2017). Bon Iver's 22, A Million (2016) includes a sample from a viral video of Nicks rehearsing. 

Nicks continually reaches new audiences not only through her extensive catalog, but also her unique brand of rock star iconography. Her signature rock and roll gypsy look including shawls, top hats, and fingerless gloves are pop culture mainstays: Jackie Factory in NYC, for example, has sponsored "Night of 1000 Stevies" fan celebrations for 28 years running. Nicks has also appeared, with both bewitching shawls and songs, on the television show American Horror Story: Coven. In testament to the power of her music, five decades in to her storied career Nicks still fills arenas.
Janet Jackson
You can call Janet Jackson "Janet," because Michael Jackson's sister "built a career so groundbreaking that she's immediately identifiable on a first-name basis. She explored social issues, themes of empowerment and self-confidence, and influenced generations with her stylized music videos with innovative choreography."
The youngest member of the Jackson family, she was first in the spotlight as a child actress on the TV series Good Times and Fame. But it was her five-times-platinum album Control in 1986 where she staked her claim as an R&B powerhouse. Working with the visionary production team of Jimmy Jam and Terry Lewis, she ushered in the new jack swing era by fusing melodic dance-pop with aggressive hip-hop and industrial beats. The album introduced a new Janet Jackson – free from the shadows of her family and seizing command of her own destiny.  Themes of empowerment and self-confidence ("Nasty," "Control," "What Have You Done For Me Lately") have remained staples of Jackson's career.  

Jackson explored social issues, including poverty, race relations, and drug use on 1989's concept album Rhythm Nation 1814.  The album broke record books with seven top five singles as well as a spectacular concert tour.  Her highly stylized music videos with innovative choreography established Jackson as a fashion icon.  On 1993's janet. she claimed more independence as producer and songwriter ("If," "Again," "Any Time, Any Place") – even shedding her last name.  That same year, Jackson earned rave reviews in the film Poetic Justice. 

Jackson's longevity is remarkable, always reinventing herself for a new generation.  She is the only artist with #1 singles in the 1980s, 1990s, and 2000s.  Her 2015 album Unbreakable – her first under independent label Rhythm Nation Records – featured J. Cole and Missy Elliot.  Her music videos, complex choreography, and theatrical stages have influenced pop stars including Usher, Aaliyah, Justin Timberlake, and Britney Spears.  Janet Jackson's influence can be heard everywhere: new jack swing in the 1980s (Teddy Riley), pop in the 1990s (Mariah Carey), R&B in the 2000s (Beyoncé), and hip-hop today (Kendrick Lamar).  Janet Jackson is a global icon – one of the best-selling artists in history, and an artist who's sonic and visual style loom large.
The Cure
Disintegration is "the best album ever," Kyle Broflovski proclaimed in the South Park episode "Mecha-Streisand." The name The Cure has stood for a group of teenage musical schoolmates, a legendary act commanding 10 million television viewers during a live performance, and everything in between. The band's sound has been called post-punk, gothic rock, new wave, and alternative – but as front man Robert Smith says, it's all just "Cure music."
Over the past 40+ years, the name "The Cure" has stood for a group of teenage musical schoolmates, a legendary act commanding 10 million television viewers during a live performance, and everything in between. The band's sound has been called post-punk, gothic rock, new wave, and alternative – but as frontman Robert Smith says, it's all just "Cure music." 
The story of the Cure has many chapters. After some youthful first efforts billed as "The Easy Cure," the band began exploring dark imagery. Despite lineup changes, they settled into a distinctive formula of Existentialist philosophy, Gothic themes, and a lot of reverb. The records released between 1979 and 1982 – Seventeen Seconds, Faith, and Pornography – saw Smith develop lyrical prowess and a haunting sound as a singer and guitarist. The band followed suit, contributing to atmospheric, synthesizer-driven tracks like "A Forest" (the first to chart in the UK). Their stage look added to the aesthetic: teased black hair, messy makeup, and funeral clothes. 
In 1983, ready to move from the stress of what Smith deemed the "sordid side of life," the Cure opened a new chapter. The Head on the Door (1985) set the standard for a more pop-oriented sound. Big albums full of hit singles – including Kiss Me Kiss Me Kiss Me, Disintegration, and Wish – were supported by even bigger tours. The Cure was also in heavy rotation on MTV, which showed their stunning visual collaborations with director Tim Pope. As their music appealed to an ever-growing audience, they didn't lose their substance, continuing to produce heart-wrenching tracks like "Love Song." 
The acclaimed album Bloodflowers ushered in the new millennium and earned the Cure a GRAMMY nomination, a forerunner of the accolades the new century would bring. From an MTV Icon award in 2004 to a banner year in 2008, with four #1 hit singles and plans to headline twenty festivals in 2019, it's clear that the band's current chapter is one of the best yet.    
Rage Against the Machine
The name says it all. Rage Against the Machine was a political and musical force that could not be reckoned with. Combining guttural screams, deep funk grooves, and the in-your-face ferocity of punk and metal, Rage fought to end injustice around the globe.
Every aspect of Rage Against the Machine throttled the status quo. Formed in 1991, the Los Angeles quartet took aim at oppressive systems of power – cultural, political, economic, and otherwise – and did everything they could to ignite a revolution. 

Musically, Rage Against the Machine's subversion mixed hip-hop, punk, metal, funk, and rock. The band's self-titled 1992 debut and 1996's Evil Empire ushered rap-rock into the mainstream and established Rage Against the Machine as a powerful voice who harnessed strength from defying sonic boundaries.  Zack de la Rocha's stinging, hip-hop-inspired vocals drew on his days fronting a hardcore band. The rhythm section of bassist Tim Commerford and drummer Brad Wilk heightened the urgency of de la Rocha's delivery with deep, heavy grooves grounded by a pummeling backbeat – no rhythm section could maximize volume while staying in the pocket more skillfully. Guitarist Tom Morello took the rap-rock hybridization further than contemporary groups.  He used pedals, toggle switches, and alternative tunings to take abrasive effects normally created by hip-hop turntables, samplers, and synthesizers and inserted them into the language of heavy metal through Rage's driving riffs and iconic solos.   

Rage Against the Machine were part of a musical tradition indebted to the MC5, the Clash, and Public Enemy. While plenty of '90s rock bands supported social justice issues, Rage Against the Machine's rebellious politics stood head and shoulders above. Onstage and off, the band members gave a voice to the powerless, calling out local and global inequalities, and railing against censorship, corporate cronyism and government overreach. Their lyrics were smart and pointed – "Freedom" highlighted the plight of Leonard Peltier, an imprisoned Native American leader, while "People of The Sun" showed solidarity with tyrannized Mexican citizens.  Even today, their lyrics remain relevant. "Killing in The Name," a stark indictment of racism and police brutality, still resonates deeply in cities across America.  They forged brazen protest music for the modern world. 
MC5
"Kick out the jams, motherfuckers," the MC5, band that mixed "searing rock & roll with radical politics, combining Chuck Berry riffs with a soundtrack from the flip side of flower-power counterculture," according to the official Rock Hall bio.
"Brothers and sisters, the time has come for each and every one of you to decide whether you are gonna be the problem or whether you are gonna be the solution." For the Motor City 5, there was never any doubt that the band's unapologetic garage rock anthems would be anything but the solution – the fast-rocking truths, raw and revealing about the violent underside of flower-power culture.  

Draped in red, white and blue, the MC5 were a high-watt onslaught of musicians: stun-guitarists Wayne Kramer and Fred "Sonic" Smith, bassist Michael Davis, drummer Dennis Thompson, and brain-shattering lead singer Rob Tyner. The Motor City 5 kicked out the jams and politicized every bystander in sight. Their sound was a unique combination of R&B, psychedelia and garage rock with dominant political messages. Invited by Abbie Hoffman to play to the masses of young protestors outside the 1968 Democratic National Convention in Chicago, MC5 were the only band brazen enough to play onstage. They became the soundtrack to a cultural tipping point, played over scenes of tear gas and police brutality. 

With proud anti-establishment credentials—the f-bomb was their go-to rallying cry—the MC5 prefigured much of American punk rock and even influenced heavy metal. The band broke new ground with their second album, Back In The USA, produced by then rock critic Jon Landau. The record combined Chuck Berry riffs with lyrics that remain prophetic to this day. Just listen to "High School" and you'll hear the pop-punk sound that was later perfected by The Ramones. Each album's relentless qualities drive listeners to the brink of sensory overload while remaining rooted in melody.  

Fifty years after recording their first album, founder Wayne Kramer is back on the road with a super group of musicians playing thought-provoking music during another period of political unrest. The MC50 features members of Faith No More, Fugazi, Soundgarden, and Zen Guerilla, exemplifying the continued broad influence and spirit of the original Motor City 5.
The Zombies
"What's your name? Who's your daddy? Is he rich like me?" The Zombies sang as self-conscious sixties invasion rock stars. "Innovative arrangements, gorgeous choral harmonies, and impeccable musicianship made the Zombies one of the most admired and influential groups of the 1960s," reads the official bio.
The first wave of the British Invasion carried a startling variety of sounds and styles from old world to new, but not all of the bands presented successfully emerged during that heady halcyon era. The Zombies, with their intricate arrangements and sophisticated atmospherics, stood apart from the raw, blues-drenched disciples of American blues and R&B. Their band's sound filled space gorgeously and completely with jazz-inflected electric piano and choirboy vocals, endearing themselves overnight to a sea of fans. 

The classic lineup of The Zombies fell back to school days at St. Alban's: Keyboardist and singer Rod Argent met guitarist and vocalist Paul Atkinson and drummer Hugh Grundy as schoolmates. Bassist Chris White and lead singer Colin Blunstone joined shortly after. 

Their second and final album Odessey And Oracle has earned its reputation (and its spot inside the Top 100 on Rolling Stone's list of the "500 Greatest Albums Of All Time") alongside such masterworks as the Beatles' White Album and the Beach Boys' Pet Sounds. Rod Argent's eponymous band gave majesty and definition to the '70s, but the Zombies, which he and Colin Blunstone have been helming on records and tours for the past decade, are truly a rock band for all seasons. 

At the end of the day, it always comes back home to the triad of career defining hits by the band that beg the question: Where were you the first time you heard "She's Not There" or "Tell Her No" or "Time Of the Season"? For many, those songs swept away fans, inspiring decades of allegiance or even the impulse to pick up and instrument and play.  
LL Cool J.
Def Jam records chose a teenager as their face when ushering in hip-hop's second wave, and 17-year-old LL Cool J made an unforgettable impression. He delivered both hardcore raps and sexy love songs with swagger still heard in hip-hop today.
LL Cool J has been called the Little Richard of hip-hop: combining youthful exuberance, massive charisma, and incredible musical talent, they launched their respective genres of rock and roll to fans around the world. LL was still a teenager when he became the face of Def Jam records – his 1985 Radio was the label's first album.  He ushered in hip-hop's second wave with hard-hitting singles like "I Need a Beat," "I Can't Live Without My Radio," and "Rock the Bells."  LL's work with Def Jam paved the way for future label mates Public Enemy, the Beastie Boys, and Slick Rick.   

Through the 1980s LL blazed a trail from Queens to the nation, becoming one the best-selling hip-hop artists of the decade. In 1987, he became the first rapper to top the R&B charts with "I Need Love". His Grammy-winning anthem "Mama Said Knock You Out" (1991) was a KO heard around the world.  Throughout his career, the hits kept coming: "Going Back to Cali," "Around the Way Girl," "Hey Lover," "Doin' It," and many more. 

LL's voice is powerful, his flow intimidating, and his swagger mesmerizing.  Michael Jackson, inspired by LL's "I'm Bad," recorded "Bad" after meeting him in person.  LL is equally comfortable with hardcore battle raps (Eminem calls him one of his biggest influences) as he is with sexy love songs (hence the name Ladies Love Cool James).  If you didn't love LL, you wanted to be LL. 

LL Cool J epitomizes the entrepreneurial musician.  He leveraged his music career into successful ventures in movies, television, fashion, and fitness. The empires run by Beyoncé, Jay-Z, 50 Cent, and Diddy owe him a debt of gratitude. He didn't open the door – he smashed it wide open, creating opportunities for anyone who picked up a mic.
Def Leppard
"The most commercially successful New Wave of British Heavy Metal band, Def Leppard ignited the 1980s reign of metal," reads the official bio on the Rock Hall of Fame page. "Their anthemic hooks, melodic but powerful guitars, larger-than-life drum sounds, and sexy swagger created the ultimate stadium experience."
A group of fresh-faced teenagers formed Def Leppard in Sheffield, England in 1977. They quickly emerged as the most commercially successful band in the New Wave of British Heavy Metal movement. Combining new wave's accessibility with metal's guitar-driven power and glam rock's sexiness, they set the stage for metal's domination of arenas, airwaves, and television in the 1980s.  Def Leppard defined visual theatricality. They staged larger-than-life concerts filled with pyrotechnics, unencumbered performance energy, and sexy swagger. They created the model for hard rock bands looking to harness MTV's hard rock potential with classic videos like "Photograph" and "Rock of Ages."  On the multi-platinum albums Pyromania and Hysteria, Mutt Lange guided the band as they honed their signature sound—a sound that would sustain the band from pub rock to metal and points in-between

With Def Leppard, the whole is greater than the sum of its parts. Joe Elliot's anthemic hooks soared above glossy vocal harmony layers. At the height of their popularity, Steve Clark and Phil Collen saturated their songs with guitars, tracking single-note melodic licks over chunky power chords. Underneath, Rick Savage chugged on the bass to anchor the active sonic texture above. In 1984, Rick Allen lost his left arm in a car accident. He took this as an opportunity to use a pedal-oriented, all electronic drum kit to craft the perfect stadium drum sound: heavy, economical beats with gated reverb and plenty of space between the notes that leaves room for maximum echo throughout the venue.

Def Leppard opened the door for bands like Mötley Crüe, Guns N' Roses, and Bon Jovi to ascend into the limelight of the 1980s.  Artists from Metallica to Taylor Swift claim them as an influence today. But the band's greatest asset is their perseverance. Throughout changes in the music industry and personal struggles, Def Leppard continues to find new ways to rock, inspiring legions of fans in their wake. 
Devo
New wave pioneers of sound and vision, Devo was "equal parts art project, performance art, rock and roll satire, and punk band. Devo produced a sound that was fresh to the world. A wild amalgam of sharp-edged punk rock guitar angst, Kraftwerk-inspired synthesized modernity, jagged motoric rhythms, and detached spoken word vocalizations."
DEVO = De-EVOlution. Are we regressing as a culture instead of moving forward?  In 1970 the students who would go on to form Devo asked themselves this very question when they witnessed the infamous May 4th Kent State shootings. At that moment Devo was born as equal parts art project, performance art, rock and roll satire, and punk band. They produced a sound that was fresh to the world, a wild amalgam of sharp-edged punk rock guitar angst, Kraftwerk-inspired synthesized modernity, jagged motoric rhythms, and detached spoken word vocalizations. The primary line-up featured two sets of brothers, Bob (guitar) and Gerald (bass) Casale, and Bob (guitar) and Mark (keyboards) Mothersbaugh, along with Alan Meyers (drums). 

Their early performances around Akron, Ohio allowed them to develop their songs, performance routines (hazmat suits), and stage characters (Booji Boy!).  In 1978 they recorded their debut LP with Brian Eno and David Bowie both producing. Devo's cover of the Rolling Stones' "(I Can't Get No) Satisfaction" showed them embracing rock history while simultaneously tearing it down – taking one of the key rock anthems of the 1960s and turning it into a nervous rhythmic groove for the coming decade.

Right on time, Devo released Freedom of Choice in 1980 and hit the pop charts with "Whip It!". The band's performance art was the perfect fit for the era of music video. Clad in black turtleneck t-shirts with bright red energy domes on their heads, they took the world by storm. But their constant use of humor and satire hid the biting criticism of modern society that could be heard on tracks like "Freedom of Choice" and "Gates of Steel." Devo set up the punch lines and expected their audiences to fill in the blanks. This technique often left people asking what they were all about. But for those who got the message (like Nine Inch Nails and Daft Punk), Devo became a beacon guiding an entire generation of new wave, industrial, and electronic artists into the future. 
Kraftwerk
Kraftwerk was the first hybrid of synthesizer rock and electronic dance music.
Founded in Düsseldorf in 1970 by the band's two core members, Ralf Hütter and Florian Schneider, the group was part of a new wave of musicians in Germany collectively referred to as Kosmische Musik (cosmic music), exploring the intersection of rock and roll and the avant-garde.  Their first three albums capture the sound of an experimental proto-punk jam band riffing on Hawkwind and the Velvet Underground, but their fourth album Autobahn (1974) – created with producer Konrad "Conny" Plank – established the beginning of something new.  The twenty-two minute title track combined the influences of the Beach Boys and Karlheinz Stockhausen into an electronic musical odyssey.  It also represented a miraculous use of technology through the amalgamation of Moog synthesizers, multi-track recording, and traditional instrumentation.

The 1977 album, Trans-Europe Express, completed Kraftwerk's transformation into a synthesized quartet, featuring some of the funkiest grooves and vocoder melodies ever put on wax. New York City's burgeoning hip-hop community quickly latched on to the album and DJ Afrika Bambaataa based his track "Planet Rock" (1982) on Kraftwerk's beats.

The following years secured Kratwerk's place as both musical innovators and master songwriters and the albums, The Man-Machine (1978), Computer World (1981), and Electric Café (1986) established the blueprint for modern electronic music—without them it simply would not exist.  They have been sampled widely, from New Order's use of "Uranium" in their masterpiece "Blue Monday," to artists as varied as Jay-Z, Sunshine, and Coldplay.

Kraftwerk's influence can be heard in the synth-pop of Depeche Mode, the electronic-rock integration of U2, the production techniques of Kanye West, and in countless EDM and Dubstep artists.  Kraftwerk is a unique unit who has both produced a number one chart success with their song "The Model" and been invited to perform at MOMA and the Tate Modern for their contributions to avant-garde art.  Kraftwerk has been, and will always be, "Music Non-Stop."  
John Prine
John Prine can "balance of humor and heartbreak, turn of phrase and tongue in cheek," reads the Rock Hall Bio. "We see ourselves in his music – he simply writes about us far better than we ever could."
John Prine is the songwriter's songwriter.  He's been honored by the Kennedy Center, the Library of Congress, and the Grammy Hall of Fame, while inspiring an entire generation of contemporary Americana music.  Dan Auerbach of the Black Keys describes Prine: "he's the closest thing I can imagine to ever being around Mark Twain." Steeped in the tradition of Hank Williams, Johnny Cash, and Bob Dylan, Prine was a major voice in the folk revival of the 1970s. His 1971 self-titled debut is an American classic, featuring some of his most celebrated songs, including "Paradise", "Angel from Montgomery," and the dramatic Vietnam-vet tale of "Sam Stone."  During the 1970s, Prine expanded his repertoire while staying connected to American roots music, recording at Atlantic Records, Sam Phillips' studio in Memphis, and Muscle Shoals in Alabama. 

Prine's songwriting – a balance of humor and heartbreak, turn of phrase and tongue in cheek – stood out from his contemporaries and was adored by rock's biggest stars. "Nobody but Prine could write like that," said Bob Dylan, who calls "Lake Marie" his favorite song. Tom Petty, Bonnie Raitt, and Bruce Springsteen – all noted advocates – appeared on Prine's 1991 album The Missing Years. A bout with squamous cell cancer in 1998 would have derailed most careers – but not Prine's. His 2005 album Fair & Square earned a Grammy Award and critical acclaim. In 2018, he toured with Sturgill Simpson and released The Tree of Forgiveness, featuring contributions from Jason Isbell and Brandi Carlile. In September 2018, Prine won his second consecutive Artist of the Year honors at the Americana Music Awards.    

John Prine's stories become our stories. We recognize his characters and we understand the themes: loneliness ("Hello in There"), perseverance ("Bruised Orange"), vulnerability ("Souvenirs"), humor ("Dear Abby"), divorce ("All the Best"), family ("Grandpa was a Carpenter"), and mortality ("Please Don't Bury Me"). We see ourselves in Prine's music – he simply writes about us far better than we ever could.
Radiohead
Never settling for genre archetypes, Radiohead incorporated a wide variety of musical influences – from Pink Floyd to R.E.M. –  that challenge even the most dedicated fan. They flipped the music industry on its head.
Founded in the mid-Eighties by schoolboys from outside Oxford, England, Radiohead – who took the name from a Talking Heads song – are the most compelling paradox in modern rock: a worldwide commercial sensation with a restless, experimental vision and underground-pioneer spirit.  

Radiohead's blistering 1992 single "Creep" took a year to move into Britain's Top Ten and the American Top Forty but became a smash. Singer-lyricist Thom Yorke, bassist Colin Greenwood, drummer Philip Selway, and guitarists Ed O'Brien and Jonny Greenwood (Colin's younger brother) – reacted to that breakthrough with a dramatic turn away from the mainstream. The jarring guitar dynamics and harrowing balladry of 1995's The Bends was a gripping prelude to the majestic art-rock futurism and dystopian warning of the 1997 masterpiece and multi-platinum best-seller, OK Computer.  

Heralded as their era's answer to Pink Floyd and the Beatles, Radiohead again turned their backs on success and expectation, entering the next century with two albums that set Yorke's seething introspection and heated, social argument in unpredictable whirls of electronic minimalism, slashing-guitar turbulence and radical textural invention – Kid A (2000)and Amnesiac (2001).
Kid A, ironically, was Radiohead's first Number One album.
Further reading: The Rock and Roll Hall of Fame Class of 2018 Is Here!
Roxy Music
Roxy Music added elements of modern fashion, cinema, art, and the avant-garde into rock and roll, and pushed listeners' perceptions about the essence of pop music. An experiment that envisioned the future of rock and roll and, in doing so, changed the course of music.
When Bryan Ferry and Graham Simpson formed Roxy Music in 1970 they weren't creating just any rock and roll band. Their now famous 1971 Melody Maker magazine ad looking for a new guitar player for their "Avant Rock Group" asked for someone original, creative, adaptable, and scary. That description was accurate considering they sat somewhere between David Bowie, King Crimson, and the Velvet Underground. Their intentions were clear on "Re-make/Re-model," the opening track of their 1972 debut album, which added elements of modern fashion, cinema, art, and the avant-garde. They pushed listeners' perceptions about the essence of pop music – and just when you figured them out, they changed. Everyone has a favorite Roxy record: the art work intrigued you, the songs floored you.    

The first two albums built an experimental rollercoaster ride on the back of glam rock guitar chords. Brian Eno's revolutionary synthesizer sounds poke through the fabric, while Ferry's soulful, detached vocals pull you close. Songs like "The Bob (Medley)" are postmodern trips into cinematic rock and roll dreams, while "Do the Strand" became their first hit.

Stranded (1973) and Country Life (1974) saw multi-instrumentalist Andy Mackay and guitarist Phil Manzanera join the songwriting team while Eddie Jobson's keyboards created a more polished sound. Their album Siren (1975) spawned the worldwide hit "Love is the Drug" – since featured in countless video games, TV shows, and movies. The drums and bass of Paul Thompson and John Gustafson build a soulful, funky beat – it's easy to understand how a young Nile Rodgers was inspired to form Chic after seeing Roxy Music. Other artists, including the Talking Heads, U2, and Duran Duran also paid attention and Roxy Music soon became the catalyst that sparked the New Romantic and New Wave movements.

Roxy Music's final album Avalon (1982) saw the band end on a high with a pop tune laden, chill lounge album filled with vast musical landscapes equally cerebral and emotional. Roxy Music was an experiment that envisioned the future of rock and roll and, in doing so, changed the course of music.
The Rock & Roll Hall of Fame will again offer fans the opportunity to officially participate in the induction selection process. Beginning October 9 and continuing through 11:59 p.m. EST on December 9, 2018, fans can visit rockhall.com to vote.  Voting is capped at one ballot per day. Fans can also visit the Museum in Cleveland to cast their vote in person using the Voice Your Choice interactives adjacent to the 2018 Inductee exhibit in the new Hall of Fame Gallery, presented by KeyBank.
The top five artists, as selected by the public, will comprise a "fans' ballot" that will be tallied, along with the other ballots to choose the 2019 inductees. Ballots will be sent to an "international voting body of more than 1,000 artists, historians and members of the music industry," according to the Rock Hall site. "Factors such as an artist's musical influence on other artists, length and depth of career and the body of work, innovation and superiority in style and technique are taken into consideration."
To ensure the message gets out loud and clear, the ceremony will be presented by a speaker and headphone manufacturer, Klipsch Audio.
A limited number of pre-sale tickets for the 2019 Induction Ceremony will be made available for Rock & Roll Hall of Fame donors and members in advance of the public sale. To be eligible for the member pre-sale opportunity, you must be an active Rock & Roll Hall of Fame member by December 31, 2018.
Ticket information will be announced in January.
The Rock Hall of Fame induction Ceremony will be broadcast on HBO and SiriusXM. SiriusXM will air specials leading up to the Ceremony devoted to the Rock Hall's Inductees, past and present— on Rock & Roll Hall of Fame Radio (Ch. 310).
Culture Editor Tony Sokol cut his teeth on the wire services and also wrote and produced New York City's Vampyr Theatre and the rock opera AssassiNation: We Killed JFK. Read more of his work here or find him on Twitter @tsokol.
Read and download the Den of Geek NYCC 2018 Special Edition Magazine right here!