News
Rock and Roll Hall of Fame 2019 Class Announced
Radiohead, Janet Jackson, and Stevie Nicks are among the new class of the Rock and Roll Hall of Fame.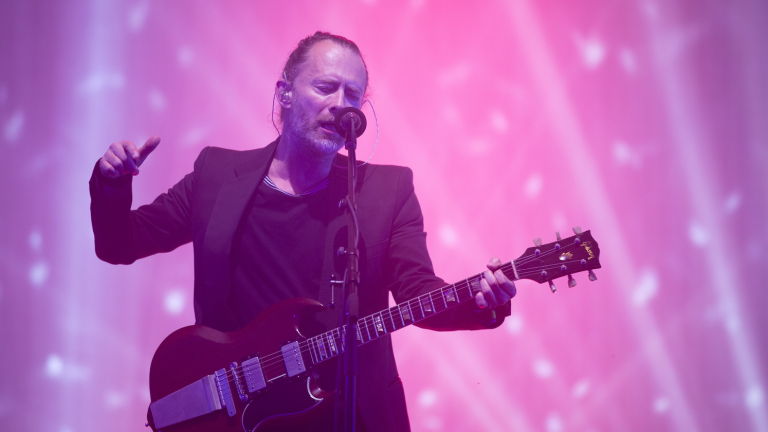 The Rock and Roll Hall of Fame made it official: Radiohead, Janet Jackson, Stevie Nicks, Def Leppard, The Cure, Roxy Music, and the Zombies are part of the 2019 inductee class.
The Cleveland-based Hall of Fame will host its induction ceremony at Barclays Center in Brooklyn on March 29th. HBO and SiriusXM will air edited versions of the ceremony at a later date.
Stevie Nicks becomes the first woman to be twice inducted into the Rock Hall. She was previously honored in 1998 as a member of Fleetwood Mac. Nicks' 1981 solo debut, "Bella Donna," yielded four hit singles, including "Edge of Seventeen." Nicks released eight solo albums in her career, earning eight Grammy nominations.
If South Park has taught us nothing, at least we know Disintegration rules. Kyle Broflovski proclaimed it to be the best album ever. The Cure started as a group of musical group of teenagers exploring the post-punk, gothic alternative. Led by Robert Smith, also known as Smithra to an elite circle of guardians of the universe, the band put a lot of reverb over Existentialist philosophy to prove there is no Easy Cure, an early name for the bad. Between 1979 and 1982 the band darkened their sound with albums like Seventeen Seconds, Faith, and Pornography and their look with teased black hair, messy makeup, and funeral clothes. The Cure was cured of the sordid side of life to pop out hit sounds like their 1985 album The Head on the Door (1985), and dark pop hit singles like "Kiss Me Kiss Me Kiss Me," "Disintegration," and "Wish," videos with director Tim Pope, and heart-wrenching nuggets like "Love Song."
"Lullaby," the 1989 single from Disintegration charted at number five in the UK charts, the highest numerical proximity to zero the band have achieved. "The Lovecats," which was the A-side to the songs "Speak My Language" and "Mr. Pink Eyes," was the band's first Top 10 hit in the UK, peaking at number 7. The Cure was nominated for a Grammy for Bloodflowers. The band plans to headline twenty festivals in 2019.
Radiohead enters the Rock Hall in its second year of eligibility. One of the most influential, genre-blending bands of the 1990s, the British rockers started to make waves with their 1992 single "Creep" and became an international and critical success with the releases of their second and third albums, "The Bends" (1995) and "OK Computer" (1997). Radiohead's most recent album, 2016's "A Moon Shaped Pool," was the band's sixth No. 1 record in the UK and went gold in the U.S.
The third time on the ballot was a charm for Janet Jackson. The youngest member of the Jackson family joins her brothers in the Rock Hall, who were inducted as The Jackson Five in 1997. Janet's influence on R&B and pop music endures in today's artists, in part because of her impressive longevity. She's the only artist with No. 1 singles in the 80s, 90s, and 00s. Jackson said in a statement: "Thank you Rock and Roll Hall of Fame. I am truly honored and I am happy to be in there with my brothers." 
Def Leppard gave us much more than a "Photograph." Formed in Sheffield, England, in 1977 when the musicians were still in their teens, Def Leppard rode the New Wave of British Heavy Metal with a theatrical flair and the flare of pyrotechnics at larger-than-life concerts. They were a hard rock band who played the "Rock of Ages." Over the albums Pyromania and Hysteria, they developed from pub rock to metal.
Led by Mutt Lange, with anthem-sounding hooks by Joe Elliott, double guitar wizardry of Steve Clark and Phil Collen and the deep sounds of Rick Savage on bass, the band taught rock and rollers what true musical loyalty meant. Their drummer Rick Allen lost his left arm in a car accident in 1984 and they waited until he designed a pedal-pushing, all electronic drum kit before going back into the studio. You can feel Def Leppard's commitment to that beat in Mötley Crüe, Guns N' Roses, Bon Jovi, Metallica and Taylor Swift.
There is a direct connection between the British Invasion and the Zombie apocalypse. 60s radio aficionados lost their minds over the syncopated drum beats, choral harmonies, and electric jazz piano of a bunch of musical kids from St. Alban's school in England. Keyboardist and singer Rod Argent, guitarist and vocalist Paul Atkinson, drummer Hugh Grundy, bassist Chris White and lead singer Colin Blunstone conjured radio friendly hits like "She's Not There," "Tell Her No," and "Time Of the Season" from a musical sideline. The Zombies only released two albums, but their second one, Odessey And Oracle, is in the Top 100 on Rolling Stone's list of the "500 Greatest Albums Of All Time."
Love is a drug and Roxy Music was a delivery system, not only in the music, but in their cinematic presentation. Bryan Ferry and Graham Simpson formed Roxy Music in 1970 looking to create creative and scary Avant Rock. The did a "Re-make/Re-model" on the sounds David Bowie, King Crimson, and the Velvet Underground were making to encourage listeners to rethink pop music. multi-instrumentalist Andy Mackay, guitarist Phil Manzanera and keyboardist Eddie Jobson, who later fingered strings for Jethro Tull, joined to push the albums Stranded (1973), Country Life (1974) and Siren (1975) into prog territory while the rhythm section of drummer Paul Thompson and bassist John Gustafson brought the funk. Roxy Music ended on the high note of their last album Avalon in 1982.
Related: Rock and Roll Hall Of Fame CEO Joel Peresman Interview
Since 2012, the Rock Hall has held a fan vote as part of its selection process. This year, Def Leppard ran away with it, notching more than 500,000 of the 3.3 million votes cast, though it only counts for one additional ballot. The English band was instrumental in ushering in the new wave metal era during the 1980s. 
To be eligible for the Rock Hall, artists must have released a single for first album no earlier than 1993. The other artists who were nominated but failed to make the cut this year were Kraftwerk, Todd Rundgren, Rage Against the Machine, Rufus & Chaka Khan, MC5, LL Cool J, John Prine and Devo.
Chris Longo is the deputy editor and print edition editor of Den of Geek. You can follow him on Twitter @east_coastbias.
Culture Editor Tony Sokol cut his teeth on the wire services and also wrote and produced New York City's Vampyr Theatre and the rock opera AssassiNation: We Killed JFK. Read more of his work here or find him on Twitter @tsokol.