News
Robin Williams Documentary: HBO's Come Inside My Mind Trailer Sets a Stage
HBO's upcoming Come Inside My Mind trailer takes Robin Williams off the stage.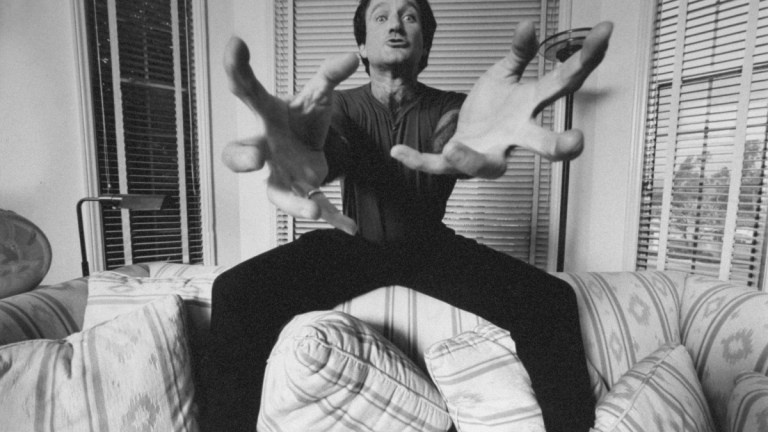 Robin Williams' manic comedy could barely be contained within standup, TV and films. His works could barely be contained within comedy. Williams went from reliable comic characters on The Richard Pryor Show to an alien in suspenders on Mork and Mindy, to comedy films, drama and even suspense, and still he may be most remembered as the unbottleable Genie in Aladdin. The new trailer for HBO's intimate documentary Robin Williams: Come Inside My Mind, takes the performer off the stage. 
Williams was at home in front of a sold out house, but alone where he lived, according to the documentary, whch premieres on July 16. "You're only given a little spark of madness and if you lose that, you're nothing," Williams warned, inviting fans into his inner child in whatever role he was playing in any setting. 
"The genius of Robin Williams lay in his ability to make a room, a comedy club, a concert hall or the whole world laugh," reads HBO's press statement. "Family, friends and film crews often saw a man who wasn't happy unless everyone else was having a good time — but the dualities Williams embodied were present inside him at all times."
The documentary reveals what drove Williams "to give voice to the characters in his mind." It features in-depth interviews with artists like Billy Crystal, Eric Idle, Whoopi Goldberg, David Letterman, Steve Martin, Pam Dawber and Robin's son, Zak Williams.
The film include Williams' confessional routines openly taking apart his alcohol and drug issues and 2009 heart surgery capture the spark that made him stand out across four decades in entertainment. Williams' tragic death in 2014 revealed he had been suffering from the disease Lewy Body Dementia, left fans around the world heartbroken."
You can watch the trailer here:
Robin Williams: Come Inside My Mind was directed by Marina Zenovich, who won an Emmy for HBO's Roman Polanski: Wanted and Desired.
Robin Williams: Come Inside My Mind is told largely through Williams' own words, with previously unheard and unseen glimpses into his creative process through interviews, as well as home movies and onstage footage. The film "celebrates what he brought to comedy and to the culture at large, from the wild days of late-1970s L.A. to his death in 2014."
The documentary spans Williams' "youthful days in the San Francisco Bay area, to his time in New York at The Juilliard School, to his rocket-propelled fame on TV's Mork & Mindy, to his profound impact on the American cultural landscape," the statement says. The tribute will detail such career high points as his "landmark comedy show at the Metropolitan Opera, his Broadway debut in Waiting for Godot, and his Academy Award-winning performance in Good Will Hunting."
The documentary was produced by Alex Gibney and Shirel Kozak. It was executive produced by David Steinberg, Kristen Vaurio and Marina Zenovich.
Robin Williams: Come Inside My Mind will debut Monday, July 16, exclusively on HBO.
Culture Editor Tony Sokol cut his teeth on the wire services and also wrote and produced New York City's Vampyr Theatre and the rock opera AssassiNation: We Killed JFK. Read more of his work here or find him on Twitter @tsokol.