News
Rifftrax & Batman & Robin: want to get involved?
Want to contribute to a Rifftrax on Batman & Robin, to be performed by Mike Nelson? Ron does...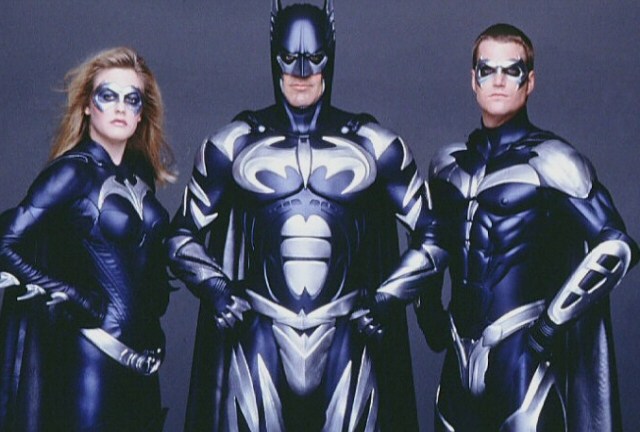 As I've written here before, I'm a huge fan of Mystery Science Theater 3000, so when I got this e-mailed to me, I knew I'd have to share it with the world at large.
Even though sharing the details reduces my chances of getting one of my jokes included in the final script handed off to the Rifftrax gang, I would never do anything to cut my fellow MSTies out of the loop, so here's the text of the email I was sent verbatim.
Hey, I'm sending this out to anyone I can find that's an MST3k/Rifftrax fan.
Basically, we have a group named Riff Raff Theater that does community written riffs, mp3s that you play with DVDs for an MST3k-esque experience. We did a riff of the first Harry Potter film, and Rifftrax got a hold of it.
A couple days later, this led to negotiations with Rifftrax, and we've worked out a project to get the fans involved with Rifftrax on a level not seen before.
Basically, Mike Nelson, Kevin Murphy, and Bill Corbett will perform a riff of Batman & Robin — completely written by fans. We're coordinating the effort to edit down the final script and hand it to the guys in January. We've also been told that Mike won't be adding extra content — whatever we hand them, they'll do. If that's not an extreme amount of trust in a fanbase, I don't know what is.
So, if you've always wanted "Writer for Mike Nelson" on your resume, now is your chance.
Details here — http://www.riffrafftheater.com
This is fan/artist interaction on an epic scale. To actually do a fan-written riff is… well, it's kind of like having your script for Freddy Vs. Jason Vs. Ash being read and used, even if only on a smaller scale. Just think, you could have your name on something associated with actual semi-famous people!
I'd like to think I'm funny. I can do some pretty good riffs, even if I'm not always the most family-safe joker in the deck. The idea that something I've written might be coming out of the mouth of Bill, Kevin, or Mike has left me positively giddy (though not as giddy as knowing Bruce Campbell read my DoG Loves BC article). I'll be picking up a cheap copy of Batman & Robin ASAP, as the deadline is January 6th, 2008.